How to Use UX Research to Revive an Old App
by Rebecca Harrison
Project Manager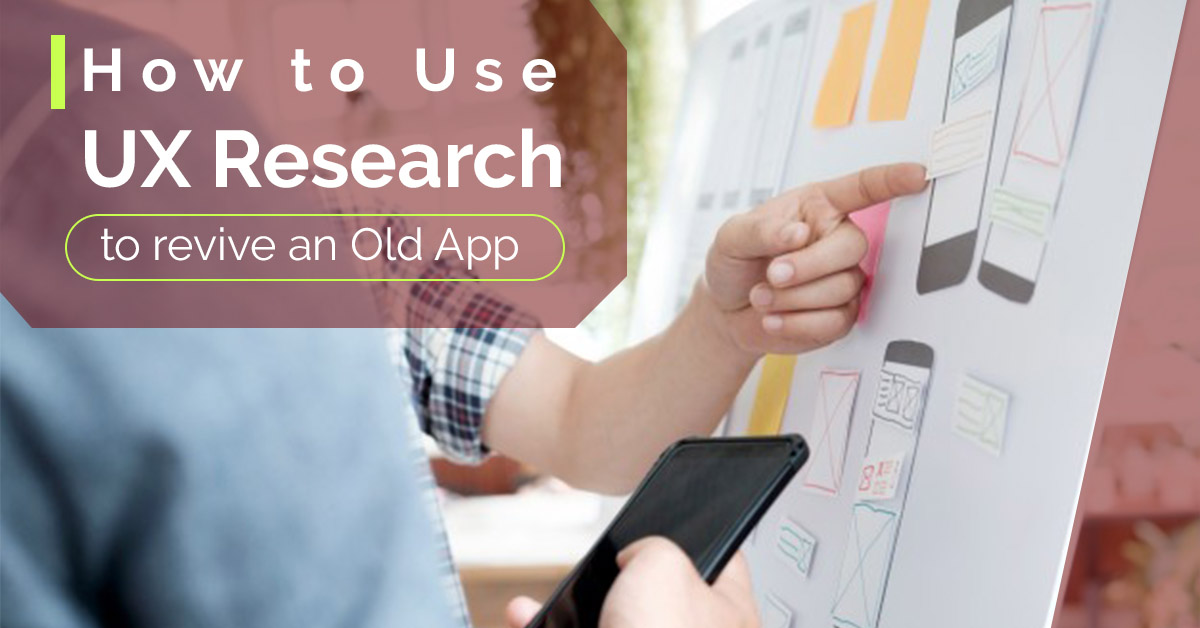 Businesses that fail to change with time often lose the competitive edge over their rivals. To survive and excel in the era of cut-throat competition, you need to evolve with the ever-changing consumer buying patterns, behaviors, and experiences. If you want to make this analogy with mobile apps, it certainly fits. Technology is changing with each passing day and it is very crucial to update your business app ever so often to cope with these technological amendments.

The apps that were designed years ago might be considered outdated, as the audience preferences keep changing over time. For that matter, even App stores are wiping out outdated apps. In September 2016, Apple issued a statement:
"We are implementing an ongoing process of evaluating apps, removing apps that no longer function as intended, don't follow current review guidelines, or are outdated".
You might find low user engagement, less traffic and small profits for the old apps. However, instead of losing your mind, take it as an opportunity to revive your old app and make it more user-friendly, eye-catching and feature-rich to attract more users and to improve traffic.
Further, you need to identify the issues faced by the users whilst navigating through the app. Possibilities are that at times, you might have to revive an old app due to some internal issues. Let's discuss the perspectives that could guide, as to when it could be the time for you to redesign your old app.
Your organization has witnessed rebranding
Over the years, business priorities change and hence you might have opted for rebranding. And this could surely affect the mobile application of your business. At times, few changes might just do the trick. However, if you have amended your offerings and upgraded your priorities, then you might have to consider the need to revive the old app with a new layout, design, and functionalities.
Your competitors might have more comfortable and user-friendly business apps
One of the most significant qualities of the entrepreneur is to adapt with an open heart. When your competitors have a modern, convenient and the easy-to-use app, as compared to your outdated app then you surely are going to suffer. Product improvement is vital in today's era. Come up with a superior, highly functional and modern business mobile application that carves a niche among the users.
Bad Reviews and fewer downloads in the App Store
This might quite often be the case for many apps. When your app's functionalities have faults, features are outdated and the design is poor, users will certainly write negative reviews about the app. This could adversely affect your brand too. Hence, you must take up a challenge to fix the faults and also redesign & develop the functionalities with the help of the top-rated app development companies.
Your app has more bugs and errors
Initial year after the launch, your app might have functioned smoothly and seamlessly. However, after a couple of years down the line, users might have complained about some bugs and errors. This could be a hint for you to touch-base the functionality and fix all the bugs along with some redesigning.
UX Research and how it helps
User experience plays an important role in making any mobile app successful. If the users fail to have a gratifying and smooth experience, there are chances of facing low user engagement ratio. Also, the main problem with the old apps is that they tend to get irrelevant with time. Today, you could be impressed with a few of the functionalities, navigation, and features. However, tomorrow these same features might seem unimpressive to you. There could be an instant disinterest in users towards the app.
Your app might be a great resource and could be solving the core purpose, but this might not be enough. You need to keep a constant check on the performance of your competitors; that is if your app is able to solve the core purpose more efficiently as compared to your rival's! Also, keep a constant tab on your app, as you should be aware in case it is outdated, or is it modern enough to grab the attention of our tech-savvy users.
Also, there might be changes that although your app might not be that old, yet you might observe a dip in its demand and interest. The reason, there might be many similar apps in the market that offer an unparallel experience to users. Hence, you need to be vigilant and in case you observe fewer download or user engagement, it's time to act on your toes and get started on improving the user experience for your app with help of expert UI/UX designers.
Firstly, try to identify the issues with the app's UX and compare it with other relevant apps to find the issues. It might be the flat design of the app or dull colors or less appeal or complicated navigation or fewer features. Once you figure out the problem you need to take immediate and concrete actions. Here is a list of approaches for UX research that can help to build a more appealing and impressive mobile app.
What is your primary business goal?
First and foremost, you need to evaluate your business model and goals as there are higher chances that something might have gone wrong here. For example try and evaluate, what was your core revenue model? Was it to get more user subscriptions or to get more paid downloads? Users might simply lose interest if you might have focused more on in-app advertising or other such revenue models.
In case you might have a new set of business goals, make sure you get the relative amends updated in the app accordingly. Also, think of the problems that you might have to face and address them effectively. Try and analyze, what is it that you want? – To attract more customers or retain the old ones? Prioritize your concerns and work on them individually to find a fix.
Identify the needs of your target audience
Is your app solving the purpose of your target audience? It could be possible that the latest app amendments to attract a new audience; might have not been received well by your target audience. You need to ensure that the app fulfills all the expectations of your target audience. If your app is useful, convenient and offers quick solutions to the users, it will improve user engagement. Hence, it is of utmost importance to understand the need of your target audience first and then keep updating your app as per their expectations.
Take a fresh look at the app
Since its inception, it is possible that the app might have witnessed multiple updates, new functionalities, and add-on features. In the process, the app might have lost its charm and could have cluttered. This can have a great impact on the overall app performance, resulting in the users switching over to your rivals.
Hence, it could be high time to clear the mess by redefining the entire cycle and removing the unnecessary features and functionalities. Streamline the app with simple navigation and a smart design that not only improves the user experience but also keeps them engaged.
Redefine your core value
Track the feedback from your users and list down that one feature that was most appreciated and liked by your audience. Also, what was the core issue that your app addressed when it started out? With the passage of time, there could be a fair chance for this core issue to become irrelevant.
Things that were useful months ago might be outdated today. With UX research, you can identify new issues that might be of concern and might require your immediate attention.
Compare designs with rivals
Is your app design impressive enough? Does it look and feel astonishing with its visual appeal? You need to understand that design is equally important when we discuss user engagement. Make sure you first explore the designs of your rivals and then think of a design that could be more appealing and striking.
Gather users' feedback
As discussed earlier, it is crucial to get the feedback of your app performance from the users. Valuable and authentic feedback from actual users can prove to be extremely beneficial for you to improve the user experience. Go through the reviews on Google or Apple Play store; organize in-app polls and read the feedback emails to get a better review about the issues faced by the users. You might come across many trivial issues such as font size, color tones, poor functionalities, complicated navigation and many more.
Conclusion:
It is not right to say that an old app is a liability or a wasted effort. If you take it up as a challenge to improve the user experience by fixing the bugs or upgrading the functionalities, you might end up with a smarter, superior and a modern app. UX research can help tremendously to transform a non-functioning old app to a brand-new, feature-rich and a streamlined app that can improve user engagement and increase revenues.
Evaluate your app from time to time and ensure that it has an excellent user engagement and highly relevant functionalities.
Sponsor Ads
Report this Page
Created on Aug 29th 2019 07:03. Viewed 700 times.
Comments
No comment, be the first to comment.