How to use the Customer feedback you have collected
by Rebecca Harrison
Project Manager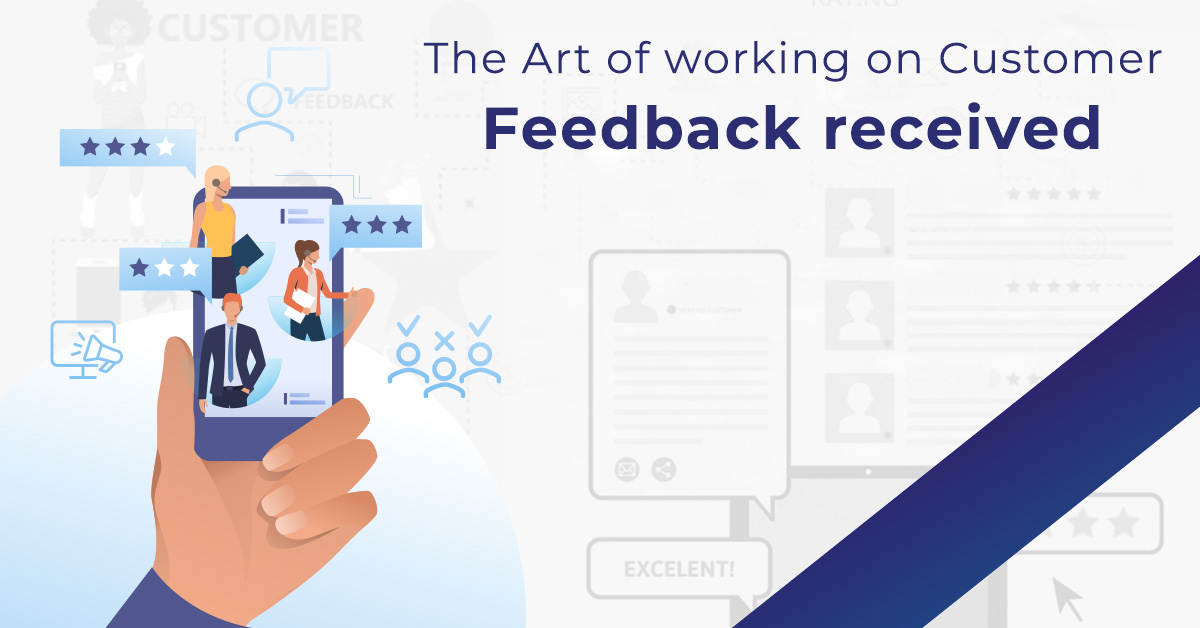 According to a study published in the Harvard business review, the cost of acquiring a new customer is 500-2500% more than retaining an old one!
This is the cost your business pays for not listening to the customer. Another research suggests that customers love it when you ask for feedback. There are many ways to acquire customer feedback like sending e-mails to the customer, calling them directly, sending them in-app messages, monitoring social media channels and providing short surveys to fill on your website.
Another effective way of collecting customer feedback is by integrating chatbots into your app/website. Chatbots are more engaging and hence increase the chances of the customer taking time to provide the feedback.
Now collecting quality customer feedback is essential but as we all know, acting on the received feedback is more important. But there is a difference between knowing and doing, and sometimes this very difference can cause your business to fail.
Here in this blog post, we shall discuss what to do with all the customer feedback data that you have collected.
Use feedback to improve your offering
Your customer is the best person to ask regarding what needs to be improved in your product/service as he/she is the person who uses the product regularly.
Yes, you can conduct market research and hire the best product managers while trying to decode your customer. However, there still remains a possibility that your customer remains unsatisfied.
To eliminate this possibility, ask your customers what features/ improvements they would love to see in your product. Customers love to speak, and they love even more when they see that the brand they are using listens to them.
A classic example of involving your customers into the process of improvement would be Lego ideas its a great website from the makers of Lego bricks.
In this website, customers could submit their designs to the lego community, if the design gets more than 10,000 votes, then the company goes ahead with manufacturing that particular design.
This strategy can work wonders for improving customer engagement. If you have a restaurant business, then tell customers to suggest new dishes, and witness the overwhelming response.
Share the customer feedback with your team
Implementing customer feedback is a collective responsibility, and each member of the team must be aware that what are the consequences of his/her actions. For this, you should make it a point that every member of your team, whether it is the shop floor worker or the Vice president of the company knows what the customer is sharing.
This will inculcate a sense of responsibility amongst your team members and improve your offering as everybody wants good feedback. You should share weekly or monthly customer feedback reports and what exactly needs to be changed to implement the feedback.
For example:- Suppose a customer leaves a negative rating about your product saying that he/she received a defective product due to poor packaging. This feedback can be transmitted immediately to the packaging department.
The packaging department can then call an internal review meeting to identify the possible causes. The cause could be either poor packaging material, the wrong process of packaging or the issue might lie with poor handling of the product by the transporter.
Sending the customer feedback directly to the concerned department will help in taking timely action to resolve the problem.
A significant benefit that you derive from this process is that your team members will know exactly what impact their actions are having on the reputation of the business. This will make them more conscious, and they will take more care in ensuring that their actions do not adversely impact the product's performance.
When a customer appreciates the performance of your product, then take a printout and hang it at a place where everyone could see it. If the organization is too large, then send a company-wide e-mail acknowledging the efforts of the particular team/individual who helped in achieving this. Award these employees and encourage others to follow suit.
By doing this small action, your team members will feel valued and motivated. They will work with more zeal towards achieving better customer satisfaction.
One practical step you can take is to emulate good practices. For instance:- If you found out that a particular team's efforts in your organization are receiving rave reviews, then you should analyze what they are doing right.
Then you could use the insights gained from analyzing this team and implement them to the other teams. In this way, you would be able to standardize the best practices and take the bar higher.
Say thank you
Your customer has taken the time to send you feedback about your service. Whether positive or negative, the review is vital as it will help you in improving your offering. It is therefore essential that you acknowledge that you are listening. Just send a thank-you e-mail and let them know that their suggestion matters.
Various surveys have pointed out the fact that customers love it when brands hear them out. Many businesses make the mistake of hiding the negative reviews, this is a grave mistake in this competitive era. Your customers are spoiled for choices in any sector today. They will easily switch products/services if they feel that your business is not listening to them.
Hence your business will be at a benefit if it analyses the negative reviews and takes corrective action. See these negative reviews as an opportunity, an opportunity to improve. When you solve the problem, use it as a marketing opportunity by asking the customer to give feedback now.
Use the two feedbacks and highlight how your company listened and improved based on the customer's feedback. If for some reason, the solution will take time to implement, tell the customer how much time it will take and what steps you have taken to resolve the issue. This way, the customer will know that you are working on the problem and would consider purchasing from your brand in the future.
This will provide dual benefits; first, it will portray your brand in a positive light to other customers, and second, it will motivate other customers to come up with their problems. Problems which they did not tell you in the past and decided to switch to your competitor. This will allow your brand a precious opportunity of regaining these lost customers.
Conclusion
Understand that knowledge is not power, it is potential power. No matter how detailed customer feedback you can acquire, it won't serve you any purpose if you do not take any action on that feedback. We hope that you have collected some insights on how to use customer feedback through this blog post.
As discussed earlier, a chatbot can prove to be an essential tool in gathering customer feedback. It can also help you in increasing sales in your e-commerce venture, want to know how? Click here:https://techlogitic.net/how-chatbots-can-improve-sales-in-e-commerce/
Sponsor Ads
Report this Page
Created on Jan 29th 2020 04:38. Viewed 3,490 times.
Comments
No comment, be the first to comment.