The seven wonderful mobile apps every CEO would want
by Rebecca Harrison
Project Manager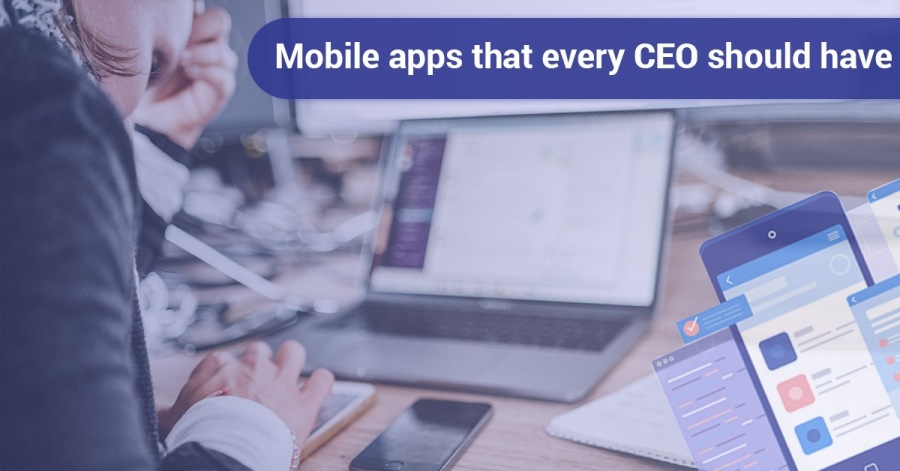 A leader should always lead by example. Be it in the office premises or outside it, a leader is always admired by his employees and is sometimes considered as an ideal. In the world of technology, a CEO's work becomes even more difficult as they need to juggle between multiple things at a given time. Thus to keep the focus intact and manage the work, mobile apps can play a vital role.
Productive mobile apps can be a stress-buster in managing everyday's work. You should choose mobile apps according to your habits, preferences, usage, etc.
Thus, whether you are looking to keep in touch with your clients or manage the workflow which you have given to your employees, we have a mobile app for everything. So just sit back and relax as we take you through the mobile apps a CEO must have on his Smartphone.
Google Drive
Google drive is as general as it comes. But people tend to forget the amazing benefits it will give to a CEO. Google Drive will help you keep track of everything. It is simple and easy for communications and also provides real-time updates of the work that has been done. It comes with different spreadsheets in which you can manage your mobile precisely and differentiate them by using a specific color code. You can share your ideas using spreadsheets with your co-workers and vice a versa and make communication with no hindrance. Moreover, it keeps transparency in work as each employee will be assigned a specific work with a given deadline. A CEO can keep a periodic check of all the whereabouts even from the remotest of places.
Buffer
In the technological age, it has become almost inevitable for the CEO to be active on social media accounts, especially twitter. Now, this process can act as a double-edged sword. Because if the CEO fails to do an important update or makes some mistakes in it, it could prove fatal for the company. With Buffer Mobile app, you can easily schedule your social media posts and also pre-post them at a specific time. We all know that the algorithm of Facebook, Twitter, and Instagram works differently during different times of the day and it becomes important to keep a check on it in order to make your post valuable. Buffer mobile app will give you this advantage by allocating specific time for all the different social media platforms so that a CEO's voice reaches the maximum number of people. It will also play an important role in making new clients and business expansion. A CEO must think about managing the social media and for this Buffer can prove to be the best ally.
Moment
Maintaining focus is the key to succeed, whether it is for the employee or for the CEO. Keeping focus applies more on the CEO as if he/she loses his/her track of time, the company will be in complete disarray. Moment app helps to track the time spend on each app and thus enables the user to not waste the precious work hours on unnecessary mobile apps. It limits the distraction time and thus results in increasing the productivity. Apart from saving the precious work hours, Moment mobile app also checks on the screen time that is wasted on other mobile apps.
Also Read: How Integrating Workforce Flexibility In The Culture Set The Scene For Success?
Headspace
A calm mind is necessary to bring out a best in the person and a calmer CEO is what a company needs for longevity and growth. Headspace will allow you to have the invaluable 'me time' of the day. The meditation app helps in distressing the body and clearing the mind before you begin your day. We all know that humans are not machines and it is not possible for them to work for 24*7 day in and day out. In today's workspace which is full of stress and uncertainty, Headspace can prove to be the much needed break to recharge the batteries and run towards the goal again.
Evernote
In the cut throat competition scenario, a CEO can't take his eye off the market or the technological world, even on a Sunday. With Evernote, you can utilize your break time by reflecting on the past week and make a to-do list for the week ahead. We know that the outside world is complex and dynamic, but having some basics intact will only help you to scale towards future glory. Evernote ensures that everything you put in is in sync so that you can refer back to it whenever required. A CEO can ruthlessly analyze him/her over the things that he/she has done and thus have a clear picture of the present scenario. You can keep all the important work that you need to delegate in different section and the tasks that can be done in the future in a different section.
MindJet
A CEO needs to creative, brimming up with ideas and thus brainstorming forms an important in any CEO's office routine. MindJet will help you to create visual representations of the ideas that you want to present to your team and the other way round. This mobile app can be utilized for the concept of mind making that will be helpful in generating amazing ideas. Visual representation will also help you to have proper look at the plan and thus will allow you to create a strong framework around it. MindJet mobile app gives you the freedom to express your ideas in an interactive manner using the digital technology.
Also read: Accelerate Sales with Machine Learning and Artificial Intelligence: What you need to know to get started
Hours
So much work, so little time, this is the story or we should say the agony of every CEO around the world. When you don't have the idea of what amount of time you are spending on a certain work, you are creating a demon for yourself. Hours enable you to bifurcate the time in accordance to the importance and urgency of the work. It also keeps a track on the time you have actually spent on work versus the time you wasted in distracting yourself. If you want to save yourself from the phrase 'where did all the time go', well Hours is the app designed for you.
Conclusion
Mobile apps and mobile technology can prove to be an absolute boon if used in the correct manner. For a CEO certain mobile apps for work can prove to be the best ally he/she is looking for. The realm of mobile apps and digital technology is here to stay and it is up to us to make the full usage of it and it applies for CEOs specifically as they have to not only work but lead with example.
Sponsor Ads
Report this Page
Created on Aug 13th 2020 08:08. Viewed 755 times.
Comments
No comment, be the first to comment.