Starlight Sold 2 Sets of 50KW Silent Genset
by Generator D.
Diesel Generator
Recently, Starlight signed a contract of 2 sets of 50KW diesel generator set with Beijing Gu Hong Technology Co., Ltd.
Beijing Gu Hong Technology Co., Ltd. Was set up in 2005. 50KW silent diesel genset purchased the customer is equipped with SDEC( Shangchai) H series diesel engine. The engine is a world-class power platform built by Shangchai company according to the characteristics of market demand at home and abroad, referring to the mature technology of international advanced engine, jointly designed with Ricardo of UK, using CPDP development process and SAIC MOTOR manufacturing standard. This series of engines have the characteristics of compact structure, wide range of power, high reliability, good economy and low vibration and noise. In addition, the generator set is equipped a silent rain proof canopy cabinet, which can be directly outdoor used, and ensure that the generator set is free from the influence of wind, rain, dust and mosquitoes. More importantly, the noise level can be reached to 65dB at 7 meters.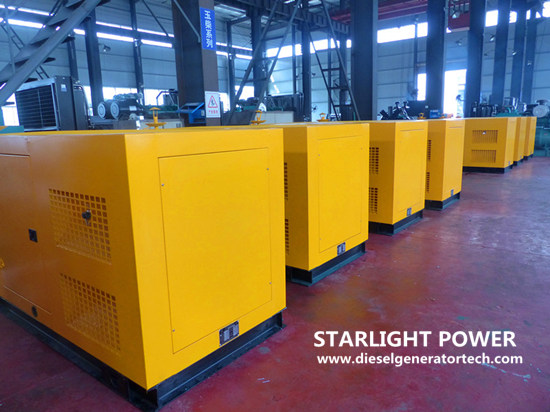 Shangchai H series diesel engine technical specification (SDEC SC4H95D2)
1.The engine performance is as per GB/T2820.
2.Ratings are based on GB/T1147.1.
3.Prime power is available for an unlimited number of hours per year in a variable load application. The permissible average power output over 24 hours of operation shall not exceed 80% of the prime power rating.
4.Standby power is available in the event of a utility power outage or under test conditions for up to 200 hours of operation per year.
5.The permissible average power output over 24 hours of operation shall not exceed 80% of the standby power rating.
| | |
| --- | --- |
| Engine model | SC4H95D2 |
| Prime Power | 62KW |
| Standby power | 68KW |
| Speed | 50Hz |
| Frequency | 1500rpm |
| Engine Type | In-line,4 strokes, water-cooled, 4 valves, Turbo charged |
| Combustion type | Direct injection |
| Cylinder Type | Dry liner |
| Number of cylinders | 4 |
| Bore × stroke | 105x124mm |
| Displacement | 4.3L |
| Compression ratio | 17.3:1 |
| Firing order | 1-3-4-2 |
| Injection timing | 13.5°BTDC |
| Rotation | Counter clockwise viewed from Flywheel |
| Fly wheel housing | SAE NO.3 |
| Fly wheel | SAE NO.11.5 |
Fuel system

Injection pump

Beiyou in-line "AD" type

Governor

Electric type

Feed pump

Mechanical type

Injection nozzle

Multi hole type

Opening pressure

250 kg/cm2

Used fuel

Diesel fuel oil
Lubrication system

Lub. Method

Fully forced pressure feed type

Oil pump

Gear type driven by crankshaft

Oil filter

Full flow, cartridge type

Oil pan capacity

High level 13 liters

Low level 11 liters
Cooling system

Cooling method

Fresh water forced circulation

Water capacity(engine only)

6.8L

Water pump Capacity

117L

Thermostat

Wax–pellet type

Opening temp. 82°C

Full open temp. 95°C

Cooling fan

Blower type, plastic 550 mm diameter, 9 blades

Electrical system
Charging generator: 24V×55A
Voltage regulator: Built-in type IC regulator
Starting motor: 24V×4.5kW
Battery Voltage :24V
Battery Capacity : 120 AH
Engineering data
Water flow: 117 liters/min @1500 rpm
Heat rejection to coolant: 11.7 kcal/sec @1500 rpm
Air flow: 5 m3/min @1500 rpm
Exhaust gas flow: 11.5 m3/min @1500 rpm
Exhaust gas temp.: 600 °C @1500 rpm
Max. permissible altitude: 2000m
SDEC diesel generator can be 50kw to 1800kw, if you have purchasing plan, welcome to contact us by email sales@dieselgeneratortech.com, we will work with you at any time.
Sponsor Ads
Report this Page
Created on Dec 24th 2020 20:00. Viewed 59 times.
Comments
No comment, be the first to comment.