Top Ten Standardized Fishing Vessels Powered by Yuchai Engines
by Generator D.
Diesel Generator
Top Ten Standardized Fishing Vessels Powered by Yuchai Engines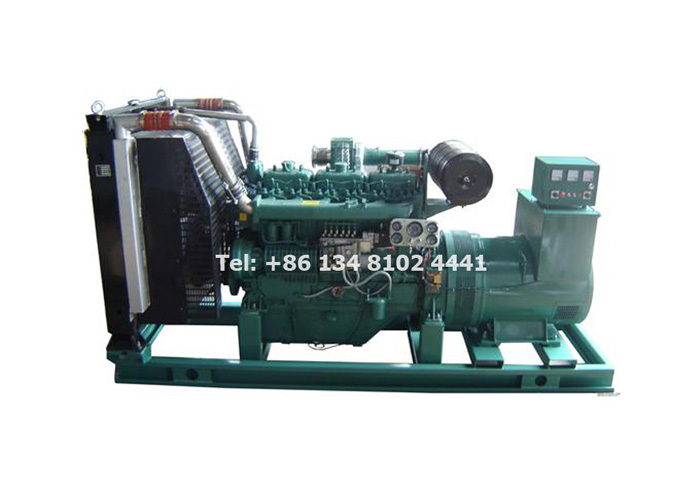 At the recent China Fishing Vessel Equipment & Technology Development Forum in Nanjing, the Register of Fishing Vessel (CFR) released a list of top ten standardized fishing vessels for the first time. The top three vessels were 41.38-meter steel trawler, 43.6-meter steel light seiner and 37.8-meter steel single-deck light seiner, all of which carry YC6T marine engines.
Besides, 16-meter glass fiber reinforced plastic recreational fishing vessel carrying YC6B150C marine engine ranked 6th.
These vessels are selected by fishermen through newspaper and the Internet from those recommended by local fishing vessel inspection authorities. All vessels on the list have been developed progressively in fishing production and practice and popular with fishermen. The selection and announcement of top ten standardized fishing vessels marks fishing vessel industrialization has entered a new stage, according to the CFR.
The top two placers 41.38-meter steel trawler and 43.6-meter steel light seiner are both powered by YC6T450 economical diesel engine. With a power of 330kW and a fuel consumption of not more than 200g/kW.h, the engine has prominent effect of energy conservation among similar vessels. Today when oil prices keep soaring, you can image the economic benefit yielded by the engine to fishermen. Besides, the stable and reliable quality of the engine is also a reason for its popularity among fishermen working in Beibu Gulf and Nansha sea areasSteel
Third-placed 37.8-meter steel single-deck light seiner was improved by operating fishermen according to Hainan's fishing characteristics and requirements for economic inputs. While maintaining same speed and stability, vessels powered by YC6T540 diesel engine can reduce the main power from 576.34hp to 530,56hp, thus reducing fuel consumption, boosting energy efficiency and gaining unanimous praise from fishermen.
According to sources, YC6T is new-generation power developed by Yuchai to meet use requirements of vessels on the basis of massive surveys on the characteristics of the marine engine market. With alloy cast iron body, solid forged crankshaft and internally-cooled oil channel piston, the product is reliable, durable, fuel-conserving, economical, safe and cozy, has won authoritative certificates in the internal combustion engine industry, and is reputed as "a marine engine model with outstanding quality".
YC6B150C marine engine is modified and designed on the basis of high-speed diesel engines according to use requirements and structural characteristics of vessels. The engine uses the technology of charge inter-cooling, and conducts optimal design of major parts including cylinder block, cylinder cover and crankshaft using the advanced technology of finite element analysis, therefore it is reliable, dynamic and economical. 16-meter XY1600 glass fiber reinforced plastic recreational fishing vessel, designed and developed by Dongguan Xingyang Shipbuilding Co., Ltd. and Guangzhou Banhai Sightseeing Fishery Co., Ltd., is fuel-conserving, environment-friendly and economical, and has become a fishing boat with the largest building capacity in Guangdong Province. Ranking sixth among China's top ten standardized fishing vessels this time is deserved.
Standardizing fishing vessel development and popularizing standardized fishing vessels is the premise of improving the quality of fishing vessels, safeguarding the life and property safety of fishing vessels and fishermen and preventing water environment pollution, as well as a basic task of administering fishing vessels in a scientific manner and promoting the all-round, coordinated and sustainable development of fishery production for fishing vessel supervisory departments, said Liu Zheng, director-general of the CFR, adding popularization of standardized fishing vessels will push forward fishing vessel equipment modernization and guide fishing vessels in developing in the direction of safety, environmental protection, economy, energy conservation and coziness.
Yuchai has upheld the concept of green R & D in marine engine R & D, oriented its R & D to market demand, constantly developed new products and advanced to the market steadily. Yuchai's marine engine products have been popular with customers for its characteristics such as strong dynamics, good economy, energy conservation and environmental protection. On March 30, 2012, Yuchai introduced independently developed high-speed large-power marine diesel engines for power generation integrating the advanced technologies of the world's four famous renowned internal combustion engine research institutes. Industry insiders expected them to change the situation that China's high-end marine electric engine market has been dominated by foreign brands.
Marine engine is a fresh force for Yuchai's future development. Amid industrial slump this year, Yuchai's marine engine sales have been on the increase. In the future, Yuchai will intensify new marine engine R & D. Besides, to cope with fierce market competition and promote the sustainable and healthy development of Yuchai's marine engine market and marine engine distribution system, Yuchai has decided to establish the Yuchai Marine Power Distributor Council within its marine engine distribution system.
What We Supply?
We supply multiple brands of generator set, such as: Cummins, Volvo, Deutz, Doosan Daewoo, MTU, Ricardo, Perkins, Shangchai, Weichai, Yuchai etc. The style of genset is varied, such as: container genset, trailer genset, portable trailer genset, soundproof genset, low noise genset, and silent genset, etc. Besides, we also supply design and construction of the noise reduction project up to the customer's requirements.
We have CE,ISO,CQC certificate, and also have independent import and export right.
Adds: No.10 Kechuang Road, High and New Tech Development Zone, Nanning City, Guangxi, China.
Tel: +86 771 5805 269
FAX: +86 771 5805 259
Cellphone: +86 134 8102 4441 +86 138 7819 8542
E-mail: dieselgeneratortech@gmail.com
Sponsor Ads
Report this Page
Created on Sep 13th 2017 01:26. Viewed 1,528 times.
Comments
No comment, be the first to comment.