Perkins offers durable and reliable power in the Middle East
by Generator D.
Diesel Generator
Perkins offers durable and reliable power in the Middle East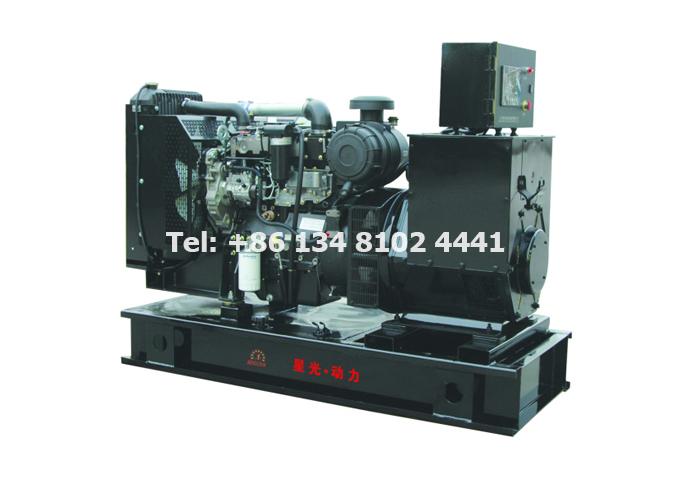 Perkins aims to address the growing demand for power in the Middle East with a strong presence in MEE 2017.
Perkins stand at MEEPerkins stand at Middle East Electricity 2017. (Image Source: Perkins)
"We are very excited to be at MEE, one of the largest exhibitions in the region. We have a large presence this year and the opportunity to connect with our end users and OEMs," said David E Nicoll, marketing and dealer operations director at Perkins Engines Company, commenting on the participation of Perkins in MEE 2017. He pointed out that the company was promoting its latest engines for gensets at the show. The 4000 Series engine is on the spotlight, and a big telecom tower is powered by a 400 Series Perkins engine displayed at the company stand at the show.
"Our ongoing 4000 Series campaign is prime power focused, which is very much in demand in the Middle East for off-grid housing. The 4000 Series has been around for three decades and we have been continuously working on it. One of the key messages about the engine for the consumer is that it is the right choice for prime power when people need power 24 ×7, reliability, dependability and after sales service. The brand power is built on durable and reliable power," said Simon Gray, product marketing manager at Perkins.
The company has a strong showcase of products at the show, including replacement engines and EP service kits. The company experts are also present at the stand to speak to visitors about the products.
Gray pointed out that the Middle East was a very important region for the company. "We are looking at a lot of collaborations with our OEMs and are looking to broaden our approach in ME," said he added.
Commenting on the potential of the Middle Eastern market, Gray said, "Telecoms is very strong in the region and we bring a broad offering to that space. People are looking for more efficient gensets and Perkins matches its engines to those demands. We are focused on offering the right technology."
Perkins and Sterling & Wilson Group strengthen partnership in Sri Lanka
Aug, 08 2017 (LBO) – The industrial policies in Sri Lanka have always encouraged investment in industries, making the country an important market for Perkins, the company said.
A global company with over 85 years of history and 100 + distributors, Perkins is present in 180 countries with OEMs (Original Equipment Manufacturer) in sectors such as Electric Power, Construction, and Agriculture etc.
"In fact, there are over 18000 Perkins engines currently running in Sri Lanka and the company is working closely with various customers in the Power, Industrial, Manufacturing, and Process Industries. Perkins is a fully owned subsidiary of Caterpillar with manufacturing sites in U.K., China, Brazil, US and India."
The Perkins high horse power engines, the 4000 series, which is used for power generation applications, has a strong presence in the Sri Lankan market with over a hundred machines in operation.
For the 4000 Series, Perkins has a mandatory process of application sign off for all the OEM designs and installations to ensure stringent quality controls the brand is renowned for.
To further their presence in Sri Lanka, Perkins is strengthening their partnership with Sterling Generators, which is the third largest OEM for the 4000 series and has more than a thousand installations in various markets globally.
"Helmed by Khurshed Daruvala, Sterling and Wilson Group is a diversified India based Global conglomerate that boasts a legacy of 90 years. One of India's home-grown success stories, it is a group company of the highly illustrious 5 Billion dollar group, Shapoorji Pallonji."
Its portfolio ranges from Turnkey MEP, renewable, Data Center, Co-gen, Diesel Generators and Transmission and Distribution. Riding on its vast expertise and experience in project management, the company had a turnover of close to One Billion U.S. dollar last year with its operation in more than 20 Countries.
In addition to its existing presence in Asia, Africa, Europe, Australia, Middle East, and Latin America, the company is now swiftly expanding to North America.
With a global renewable power installed capacity of 1.8 Gigawatts and 2 Gigawatts under installation , Sterling & Wilson is one of the top five global EPC contractor. It has been graded as "SP1A" category by ICRA for its highest performance capability and financial strength for its multi-million dollars Solar EPC contracts.
It has also won many global awards from Inter Solar, Solar Today, MESIA and many more.
Sterling Generators an ISO 9001,14001 & OSHAS18001 certified company, is one of the largest OEM of Diesel Generator Sets in Asian continent.
It caters to all industry power needs in various global markets with its wide product range of Diesel Generator Sets ranging from 10 kva to 3300 kva and HV & LV panels. Spread over 8 acres, its state-of-the-art manufacturing unit in Silvassa (Gujarat, India) is Asia's largest integrated DG Set and HT/LT Panel plant, supported by workshops and facilities in Middle East and Africa.
Sterling Generators has supply and installation base of close to 4 Giga Watt power across various countries it is operating in. Sterling Generators is a major player in Global power Industry and is expanding its business in Southeast Asian region, particularly in Sri Lanka.
"It is Sterling's Global growth endeavour and legacy of delivering power projects which led to the submission of a bid for the prestigious international tender floated by the Ceylon Electricity Board to supply 50 X 1 MW Diesel generators in Sri Lanka," the statement said.
The intent to award this tender to Sterling and Wilson was sent in writing on 31/07/2017. The process is currently ongoing and is at the appeal stage as per the standard tendering process.
"With the strength of Perkins in Sri Lanka and the competency of Sterling Generators, it is certain that we can see Sterling & Wilson playing a big role in the local market."
We supply multiple brands of generator set, such as: Cummins, Volvo, Deutz, Doosan Daewoo, MTU, Ricardo, Perkins, Shangchai, Weichai, Yuchai etc. The style of genset is varied, such as: container genset, trailer genset, portable trailer genset, soundproof genset, low noise genset, and silent genset, etc. Besides, we also supply design and construction of the noise reduction project up to the customer's requirements.
Contact Us
Adds: No.10 Kechuang Road, High and New Tech Development Zone, Nanning City, Guangxi, China.
Tel: +86 771 5805 269
FAX: +86 771 5805 259
Cellphone: +86 134 8102 4441
+86 138 7819 8542
E-mail: dieselgeneratortech@gmail.com
Sponsor Ads
Report this Page
Created on Sep 16th 2017 21:15. Viewed 1,676 times.
Comments
No comment, be the first to comment.