Deutz Generator-First engine passes EU Stage V hurdle
by Generator D.
Diesel Generator
Deutz Generator-First engine passes EU Stage V hurdle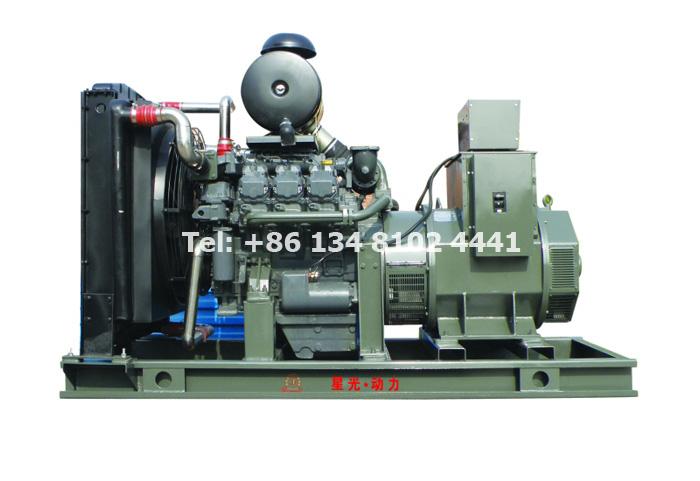 Deutz is the world's first engine manufacturer to be given an EU Stage V certificate.
Its 'Stage V ready' engines, first seen back in 2015, have now become the 'Stage V certified' line-up. Initial certification has been awarded to Deutz's TTCD 6.1 diesel engine; the TCD 3.6, 4.1, 6.1, 7.8 and TTCD 7.8 models are to follow by November.
The EU Stage V exhaust emissions standard comes into force in 2019.
Changing from the current EU Stage IV to Stage V requires no additional installation space, says the company, thus avoiding "expensive modifications". By obtaining the first EU Stage V certificate, Deutz says that it is also delivering on its environmental promise and positioning itself as an engine manufacturer with an "eco-friendly" focus.
Deutz will also shortly unveil its new family of large engines – in the 9-18L capacity range; these will go into series production from 2019 and be used for "heavy-duty" off-highway applications.
The 4-cylinder TCD 9.0 engine delivers 300kW and generates 1,700Nm. The TCD 12.0 and 13.5 are 6-cylinder engines producing, respectively, 400kW (2,500Nm) and 450kW (2,800Nm). The biggest engine – the 6-cylinder TCD 18.0 delivers 620kW and generates 3,600Nm.
Two more engines will extend the lower end of the power range. The agricultural-spec version of the 3-cylinder TCD 2.2 will be shortly unveiled for the first time; it features an integral oil sump that makes it suitable for installing in many tractors.
Thanks to its compact configuration, says Deutz, it is the "ideal engine for small tractors".
Moreover, its big brother – the 4-cylinder TCD 2.9 – will make its first appearance in November. With a power output of up to 80kW, it is also intended for agricultural applications.
In related news, the company's new 'Deutz Connect' service app marks the start of a completely new digital service. Engine diagnostics can now be carried out remotely via smartphone or tablet.
Data exchange will take place via a Bluetooth interface; this will only require a small receiver to be fitted to the engine.
Deutz To Supply Engines For New Sany Wheel Loaders
Deutz has announced it will supply its TCD 7.8 diesel engines for Sany's new SW405 wheel loaders.
The water-cooled, six-cylinder, in-line engines range from 250 to 390 horsepower and a diesel particulate filter (DPF) and selective catalytic reduction (SCR) system. The TCD 7.8 diesel engines meet U.S. EPA Tier 4 and E.U. Stage IV emissions standards, and also fulfill the E.U.'s upcoming Stage V standards which will go into effect in 2019.
"Deutz engines are in many of the road construction machines used in the Chinese market," said Kevin Grover, large excavator and wheel loader NPI manager at Sany America. "We looked at a few different suppliers, but the Deutz engine had an ideal torque curve for a wheel loader application. Furthermore, we feel the Deutz engine's quality and responsiveness will help our machines truly perform at an optimum level."
"With Deutz's Stage-V-ready engines, our machines are all set for the next round of emissions legislation," Grover said. "We won't have to go through another extensive design cycle when the new emissions regulations do take effect."
"We designed our TCD 7.8 diesel engines to offer our OEMs customers greater flexibility and lower installation costs," said Robert Mann, Deutz president/CEO. "Because these engines are both compact and modular, OEMs who choose them for their machines can develop more versatile designs to answer a broader range of end user needs."
We supply multiple brands of generator set, such as: Cummins, Volvo, Deutz, Doosan Daewoo, MTU, Ricardo, Perkins, Shangchai, Weichai, Yuchai etc. The style of genset is varied, such as: container genset, trailer genset, portable trailer genset, soundproof genset, low noise genset, and silent genset, etc. Besides, we also supply design and construction of the noise reduction project up to the customer's requirements.
Contact Us
Adds: No.10 Kechuang Road, High and New Tech Development Zone, Nanning City, Guangxi, China.
Tel: +86 771 5805 269
FAX: +86 771 5805 259
Cellphone: +86 134 8102 4441
+86 138 7819 8542
E-mail: dieselgeneratortech@gmail.com
Sponsor Ads
Report this Page
Created on Sep 17th 2017 22:04. Viewed 1,669 times.
Comments
No comment, be the first to comment.