Marshall Space Flight Center Developed the R-Gas Gasifier That Convert Coal Into Clean Energy
by Rudy P.
SysAdmin at howtofindthemoney
It's no secret that energy production is not always the cleanest or most environmentally friendly activity humans engage in. While burning fossil fuels produces relatively cheap energy, some of the byproducts are less than desirable. Using expertise gained from decades of rocket engine development for Marshall Space Flight Center, Gas Technology Institute of Des Plaines, Illinois, developed the R-Gas gasifier which uses a cleaner method to convert coal into energy.
Gas Technology Institute is a nonprofit research, development and training organization that seeks to address global energy and environmental challenges. In 2015, it acquired the energy portfolio of El Segundo, California-based Aerojet Rocketdyne – a longtime rocket engine developer. That portfolio included intellectual property, facilities and technology.
Rocket engines produced by Aerojet Rocketdyne for Marshall and NASA include the F-1 for the Saturn V and the RS-25s used on the space shuttle and Space Launch System. The company used those experiences to develop its energy portfolio for use in the private sector before the company was sold. During the transfer of resources, many Aerojet Rocketdyne researchers also went to work for Gas Technology Institute.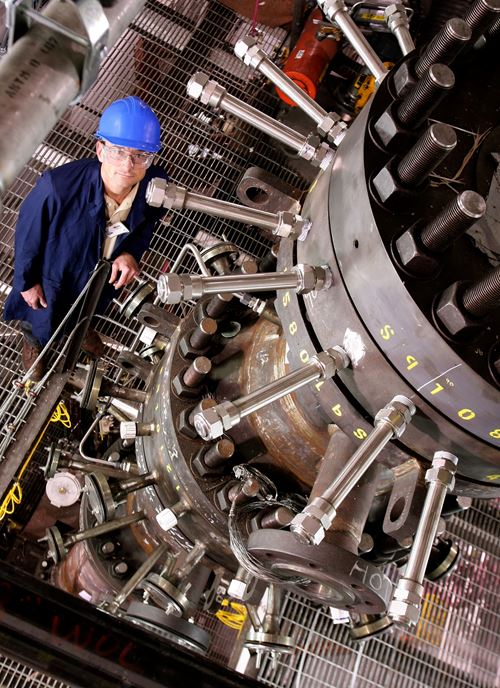 The R-Gas device uses gasification, a process that converts carbon-rich fossil fuels –such as coal – into a gas called syngas, which is comprised primarily of hydrogen and carbon monoxide. The process uses heat and pressure to break the coal into its components by controlling the chemical reactions that lead to combustion.
The resulting products are syngas and an ash that will not contaminate soil or groundwater. The Fischer-Tropsch process – which converts hydrogen and carbon-based substances into other fuels – can then be used to convert the syngas into end products such as methane and ammonia.
Expertise of working on and developing rocket engines enables Gas Technology Institute teams to create "recipes." Temperatures of rocket engines must be tightly controlled to prevent damage to the engines. The thermal control experiences enable the team to create and operate units that perform at higher temperatures and pressures than previous systems. The control also allows the team to modify conditions to create specific liquids and gases based on the ultimate end product needed.
The benefits of expertise do not end there. While older gasifier systems are the size of a building, such as Marshall's Building 4619 or 4705, Gas Technology Institute used expertise from making powerful rocket engines fit into smaller packages to make its R-Gas gasifier about the size of a semitractor-trailer.
The environmental benefits of gasification are numerous, including reduction of ozone-depleting gases, toxic slag and contaminated wastewater. While fossil fuels cannot be used without some pollution, Gas Technology Institute has managed to eliminate some of the harmful effects.
Syngas can also be the basis for creating other chemicals. When it is used for chemical production, gasification makes it easier to capture and sequester carbon.
Economically, gasifiers reduce the need for expensive environmental, pollution mitigation controls. They also cost less to set up than a traditional coal power plant, making it more appealing to developing countries.
A demonstration at Gas Technology Institute's headquarters processed 18 tons of coal a day. In late 2019, a demonstration plant built for a nylon factory in China anticipated processing 800 tons of coal a day. The plant also took advantage of the R-Gas's recipe technology to produce ammonia – required for creating one of the components for nylon. The benefit allows the plant to reduce its power needs while establishing a new income stream.
NASA's charter directs that the agency make technology and scientific knowledge gained through the exploration of space and improvement of aeronautics available to the public for commercial use.
"For over 50 years, the Technology Transfer Office at Marshall has worked with center innovators to identify technologies with commercial potential and license those technologies to companies that have created new commercial products that have improved life here on Earth," Terry Taylor, manager of Marshall's Technology Transfer Program, said. "Team members who have a technology that could make a difference are encouraged to submit a New Technology Report."
Sponsor Ads
Report this Page
Created on Apr 30th 2020 08:10. Viewed 251 times.
Comments
No comment, be the first to comment.