Accelergy - We Can Convert Coal, Natural Gas & Biomass to Clean Synthetic Liquids
by Rudy P.
SysAdmin at howtofindthemoney
Overview
Global efforts continue to grow to identify new resources for the production of environmentally attractive, low-toxicity, biodegradable alternatives to petroleum based products. Accelergy and its alliance partners are developing highly efficient, cost effective solutions for these markets.
Accelergy uses advanced catalysts and state-of-the-art process technologies to transform natural gas, biomass, and/or coal into clean specialty products and transportation fuels. Accelergy's state-of-the-art Hydroconversion to X (where X = solvents, lubricants, performance fluids, or fuels) "HDX" technologies economically convert abundant natural resources into clean, low carbon products.
Why Synthetic Liquids?
Why use natural gas, biomass and/or coal to produce synthetic liquids?
Combining plentiful domestic feedstocks with Accelergy's HDX process offers products which reduce dependence on imported oil and, in many cases, meet or exceed the requirements for low-toxicity, low-carbon, biodegradable liquids.
Consider these facts about domestically sourced synthetic liquids:
Abundant Supply: Our target markets, the United States and China, are rich in abundant natural resources that can be converted into synthetic liquids. For example, the shale gas revolution in the United States has unlocked tremendous natural gas reserves that could provide all of transportation fuel America needs for at least the foreseeable future. Additionally, there are significant supplies of renewable biomass and coal feedstocks that can provide a clean, secure energy future for generations to come.
Environmental Benefits: Combining our proven synthetic liquids conversion technologies with TerraSync®, our proprietary, terrestrial CO2 capture and recycle technology, Accelergy can produce liquids with a smaller carbon footprint than liquids produced from traditional petroleum refining. In fact, Accelergy can tailor TerraSync® to remove more CO2 from the atmosphere than is generated from the production and combustion of the liquids we produce.
Reliable Sources: Natural gas and coal currently provide the US with more than three-quarters of its electricity. Using advanced exploration and production technologies, new and increasing reserves of natural gas have been found, dramatically extending the proven reserves in the US. Additionally, our biomass feedstocks can be grown domestically on land deemed unsuitable for food crop cultivation.
Our Processes
Accelergy is commercializing the leading, next-generation, synthetic liquids HDX production technologies with high overall thermal efficiency, a reduced greenhouse gas footprint and lower unit costs than current refining methods. Our proprietary processes convert natural gas, biomass and/or coal into a range of low carbon, high performance synthetic specialty liquids and advanced fuels.
About HDX
Accelergy deploys industry leading, advanced catalysts and state-of-the-art process technologies to transform natural gas, biomass and/or coal into clean specialty products and transportation fuels. Coupled with our proprietary TerraSync® carbon capture and utilization (CCU) technologies, Accelergy can drastically lower or eliminate the carbon footprint of our products profitably.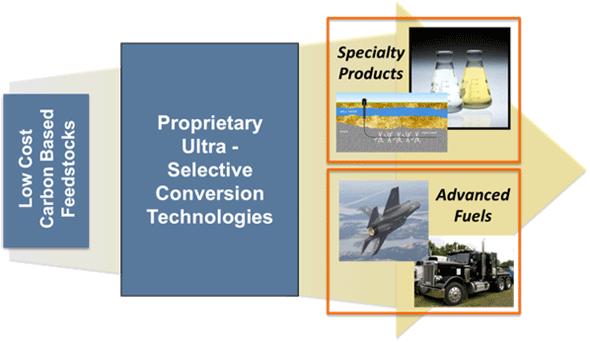 Our integrated HDX bioconversion processes are more efficient and cost effective than competing alternatives, and able to produce 100% renewable distillate range hydrocarbons with superior properties to current market offerings for Food and USP grade solvents, lubricants and EPA certified low toxicity biodegradable drilling fluids.
A new class of products being offered are TerraSol® liquids, high-purity synthetic mixtures of hydrocarbon and oxygenate based liquids produced using our HDX manufacturing processes.
The ultra-high purity of TerraSol liquids, combined with an array of chemical and physical property features, offers significant benefits for both industrial Food and USP processes and related consumer applications where high purity, low toxicity and biodegradability are desired
TerraSol Liquids Key Features:
Essentially odor free, for more attractive work place and end user applications
Narrow boiling ranges for optimal combination of flash point and drying time
Nil aromatic content to minimize risks from exposure
Compatible with most Food and USP grade packaging materials
High chemical/thermal stability for long shelf life
Low freeze point for specialty applications
Ultra low toxicity for regulated drilling and fracking operations
Low electrical conductivity
Low surface tension for superior wetting and surface spreading
The 10 largest coal producers and exporters in Indonesia:
Sponsor Ads
Report this Page
Created on Oct 15th 2019 17:07. Viewed 349 times.
Comments
No comment, be the first to comment.