Off-Campus Versus On-Campus Housing – Which is Better for University Students
by David Holmes
Off-Campus Housing
After getting admitted to reputed institutions like Bloomsburg University, among others, housing is one of the most important decisions to make. If living independently is the main goal for the student, then choosing off-campus housing can be beneficial. But, if the student wants quick access to campus facilities, then a dorm is the best option for them. Here is a comparison between off-campus apartments and dorms to understand which is better for students.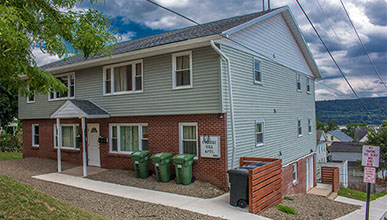 Stepping outside the family house means more freedom for most young adults. However, such is not the case if they decide to live in a dorm as they would have to follow certain rules and regulations for living on campus. If an individual decides to live in one of the best
student apartments near Bloomsburg
University, they will have the freedom to choose their roommate. Additionally, this freedom comes with responsibilities, which allows students to live like adults.
The rent of an on-campus or off-campus accommodation depends on the college one chooses. In some places, the dorms may offer inexpensive rent, while on the other hand, some off-campus housing can be more budget-friendly. One should ensure to compare the rents for both accommodations before making a decision. Some dorms provide all the necessary facilities, but their condition might not be great. A fully furnished apartment, in comparison, will be worth the price.
While living on campus can restrict students from reaching their local amenities, an off-campus apartment can give them easy access. One can reach local restaurants, grocery stores, theatres, and more when living off campus as everything is mostly within walking distance. What's more? Off-campus apartments come with amenities that are well-maintained and modern. This can help students maintain their standard of living properly.
4.

Privacy and Independence
The privacy and independence of an off-campus apartment are things that one will never get in a dorm room. This is because most dorms have shared rooms where solitude is out of the question. In an off-campus apartment, students are away from the bustle of the university and have the option to get a private room for themselves. Additionally, like dorms, one does not get cooked food and clean clothes, making them responsible for their work.
It is better to have options as it does not restrict the students from choosing what is best for them. Students do not have the option to choose their roommates in dorms, which may make their college experience a bit difficult if they do not have a good relationship with their roommate. Additionally, unlike university dorms, students have the choice to either live in an individual apartment or a shared one, depending on their budget.
Students planning to choose an accommodation should ensure that the off-campus apartment they rent has positive customer reviews, reasonable pricing, and proximity to their university campus.
Sponsor Ads
Report this Page
Created on Jul 17th 2023 07:12. Viewed 129 times.
Comments
No comment, be the first to comment.