How Much Should I Raise My Bed for Acid Reflux?
by Mike K.
Post your article at Aleshatech.com
Acid reflux cannot allow you to sleep in peace. It is a condition where acidic stomach contents move up into the esophagus. This condition causes a serious, painful sensation in the chest area. This happens as a result of indigestion. Exercising after taking a meal can also cause acid reflux. What is the best way to deal with acid reflux? Research has shown that having an elevated bed can help calm down the symptoms of heartburn. You can also buy an acid reflux pillow to ensure that your head is on a higher level than the abdomen while you sleep.
What are the causes of acid reflux?
The main cause of heartburn is hiatal hernia disease. This is a disease that affects the upper muscles of the stomach and the lower esophagus sphincter. If this disease affects someone, the acid can move above the diaphragm up to the esophagus. There are many other causes such as exercising immediately after taking an acidic meal, bending after a meal and even taking some drinks such as alcohol. Also, smoking and being pregnant can cause acid reflux.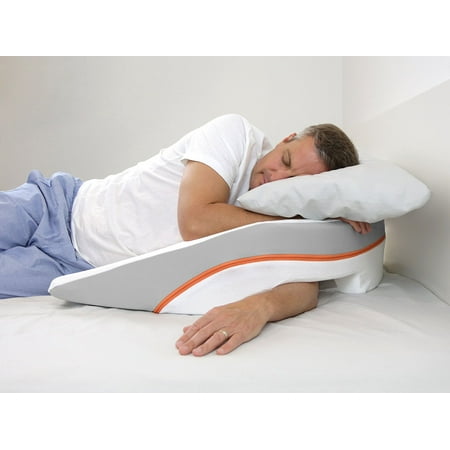 How can you deal with acid reflux
· Use acid reflux pillow
When you have heartburn or experience heartburn more often, you should buy a pillow that can help you keep the acidic stomach contents in the stomach. There are many brands of these pillows such as Xtreme Comforts 7 Inch Wedge Pillow, FitPlus Premium Wedge Pillow, Bed Wedge Pillow by Xtra-Comfort among many others. These pillows are well designed to elevate your body in such a way that your head is on a higher level than the abdomen.
· Raise the head of the bed
Heartburn mostly occurs when you sleep. For that reason, if you experience acid reflux every time you go to sleep, you can raise the head of your bed. You need to make sure that your head is at an angle. The elevation angle mostly should be 30 degrees. You can raise the bed head with 6-8 inches to get a perfect elevation. This will ensure that no stomach content gets your esophagus to cause a painful sensation.
· Sleep on your left side
Research has shown that sleeping on your right side can make acid reflux worse. For that reason, you should avoid sleeping on the right side and always sleep on the left side if you experience heartburn.
· Avoid exercises immediately after taking a meal
When exercising, you move your body a lot. This can make the stomach content to move up to the esophagus if the exercises are intense. Also, avoid bending after taking a meal. Also, avoid smoking and taking too much alcohol. This will keep you safe from heartburn.
Final thoughts
Acids reflux comes with serious pain in the chest area. It can be caused by a disease, but it is manageable. Other factors can also put you to risk of getting acid reflux such as bending after taking a meal. You can manage this condition by raising your bed head or buying an acid reflux pillow. If the condition worsens, you can seek medication.
Sponsor Ads
Report this Page
Created on Apr 26th 2019 11:30. Viewed 272 times.
Comments
No comment, be the first to comment.