How Is Hair Transplant Better Than Hair Weaving?
by Andrew Martin
Health Consultant
Most of us, by the time we reach our 30s or late 20s are now familiar with the terms hair weaving or prosthetic hair and hair transplant. With common people like us getting conscious about our appearance to an extent that we are ready to get a surgical touch up in order to improve the same, the cosmetic solutions have sprung up. Two such cosmetic solutions are: hair transplant and prosthetic hair both of which have gained a lot of attention to deal with baldness.
Then comes the obvious curiosity related to difference in the two procedure and most importantly which is better.
Hair Weaving
Hair weaving using prosthetic hairs is a non surgical hair restoration procedure where in hair extensions are added to the existing natural area. There may be several methods to attach or add these prosthetic hair such as using glue or hair clips or machines or sewn. This process has to be customized for each bald patient because a hair patch has to be prepared or designed by the professionals to resemble scalp skin and match hair color so that it is undetectable. The patch also has a film of specialized material where in the artificial hair or natural human hairs (chosen on the basis of existing hair color of the patient) are inserted as per the bald area. The entire patch is breathable so it can be worn during night or in shower or in swimming pools. However, the only issue is that it is not permanent i.e hair weaving need constant replacements every 6 to 12 months.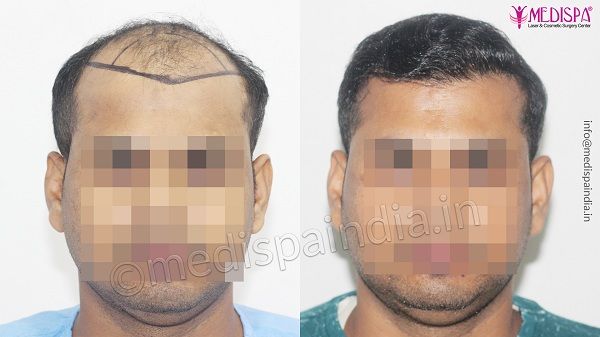 To complete the hair weaving process, several steps are undertaken
1. After taking the impression, a base is formed using the molding process.
2. The base is prepared with a hypo allergic, neutral, biocompatible and inert material or fabric.
3. In the film of the base, the hairs are aligned or arranged to match the natural flow an aesthetics of the bald area
Hair Transplantation
Hair transplantation is an outpatient elective minimally invasive surgical procedure with a basic underlying principle that involves the extracting and harvesting hair grafts from the donor area that is decided on the basis of hair density and presence of androgen resistant hair follicles. These harvested hair follicles are then transplanted at the target bald area. The androgen (Dihydrotestosterone-DHT) resistant hair follicles or the permanent hair roots are specifically chosen as do not possess receptors for androgenic hormone and stay intact for life time. Since the hair following the genetic composition of its roots instead of the scalp thus, when these follicles are transplanted at the target site, due to donor dominance the resulting hair are permanent
Hair transplant procedure provides the most natural looking hair and is the most permanent solution to deal with hair loss. The procedure is performed under local anesthesia and is mostly painless with duration of almost 4-8 hours depending on the case complexity. There are two techniques used to perform the procedure: FUT (Follicular Unit Transplantation) and FUE (Follicular Unit Extraction) hair transplant technique. The prime distinction between the two technique lies in the graft extraction or harvesting procedure and are chosen on case to case basis depending on grade of baldness and other treatment modalities.
How is hair transplant better than hair weaving?
It is no surprise that hair transplant outweighs hair weaving as a solution to deal with hair loss. Below we try to compare certain factors where in it is evident that hair transplant is a way better solution than hair weaving:
1. Permanency of Results: Hair transplant provides permanent results because the follicles are transplanted at the target site and thus, the hair on these sites then behave like normal regular hair unlike hair weaving where in the procedure needs to be repeated periodically.
2. Natural Hair: Hair transplant procedures use natural real hair from the patient's donor area whereas hair weaving deploys artificial hair or sometimes natural hair also but not from the patient's body. Also, the resultant hair from the new roots are also purely natural in case of hair transplant
3. Aesthetics: Both hair transplant and hair weaving could deliver natural looking results. However, hairline designing performed during a hair transplant by a skilled surgeon can make it absolutely impossible for anyone to identify that hair restoration has been performed. However, hair weaving results can be easily identified in most of the cases
4. Replacements: Hair transplant do not need any maintenance and replacements after the physical recovery whereas prosthetic hair need constant maintenance and replacements every 6 – 12 months.
Medispa Hair transplant clinic offers superior
hair transplant in Jaipur
and has successfully delivered the ultimate natural looking results to more than 5000 patients over 15 years of its journey. Dr Suneet Soni, the owner of Medispa Hair Transplant Clinic is one of the best hair transplant surgeons in India who has pioneered several advancements in the field and has delivered fabulous results because of his refined surgical skills complementing his artistic sense.
Hair transplant cost in Jaipur
is extremely reasonable and is easily only a fraction of what you would end up paying in the US, UK or even UAE.
Sponsor Ads
Report this Page
Created on Dec 2nd 2020 06:16. Viewed 205 times.
Comments
No comment, be the first to comment.