Is FUT Hair Transplant Surgery Effective?
by Andrew Martin
Health Consultant
Talking about hair transplant many misconceptions and beliefs prevails among the people. The increasing craze for online portal has raised much disbelief among people regarding hair transplant techniques.
Hair transplant is in trends due to indulged aesthetic needs which are desired not only to cover bald area but also to alter the hairline for enhancing one's appearance. Due to increased trends clinics are outnumbering day by day. But this increasing availability of clinics the questions are raised on authenticity of the procedure which is getting deteriorated due to accumulation of inexperienced and unknowledgeable surgeons which are mere technicians posed as surgeons.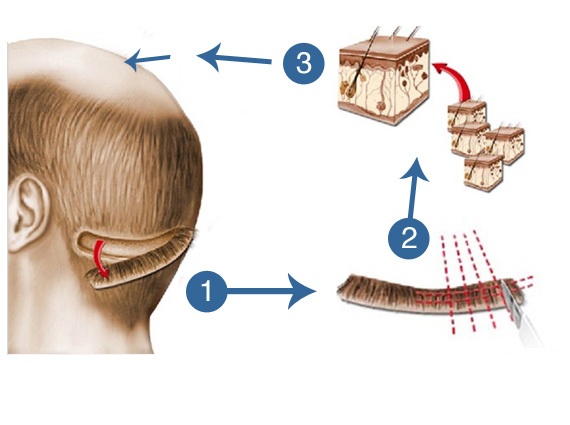 Hair transplant technique involves following steps:
1. Administration of local anaesthesia at donor site
2. Follicular Graft harvesting from donor area as per the requirement of number of grafts
3. Implantation of grafts at the recipient site
4. PRP therapy(optional)
5. Post operative washing after 24 hours
The graft harvesting step is the most crucial step of the hair transplant procedure which can be performed by either of 2 primary methods:
1. FUT (Follicular unit transplantation or strip technique): It employs the extraction of thin section of scalp as strip which then undergoes process of separation of follicular grafts under magnification and then implantation of grafts at recipient area.
2. FUE (Follicular unit extraction): It includes the extraction of individual 'follicular units' with a surgical device followed by implantation of graft at recipient site.
People often are deviated towards the FUE technique as being more advertised and favoured by clinics.
But no one knows the reality…
FUT and FUE both these techniques have their relevant indications which has to be opted as per the requirement of patients. There is nothing like good or bad technique, it is just the need of the case. Nowadays, cheaper clinics favours FUE technique as it is relatively simple procedure and does not require a huge set up and more manpower. FUT on other hand is a complicated procedure and can be performed only by expert hands for best results. FUE technique is presented as a painless and scarless technique. But in reality there is no such technique which is scarless as both techniques if performed by expert hands can result in almost invisible scar. Regarding the pain both techniques are almost painless procedures. Hence, the choice of technique is based on multiple factors like number of grafts required, area of baldness, age of the patient and quality and quantity of existing hair at donor area.
FUT techniques have multiple added benefits over FUE technique and are an effective procedure of hair transplant. The benefits enumerated are as follows:
Preferred in cases of extensive baldness:
FUT technique is preferred when there is requirement of larger number of grafts of around 3000-3500 grafts. FUE technique if performed in these cases will surely lead to overharvesting and violation of safe donor area.
· Provision of extracting larger number of grafts: FUT technique have added advantage of extracting large number of grafts despite preserving strip for future sittings. FUE technique if performed in such cases could lead to density depletion in donor area.
· Shaving can be avoided: Unlike FUE this technique can be performed without shaving the entire head and only strip extraction area has to be shaved.
· Less damage rate of grafts: FUT technique as performed under high magnification offers negligible transection of hair follicles unlike FUE technique where individual grafts are extracted blindly using a punch device.
· Permanent Hair roots: FUT hair transplant technique has more probability of extracting permanent hair roots as it better preserves the safe donor area where hair follicles and DHT resistant. The safe donor area has DHT-resistant hair roots which are not affected by miniaturization or hair loss and thus results in permanent hair roots.
· Preservation of donor site for future: FUT technique allows the surgeon to be able to perform the procedure multiple times as strip area can be preserved for future usage in cases of progressive hair loss and extensive baldness.
Henceforth, there is no such technique which is suitable for every case and the decision of technique is made on the basis of demand of the particular case. FUT technique is preferred in cases of requirement of more number of grafts and FUE technique is a preferred technique in initial stages of baldness and facial hair transplant.
Dr Suneet Soni, founder of Medispa centre is well known to deliver the best possible results using any of the technique at an affordable hair transplant cost in Jaipur. His excellent surgical skills and extraordinary artistic skills for hairline design have made him popular to perform hair transplant with natural looks. He believes in judicious approach and not relying on same technique with every patient. His extensive knowledge in field of hair transplant has made him deliver 100% successful results with least damage rate of <1% to grafts.
If you are looking for a competent hair transplant surgeon, you would not find anyone better than Dr Suneet Soni. So book your appointment now for sure shot successful result of hair transplant.
Sponsor Ads
Report this Page
Created on Oct 4th 2019 00:25. Viewed 975 times.
Comments
No comment, be the first to comment.