When To Expect Hair Growth After Hair Transplant?
by Andrew Martin
Health Consultant
Hair follicles undergo four stages of growth cycle: anagen, catagen, telogen and exogen. Every hair follicle can be at different stage of growth phase and follows the complete cycle of hair growth from maturation to shedding. Shedding of hair follicle is normal phenomena but it is a point of concern that how much hair fall is normal. 50-100 hair shafts shedding routinely are considered normal and losing hairs more than this could be alarming signs of hair loss which one should consider seriously.
In earlier times hair loss was a sign of ageing but now altering trend of lifestyle, stress and increasing pollution acts as hand in glove component in facilitating influence of genetic hair loss. As with increasing incidence of hair loss in younger population, the consequences of hair loss are more dreadful in terms of psychological impact. In the present generation where personality management is crucial in every aspect socially and professionally, hair loss could lead to losing one's confidence and self esteem. Hence, people looks for fast and permanent solution for hair loss so not to lag behind in this fast and furious world.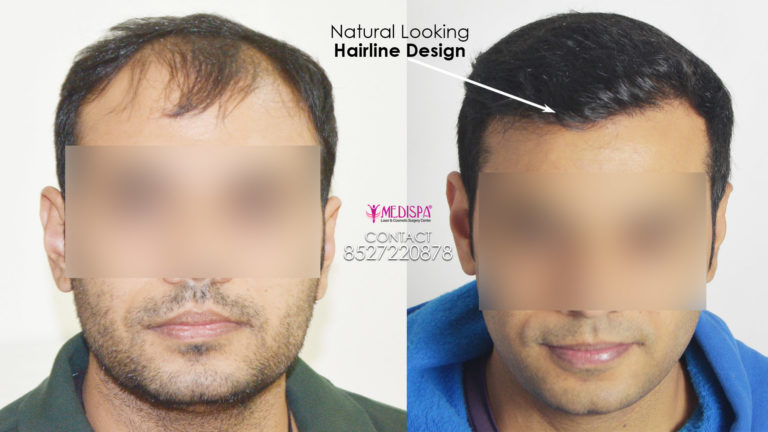 So for resolving the hair loss issue, hair transplant is the only permanent option which is also capable of delivering undetectable natural looks. These benefits have brought the procedure in lime light and choice of many hair loss sufferers. Hair transplant results are permanent and natural but unfortunately you need to wait for few months to see the seeds sown. Hair transplant is often mistaken as procedure which delivers immediate results but the reality is one need to wait for a minimum of 3 months to appreciate the visual growth.
Medispa hair transplant clinic offers the best comfort and care from beginning to end during the hair transplant surgery to ensure the best possible results with desirable aesthetic outcome. We believe in putting our complete efforts to deliver you pleasant and realistic growth post procedure for a blissful experience at an affordable cost of hair transplant in India. We make sure that the time you spend in waiting to appreciate hair growth be fruitful and satisfactory. Dr Suneet Soni is renowned hair transplant surgeon in India and famous for delivering assured and best results with natural looks. His excellent surgical skills and artistic vision with years of experience has favoured him to be the best of all in field of hair transplant.
What happens to newly planted hair follicles after transplantation?
After hair transplant procedure, newly planted hair follicle undergoes hair growth cycle similar to natural hair follicles which includes: anagen, catagen, telogen and exogen. Every hair follicle follows its own course and lies at different stage of hair growth cycle. Based on the stage, the transplanted hair follicles depict growth and undergoes shedding, rest and growth. Hence, each hair follicle grows at different time and varies from individual to individual. The following timeline of growth of hair follicle after hair transplant are as follows:
During Week 1: For achieving the best possible results patient had to follow strict post operative instructions prescribed by the hair transplant surgeon. There are mild complications which are short term including swelling, pain, redness, itching and numbness. These temporary complications could be easily sorted by the instructions provided by the surgeon. There is formation of flakes or scabs around the transplanted hair follicles which disappear in around 10 days post procedure.
Week 2-3: This is also termed as shock phase when you will be surly shocked that your transplanted hairs are shedding and you might feel that your hair transplant is a failure. But not to worry, this is a general sequel of transplanted hair follicles which loses its shaft and prepares the follicle to undergo growth and prepare newer hair shaft.
Month 1 to 2: This is the duration after hair transplant when the hair follicles undergoes rest phase and does not show any growth or visible change on the scalp. This is usually a disappointment period for the patients when they are eagerly waiting for the hairs to appear on their bald heads. Patient scalp looks similar as was previously before the procedure.
Month 2 to 4: This is often a happy period for patients as they see new hair shafts visible on the scalp which brings a ray of hope for fuller growth. But the growth you see is very disproportionate as each hair follicle follows its own course of growth and some appears sooner and some latter.
Month 6: Since month 3 the hair growth progresses and follows the similar pattern as natural hair.
Month 6-9: A large amount of bald area is covered with the hair growth and donor area also is healed completely. Hair shafts also undergo textural changes and become thick.
1 year: The complete hair growth could be appreciated at the end of a year when you can confirm the results of your hair transplant and judge its success. Bald area looks fuller and hairline and temporal triangles are built according to design opted.
Surely you need to wait for an ample time to observe growth following hair transplant but if you have opted for right surgeon and right clinic this period is worth waiting for.
Sponsor Ads
Report this Page
Created on Nov 5th 2019 04:53. Viewed 622 times.
Comments
No comment, be the first to comment.