What Are The Ways To Find Out The Perfect Product To Sell?
by Waki Store
Online Shopping Store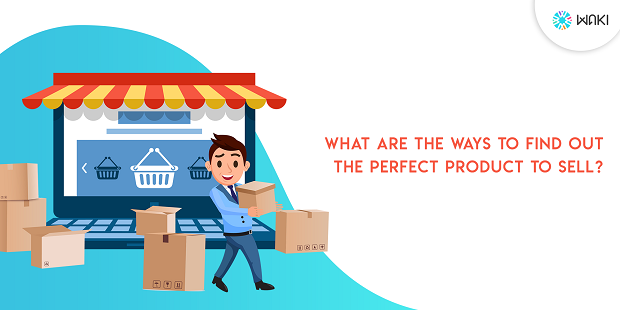 One of the biggest challenges for e-commerce portals is to find out the profitable in-demand products. It does not matter that it is a single product or a full product line that occupies the market.
Coming up with the product ideas is a little risky and the importance of selling the product you want can leave the people stuck in analysis paralysis. Most of the time it feels like everything you could possibly sell is already being sold. If you step into the market then you realize that there is very tough competition in the most popular product categories.
But still, there are a lot of opportunities out there because new products launch all the time. To help you get started we have put together a shortlist of practical ways to find products to sell in your online store.
Let's take a look on the ways to find a product to sell
Solve a customer pain point
Solving the customer pain point is always an effective way to develop the product. It is worth paying close attention whenever you notice common frustration with existing products. If you are aware of the pain point and small annoyances of the users that they came across everyday life could be just what you need to come up with your next profitable product idea.


Appeal to enthusiastic hobbyists
When consumers are more passionate about any particular trade or hobby, then they are usually more inclined to invest money to get the exact product they want. This is an important qualifier when evaluating the potential opportunity of any product or line of products.
One more advantage is that the higher levels of engagement and loyalty with your brand, as enthusiastic customers are generally more involved in the industry and get more value of the products they purchase.


Go with your personal passion
While there are inherent risks in choosing the products based on your own interests, it certainly doesn't have to be a recipe for disaster. Creating a unique product with personal interest can be extremely profitable.
You have to know that market fit matters a lot because building a business is a lot of hard work and you will be better equipped to stay motivated and overcome the hurdles if you are deeply invested in what you are selling.


Consider your professional experience
If are working in a particular industry then you must aware of the ins and outs of the industry. Maybe you have a particular set of experiences that make you more knowledgeable than the average person on a particular field. If you turn your expertise into your own online business then it is the smartest way to enter the market.
For example, Retro Supply is an online shop that sells the digital assets for graphic designers and illustrators inspired by history. Founder Dustin Lee, a designer by trade, pivoted from a running a freelance web design shop for generating more passive revenue through the Retro Supply selection of the digital products.


Capitalize on trends only
Recognizing a trend early enough can be the signature win for the new business, it allows you to carve out the place in the market to establish yourself as a leader before others to have a chance. You have to focus more on gaining organic traffic instead of paid because it lowers the opportunity to build the long term SEO traffic.
Here we are listing the few ways to keep an eye on what's trending so that you can act quickly on potential opportunities:
• Social listening can be as simple as looking at the trending hashtags on Twitter or topics of Facebook, or as advanced as using the social listening tools to identify and monitor trends over time.


• Google Trends to look at the popularity of the products over time and analyze the trending products.


• Trend Hunter is the world's largest popular trend community. It uses the data, artificial intelligence, and real humans to identify consumers insights and new opportunities.


• Reddit is to showcase the forum about pretty much every topic, you have to visit the popular page to know what people are buzzing about.
These are the ways to find out the perfect product to sell. If you are looking for the portal where you can showcase your product in front of larger audiences then Waki, is a best online shopping store in Saudi Arabia, is the best option for you.
We offer you the portal where you can find out your potential customers from the Saudi Region. Here you can also experience the world class features and functionalities. So, come and get your customers.
Report this Page
Created on May 24th 2019 09:24. Viewed 234 times.
Comments
No comment, be the first to comment.