How To Optimize The E-Commerce Portal Conversion Funnel?
by Waki Store
Online Shopping Store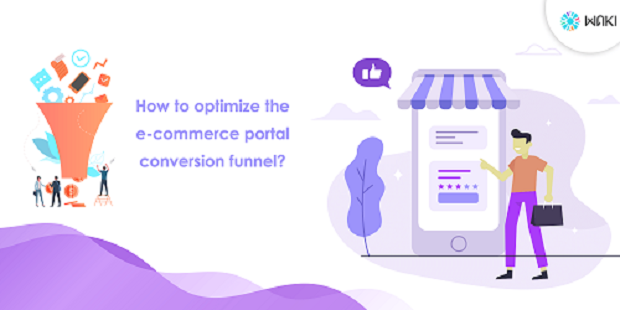 Every e-commerce owner has an expectation that when the customer visits their portal, he or she fills up the cart and gives them good businesses. This expectation is very normal, even every business owner thinks like that. But what if users don't give you business according to your expectation. In this situation, you have to just analyze and improve your conversion funnel.
On YouTube, LinkedIn, or Facebook you can find out the various methods to build and optimize an e-commerce conversion funnel, but in reality, it is very hard. Here we are going to describe everything about e-commerce conversion funnel.
What is a conversion funnel in e-commerce?
A conversion funnel in the e-commerce portal describes the journey of the consumer from becoming aware of your brand to making a purchase. It also includes customers retention, upselling, cross-selling, and subscription-based models.
What is the importance of creating an e-commerce sales funnel?
If you don't know how your e-commerce funnel works, then you cannot optimize each stage of your sales funnel. You have to know which touch points have the most impact on the conversions so you know where to focus your efforts.
For example, your research might indicate that social media plays a tremendous role in conversions. That means your large group of followers pays attention to your social media post so you need to post more discounts and offers to engage them.
When you have information like this, then only you can take actions that encourage your visitor to follow you on the social media platform. You can add the prominent CTA for social media platform, you can take advantage of the existing website and draw people into your social sphere.
How to know the average conversion for the e-commerce portal?
If you analyze your e-commerce conversion funnel in the visual representation then you can find out the average conversion rate that a business might expect to see on the portal. Based on the typical e-commerce conversion rates, organizations can significantly improve their product pages to convince people to add more products to their carts. The most important thing is that they can benefit from optimizing the checkout process so more people actually buy the products.
What are the stages in e-commerce conversion funnel?
Basically e-commerce portal has four stages in the conversion funnel and during each stage, the consumer makes the decisions on his or her perception of your brand product and the competition. If you want to generate more revenue you have to optimize each stage. Stages of the conversion funnel are:


Awareness

Interest

Desire

Action
Let's take a closer look at each stage.
Awareness
During this stage customer or we can say consumer become aware of your brand and product. At this stage, they are looking for the product which removes their pain point. In this awareness stage, you have to provide the educational material or resources as much as possible because the consumer wants to know about your product. You have to provide blog posts, webinars, reports, and guides.
Interest
Now you impress your users to give you the business and you cannot afford them to escape. So you have to continue to provide them with entertainment and educational values so they remain interested in your products. Replicate that strategy by sharing brand centered memes on social media, email marketing, and posting videos on YouTube.
Desire
Now you have your audience interest and now you only need to create a desire to buy the product. Talk about your product benefits and features to make your prospective customers want the same great results. Build your CTA strategically and instead of focusing on what you offer to tell them how they will get the benefit.
Here are two examples of CTAs by the company which provides backpacks:
Grab your own XYZ backpack and enjoy extra pockets and thicker shoulder straps.

Grab an XYZ backpack for extra storage for your belongings and ergonomic straps that reduce the back pain.
In both, the examples the second create more desires because readers can visualize the benefits.
Action
Now you have done all the important things and it's the time to close the deal. You want your customers to add products to their shopping cart and click on the buy now. But remember that only 3% of the visitors click on this button. if you want that most of your visitors fall into this category then examine your checkout process from end to end.
This is all about e-commerce portal conversion funnel. Waki is a online shopping site in Saudi Arabia that offers a wide range of products from all across the globe. You can get the best rewards and discounts, if you want to experience the amazing e-commerce portal then check out Waki.
Report this Page
Created on Apr 25th 2019 08:29. Viewed 185 times.
Comments
No comment, be the first to comment.