Tips to Remember Before Choosing RO Water Filters Online
by Shivangi Gupta
Appliance Advisor
Are you looking for a RO Water Filters Online? Here are the tips to help you choose the best.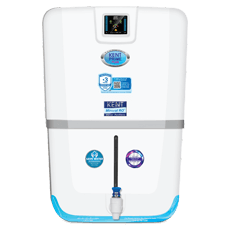 Water pollution is a serious problem which can give way to a host of diseases like Diarrhoea, Cholera and Typhoid fever etc. The only way to avoid these diseases is to ensure that you always drink clean and purified water. This can be easily made possible if you install a water purifier at home. There are various kinds of water purifiers available in the market. Among the different types and options you have, the RO or Reverse Osmosis mechanism is one of a kind. A water purifier is entrusted with the responsibility of filtering out impurities from the supplied water. Various factors like the dumping of industrial and solid waste into the lakes and rivers combined with sewage water and global warming have led to tremendous water pollution. This has made surviving without a water purifier almost impossible. Even when you get water from public supply rust and other unwanted substances can make way into your drinking water.
RO water purifier
has the best technology to handle water pollution. Here are certain tips you should remember before choosing RO filters online:
1. Water quality:
Different purification processes like UV, RO and UF are meant for different kinds of water. Check the quality of water in your area to know the TDS level. RO Filters are best suited for areas where the TDS or total dissolved solids level in the water is high. Latest technology in a RO water purifiers helps to battle different pollutants and contaminants thereby ensuring you get, it is ideal to get clean drinking water.
2. Level of water pollution:
Check the level of water pollution in your area. Usually, water coming from rivers and lakes has low TDS concentration compared to water from tankers and bore wells. The latter will also have harmful microorganisms and chemicals present in it.
3. Storage Capacity of Purified Water:
The quantity of purified water your purifier can store is an important aspect to consider while buying a water purifier. Ask a sales representative to help you judge the storage capacity as per your family's need. However, if you have a bigger family with more members, consider purchasing a water purifier with a storage capacity of 10 liters and above.
4. Purification Technologies:
RO water Purifiers are clearly one of the safest options to opt for if you do not want to worry about low or high TDS level. RO technology can handle purification of both kinds but make sure the purifier has a TDS controller. The best purifier to opt for is the one that has the triple purification system of RO+UV+UF filtration. Each of these processes handle a specific aspect of filtration which in combination gives safe and pure drinking water.
5. Warranty and After-Sales Service:
Warranty of the product you are purchasing is equally important. Look for extended warranty periods if available. As water purifiers require maintenance you would be wise in looking into the after-sales service provided by the brand you are opting for.
RO water filter
has been designed to remove all sorts of impurities including biological, physical, chemical and dissolved particles.
Report this Page
Created on Nov 16th 2018 01:39. Viewed 266 times.
Comments
No comment, be the first to comment.