How To Choose The Right Juicer For You: Find 7 Tips Here
by Shivangi Gupta
Appliance Advisor
While shopping for a juicer may sound simple, in reality, it requires careful thought and consideration. After all, you want to find the best juicing machine that is easy to operate, yields more juice and gives value for money. Read on for some important guidelines.
Looking for a versatile juicer to churn out delicious concoctions for a healthy life but, have no idea what type to choose? Given that it's a costly purchase, you naturally want to make the right choice. Easier said than done! With the wide range of options flooding the market, zeroing in on the ideal unit can be a tad tricky. No worries! We have seven tips that can help you filter through the various models available to find the kitchen appliance that is perfect for your needs and pocket.
Know the Types:
There are different types of juicers available. These include masticating, centrifugal, twin gear and manual units.
The masticating or cold press juicers retain more nutrients/enzymes as they squeeze the fruits and vegetables with less heat and oxidation. They yield high, and the juice can be stored for a longer period.

Centrifugal models grind fruits and vegetables at high speed which tends to reduce the nutrients. They create a lot of foam and are not ideal for green leafy veggies.

A twin gear juicer machine works by crushing the produce between two interlocking roller gears to squash out the juice.
2. Check Speed Controls:
While most gadgets are equipped with a simple on-off switch, there are some that come with multiple speed settings. The different controls provide more flexibility and enable the extraction of juices from different types of foods with efficiency.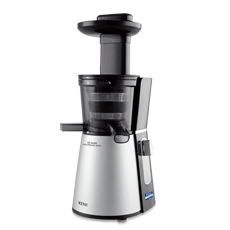 3. Pay Attention to Additional Features:
Check out the features, design, aesthetics, and motor of the juice maker. Units fitted with different feed chutes are an additional plus. Since they can accommodate various kinds of fruits and vegetables (hard, soft, citrus, leafy green veggies etc.) the juicers slash the preparation time considerably.
4. Look for Machines that are Easy to Clean & Maintain:
It is vital that the domestic device is easy to maintain and clean because the juicing process can be quite messy. A compact unit with reverse motion prevents clogging and blockages. Also, machines with removal parts that are dishwasher friendly can be cleaned safely and with little effort. Look for a device that comes with a cleaning brush.
5. Decide Your Budget:
Another factor to be considered is the juicer price. The household appliances come in an endless variety ranging from high-end to entry-level units. The former is equipped with the latest features while the latter comes with more basic functionalities. Needless to say, the premium models are more expensive. Select a juice extractor that will satisfy your juicing requirements without denting your budget.
6. Check Warranty:
Don't forget to check the manufacturer's warranty period and its coverage. It's imperative to ascertain whether it includes motor damage, replacement, and repair of attachments. An extended warranty assures the user of the quality, durability, and sturdiness of the product.
7. Go through Reviews & Customer Feedback:
Consider reading reviews online before taking the plunge. Apart from learning a lot about the different brands and types of juicers, you can gain valuable information about their functionality, features, and attachments. Also, leaf through customer feedback. It can provide an accurate picture and play a key role in helping one determine which brand/unit will work for your culinary needs.
We hope the above guidelines can help you find a juicer that will serve you well for years to come. So, get ready to buy the ideal kitchen appliance and enjoy the benefits of juicing for an overall healthy life.
Report this Page
Created on Jun 14th 2018 06:49. Viewed 524 times.
Comments
No comment, be the first to comment.