Starting a Moving Business - Top 5 Tips
by Emma L.
Business consultant
The idea of starting your own moving business may sound as something ambitious or colossal, yet, in reality, things are usually not so. Namely, about 47.8 percent of industry companies employ under 5 people. As for the businesses with more than 100 employees, this is barely around 8.5 percent of the entire industry. This means that you can start relatively small and work your way up as the market expands and your list of clients starts growing. There's also the increasing number of businesses in this industry, which indicates that it's A) a lucrative field and B) welcoming towards newcomers. With that in mind and without further ado, here are the five most important things you need to know in order to start a moving business.
Choose a type of moving business
The first major choice that you'll have to make is to decide whether you'll specialize in moving companies or households. While, in theory, it's possible for your business to provide both of these services, by streamlining the process and specializing you'll automate a lot of tasks and achieve greater efficiency. Moreover, commercial moving requires a somewhat larger staff, more specialized equipment (forklifts and trolleys), as well as additional licenses. When it comes to moving households, about 3 million families/individuals relocate annually. However, only 650,000 of them do so with the help of professional movers. Others do so either on their own or with a rented truck.
A storage
One thing that a lot of moving businesses don't have is storage to assist them in the moving process. You see, some clients require storage room, seeing as how they can't place all the items in their new home, at the moment. This is why they need a temporary solution. The reason why this is so important for a moving business is due to the fact that you get to charge for storing the items, even keep them if they fail to withdraw/make payments in 6 months. This gives you one more way to earn money, thus diversifying your income.
Getting the necessary equipment
The next thing you need to consider is the necessary equipment for joining the industry. Previously, we've mentioned that some people just need to rent trucks in order to move, so, it's only logical that this is first move for any company. Nowadays, with so many platforms offering trucks for sale there's a wider variety of choice and a chance to get a better price. Should you get more than one truck, you may also start renting them out (as a part of your moving services), thus, once again diversifying your profits. Other than this, we've already mentioned equipment like forklifts and trolleys but all of this depends on the nature of work that you're going to encounter.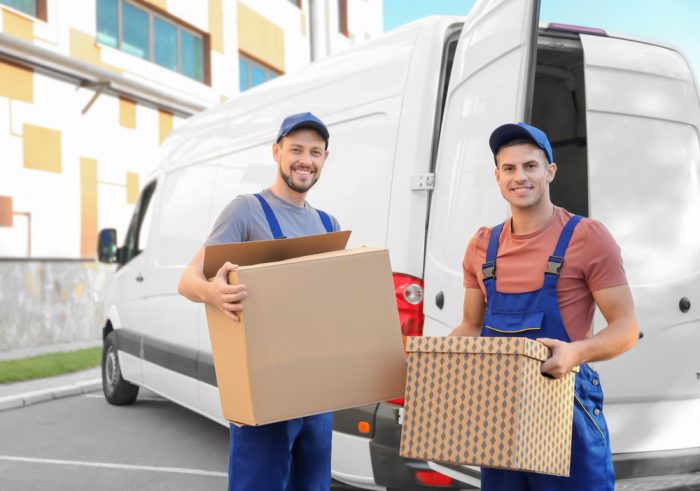 Hiring and train people
Hiring and training careful people will minimize the chance of damaged property in the process. This means that you'll get to pay fewer fees and, overall, be more profitable. A careful vetting process can help you pick the most suitable candidates for the job. However, keep in mind that training people also makes them more productive in tasks like packing or loading/unloading. In other words, your company gets to benefit double-fold. Keep in mind, nonetheless, that there's also the safety training for them to undergo, as well as some task-specific training programs that you'll have to enlist your team members on.
Getting all the necessary insurances
The very last thing you need to tend to is the issue of insurances. First of all, you need to get an insurance policy that will cover any damage to the property caused by your team. You need an insurance policy for company vehicles and equipment, as well as worker insurances. Remember that this is an industry where injuries are a tad more common than in other fields. This is why it's especially important to start thinking about worker compensations well ahead of time. General liability insurance is always a good idea but make sure to do all the necessary research before you start a company.
Conclusion
Of course, there are also so many other steps you should take like validating your business idea, making a business plan and coming up with a marketing strategy. These, however, are more closely tied to starting a business in general and aren't specific for starting a moving company. Keep in mind, nonetheless, that in the moving industry, reviews and WOM (word of mouth) endorsement is incredibly important, due to the fact that people are most likely to conduct a thorough research of your background before hiring. This is why, in the moving industry, reputation is everything.
Sponsor Ads
Report this Page
Created on Apr 15th 2019 13:33. Viewed 517 times.
Comments
No comment, be the first to comment.