How To Achieve Maximum Hair Density By Hair Transplantation?
by Andrew Martin
Health Consultant
Hairs are the best cosmetic asset which enhances one's beauty when they are healthy and thick. In the present era presentation and personality carries a major role in one's life. Healthy scalp represents youthfulness which is an important requirement for social and professional wellbeing. Thus hair loss deteriorates one's social and professional life and the sufferer often lags behind. Majorly hair loss sufferers face social isolation and broken self confidence and self worth.
Hair loss sufferers opt for natural mode of treatment initially as many commercial advertisements claims their products to cease hair fall and enhance hair growth.
How reliable you think these products are in treating hair loss?
Genetic baldness or pattern baldness cannot be treated by any means and no natural remedy works beneficial.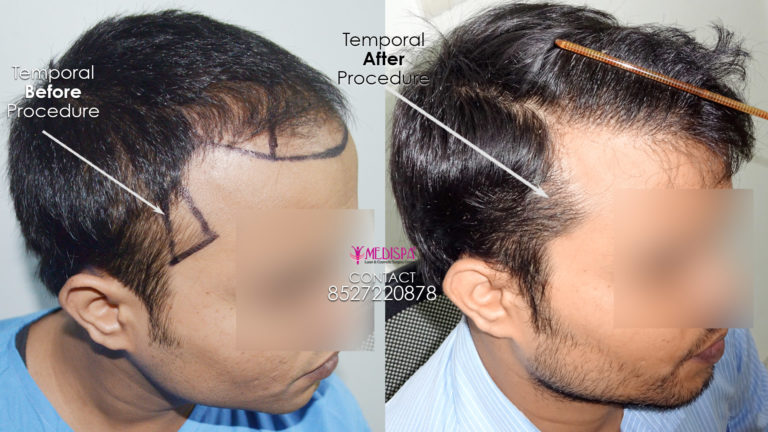 Hair transplant is the only solution for hair loss treatment which delivers permanent and natural results. Earlier due to limited technology we could all together achieve plugged hairs after hair transplant including achieving appropriate hair density was a dream. Therefore, hair loss sufferers use to avoid the treatment modality as it wasn't completely successful. But thanks to developed technology and advancements in field of hair transplant which favours the procedure in achieving best natural results with maximum hair density.
'High-density' hair restoration surgery has become a popular modality nowadays. People demands for higher density hair transplant but unfortunately it is not possible in every case. High density hair transplant can be decided based on the availability of hair follicles in the donor area and the surgeon's skills for how precisely they harvest and implant the hair follicles to deliver an aesthetic results and assure permanency.
Hair transplant cosmetic surgery is usually misinterpreted as the procedure which could deliver complete coverage of hairs on the bald area. But it is not the reality; hair transplant can successfully transplant upto 30 % of the lost hair follicles. Each transplanted hair follicles need an individual blood supply for nutrition which makes it impossible to achieve 100% follicle restoration. In maximum cases of hair transplant cosmetic surgery, 30- 40 follicular grafts are planted per square centimetre. For achieving the required density, there is requirement of approximately 2000-2500 grafts to cover the bald area. When "maximum hair density"is intended the requirement of number of follicular grafts becomes almost double. So in these cases approximately 60-75 follicular grafts are implanted and grafts with cluster of 2-4 follicular grafts are preferred.
In order to achieve "maximum hair density"there are certain modalities which could be considered for making it possible explained as follows:
1. Less damage rate: Damage of the hair follicles indirectly wastes the hair follicles resulting in achievement of lesser density. So if the damage rate could be reduced, it would help in gaining maximum hair density. The first and foremost requirement for least damage to hair follicle is expertise of the surgeon for harvesting and implanting hair follicular grafts. Secondly the proper handling of the follicular grafts while transferring them to graft segregation room and implanting them could reduce the chances of damage to follicles. Thirdly, the use of high magnification microscopes makes the tiny grafts magnifies upto 20-200 times which eliminates the risk of damage to hair follicles. Therefore, it is always better to spend your valuable time in searching for a competent hair transplant clinics and surgeon to achieve maximum hair density.
2. Combination technique: In cases of extensive baldness achieving higher number of follicular grafts is not possible using either technique alone. Therefore, to achieve maximum hair density in single session combination technique of FUT and FUE is performed.FUT technique can alone achieve 3000-3500 grafts and FUE technique alone can achieve approximately 2000-2500 grafts. This technique can successfully deliver more than 4000 follicular grafts. In addition, combination technique offers the benefit of preservation of follicular grafts for future session in cases of advanced bald cases and progressive hair loss. Dr Suneet Soni is highly specialized in performing combination technique as he is the one to introduce bio stimulated combination technique in Delhi and Jaipur.
3. Good infrastructure of the clinic: It is mandatory to utilize latest technology instruments to achieve maximum hair density as it could enhance the skills of the hair transplant cosmetic surgeon and reduce the damage rate of grafts to minimal. It is of utmost importance to perform each and every step of hair transplant procedure under high magnification to keenly observe the tiny grafts and eliminate the chances of its damage. Including, an efficient and highly experienced hair transplant team is a crucial requirement to achieve success in terms of getting maximum possible hair density at the recipient area. Medispa hair transplant clinic assures the use of best and latest technology instruments and German based world class microscopes for better efficiency.
4. Expertise and skills of the surgeon: Inexperienced surgeon priorly quotes higher number of follicular grafts to patients so as to overcome their flaws and high damage of hair follicles. Unnecessary harvesting of higher number of grafts could result in wastage of your valuable hair follicles which you might need in the future for progressive hair loss. Including, it might also lead to overharvesting and violation of safe donor area ultimately leading to depletion of density at the donor area. Therefore, expertise, experience and qualification are three essential requirements one should check in a surgeon if you are looking for high density hair transplantation.
Medispa clinics for hair transplant in Delhi and Jaipur is one of the top notched clinics famous for delivering assured expected results with 100% success rate. We are fully equipped with modern devices of latest technology which favours us in delivering results offering maximum hair density. Dr Suneet soni is one of the best hair transplant surgeon whose skills are astounding and world fame. He has performed more than 5000 hair transplant surgeries and has expertise in this field. With the ample experience and his excellent skills he has made it possible to deliver desirable aesthetic results with least damage rate of <1%.
If you are looking for the best hair transplant surgery with maximum hair density, Medispa hair transplant clinic is one stop solution for your hair loss.
Book you appointment for consultation in case of any query.

Sponsor Ads
Report this Page
Created on Dec 2nd 2019 03:07. Viewed 1,038 times.
Comments
No comment, be the first to comment.