Everything you need to know about E-Waste Recycling
by Sanjose Ewaste
Ewaste Service
E-Waste is short for Electronic Waste and the process of recycling refers to the process of extracting secondary raw materials from obsolete computers and other electronic equipment. Common e-waste involves laptops, computers, circuit boards, hard disks, batteries, monitors, mobile phones, etc. A lot of people are becoming aware of the process with the need to conserve our natural resources and with this growing need, aware citizens are voluntarily taking the steps towards a better and healthier tomorrow. But do you fully understand computer recycling? Why is it considered so important for human and other species' future generations? And, how do you really do it: Recycle your computer?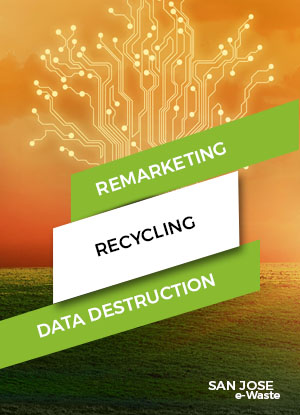 Curious and agreeing souls must have a lot of questions and queries about E Waste recycling San Jose. Well, it is really a necessary process in the destruction of a computer which is done through a systematic way of processing the materials that are used in making a computer. In fact, some of the materials are extracted and sold for a specific value on a secondary basis which is referred to the process of recycling. The process enables extraction of secondary raw materials that are then not only sold for a value but also used in the manufacture of other useful and valuable products. If the EPA estimates are to be believed then around 30-40 million personal computers are available for recycling every year.
The usual cycle of getting rid of garbage and E-Waste is throwing it away is what you don't need. But all dirt and garbage don't get thrown away in landfills. Plastic, metal, etc are recycled while food waste is further used for making gas depending on the recyclable and non-recyclable material. One can't simple send a computer away with a garbage truck. It should be recycled because it is home to numerous toxic materials such as leads, chromium, and radioactive isotopes, etc. Computers are also home to some valuable materials that involve gold, aluminum, silicon, plastics (different types of), iron, etc.
Recycling in San Jose and everywhere else has the same goal: Zero Landfills and zero toxic waste. The process of recycling occurs globally as most garbage trucks collect degradable and non-biodegradable garbage but plastics, metals, computers, other equipment or cars, tins, contains, etc make it to the recycling list since they are non-biodegradable. Had they been bio-degradable, it wouldn't have been such a problem but since the mentioned products and equipment are non-biodegradable, they need to get rid of the other way: Recycling. Estimates say that average computer monitor is home to more than 6% lead by weight. So, when the computer is discarded, or a circuit board is discarded, the lead finds its way into the groundwater and ends up polluting the air and water both. If the monitor is just thrown, it causes soil pollution, water pollution and if it is incinerated, it triggers bad air pollution. Thus, companies that use this equipment ship their obsolete products including computer monitors, circuit boards to developing nations. But this is not the solution of the product. Either way, pollution occurs. And this is why recycling is a better solution since it helps in recovering metals worth value from the dumped equipment and lessens the chances of pollution.
Sponsor Ads
Report this Page
Created on Sep 4th 2017 08:16. Viewed 857 times.
Comments
No comment, be the first to comment.