Must-Visit Places in the US for Your Summer Trip
by Lily B.
Writer
Some already have everything organized along with their route, but many others still do not know where to go or simply the plan was recently made. Regardless of the position in which you find yourself here we suggest some places to visit by car that we are sure will be of your interest:
The best cities to visit this summer:
1. San Diego. The climate of the beach, parties at sea, the zoo of the city a real attraction for summer
2. Denver. Outdoor activities such as hiking and mountain biking, some weekends are important summer festivals, for those fans of the Western theme
3. Chicago. On the banks of the lake there are countless people bathing in the rays of the sun, playing volleyball without forgetting the unforgettable views towards the horizon
4. San Francisco. For a summer of romance the Bay City is the best place for it, cold weather, a little hazy will turn it into a Summer Love.
5. Los Angeles. Surely the first thing that comes to your mind is Disneyland, but you also have miles of beaches at the end of the city and it has been listed as one of the best places to make luxury purchases.
6. Charleston. A picturesque city 30 minutes from the beach. A city of passable streets, charming hotels and the friendliness of its inhabitants make it an excellent option for a summer away from the hustle and bustle.
7. Baltimore. A port city famous for its food and landscapes. Fresh crabs accompanied with a variety of beers or try local pizzas, famous for their recipe and flavor.
8. Minneapolis / St Paul. This city dresses in colors during the summer, the streets become festive, its state fair and the famous Target Fireworks take place
9. Seattle. A rainy city but this season it's ideal for outdoor activities such as seaplanes, or hiking on Mount Rainier, with majestic landscapes
10. Boston. This city is ideal for those tourists who love history, fans of the red socks, travel the Freedom Trail or take the helm of a sailboat.
If your plan is not to visit any of the recommended cities and you prefer landscapes or outdoor activities, we suggest these destinations: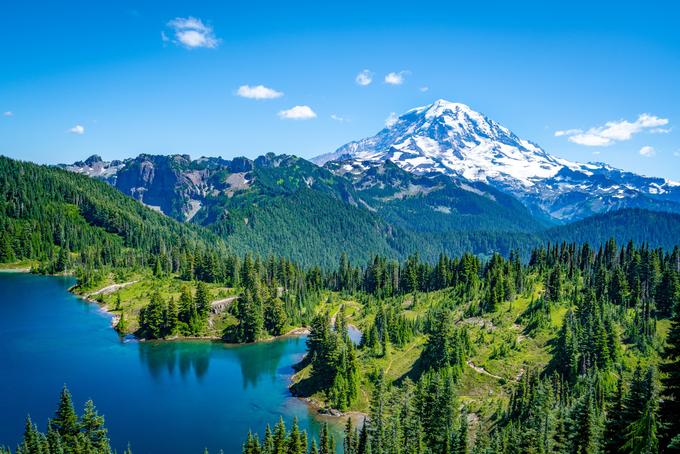 1. Mount Rainer National Park. A place of incredible landscapes, economic (campsites), endless free activities (photography, stunning hiking trails, among others) and an unimaginable view of its active volcano
2. Bryce Canyon National Park. Incredible photographs can be captured in this place, orange colors burned to calcareous white, impressive views of rock formations and distractions with hiking activities.
3. Outer Banks. A place that is full at the top of people looking to relax, offering visitors activities such as fishing, windsurfing, minigolf, etc. Clean and wide beaches, a place you should visit.
4. Glacier National Park. Impressive geological landscapes, more than 100 lakes, waterfalls, mountain ranges, ideal for hiking and kayak or canoe trips
5. Golden Isles. Luxury resorts, pristine beaches, activities such as tennis, cycling, boating, and hiking are some of the activities available
Summer is coming. Make your preparations, prepare your plan and go on an adventure with your friends. We assure you that your summer could be unforgettable.
Sponsor Ads
Report this Page
Created on Jun 11th 2018 04:10. Viewed 1,155 times.
Comments
No comment, be the first to comment.