Legal Size Pocket Folders – an innovative promotional tool
by Ken Wilson
Printing and packaging
Associate professionalism and reliability with your brand image by effectively utilizing legal size pocket folders for all your business exhibitions and requirements.
Create diversity in brand promotion
How do you recognize a brand without actually reading the text? The most popular brands create such a high level of familiarity that customers are able to spot it easily almost everywhere. The reason is that the distinct brand logo and name are very well imprinted in people's minds as they see it being promoted through all possible points of contact.
A well-planned marketing strategy is one that aptly incorporates the limited resources of an organization to deliver great value for money deals i.e. provide powerful promotions at the least possible cost. Marketing managers utilize every available platform to promote the brand name and to associate ease with it. Official business presentations provide an opportunity to present the brand in a tailor-made image to hike curiosity among target customers. Even after receiving a well-thought-out presentation, what sticks with the audience is the material given away in personalized folders that act as a reminder of the brand name and logo. Creatively designed folders grab attention at the first glance and prompt audience members to retain them in their memories for a longer time. The inner pockets of these folders are perfect for holding a large number of papers and business accessories like cards, CDs, brochures, etc. It provides a strong forum to include all intrinsic information about the organization in a compact form that can be conveniently carried around. People tend to take notice of personalized brand logos and content that also provides consistency across all retail points. Some of the methods of customizing the folders include:
· Addition of one, two, or three pockets inside the folders as per the business requirements. These pockets can also be created in custom sizes depending on the intended usage.
· Placing special slits in the inner cover for extra components such as cards, pamphlets, flyers, etc.
· Including a spine to make the folder stiffer and make it more capable to hold large volumes of data.
· Attaching reinforced panels for extra support.
· Glamourize the appearance of these folders by laminating them in gloss, matte, sandy matte, soft-touch, and pattern. You can team this up with rich coatings comprising of gloss AQ, satin, varnish, spot UV, and flood UV.
· Increase the prominence of the folders by complementing them with additional features like embossed lettering, foil stamping, debossing, die-cutting, and metallic inks.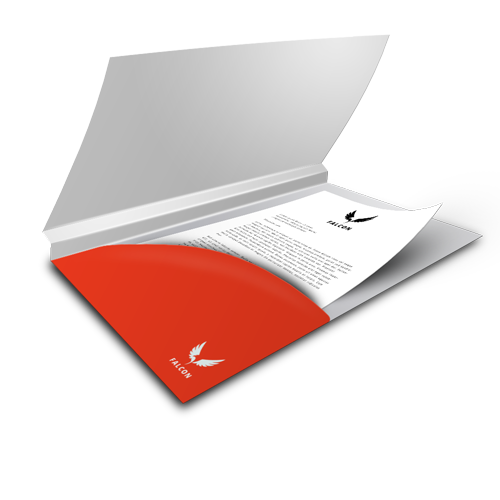 Through diverting focus towards these folders, the brand can get wider recognition that can enable customers to select the brand's products easily at retail outlets. Forbes lists "supporting material" as one of the main tools in delivering memorable and impactful presentations. These materials refer to the details distributed to the audience in distinct looking folders. Moreover, this also helps in efficiently utilizing the resources at hand by converting simple office stationery into a useful marketing tool. The legal size pocket folders can be used to solve your storage problems too. Numerous office information can be aptly stored in these folders that can be stacked comfortably using less space and the least technical assistance. Managers can incorporate these to better organize their office spaces and make the storage and retrieval of information quick and hassle-free.
How to sustain quality?
Getting low cost and efficient promotional gadgets just became accessible by dialing our 24/7 helpline and getting in touch with our knowledgeable sales staff to get you through all your ordering worries. Premium folders are crafted by employing our 20 years of experience and a team of skilled and artistic graphic designers who devise the right aesthetics in creating offbeat folders that make the brand stick out from the crowd.
We all have been part of business presentations and only remember them through the folders distributed to be read later. Most new organizations use them to introduce new products, educate about a new production process, or simply explaining the mission and motto of the business. The purpose is to make potential customers aware of the brand and attach a high level of reliability and executive image to it. Familiar brands make it to the customers' wish lists and make them convert from the other brands in the market. In their endeavor to achieve dominance in their industries, sellers must leave no stone unturned and realize the potential of all possible advertising forums. This way they save additional marketing costs by making the most of the ones readily available to them.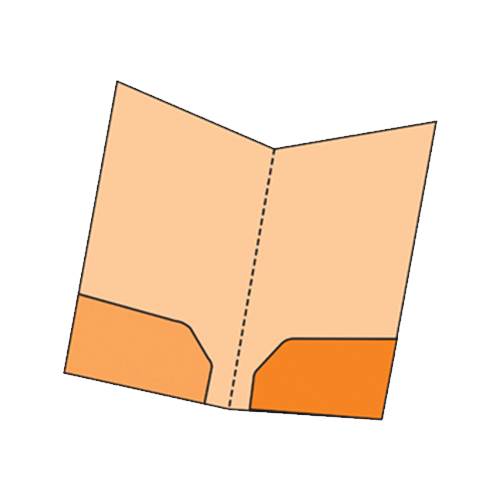 We offer high-quality folders that help you achieve this feat with minimum effort from your side. Just contact us and sit back and relax. From designing to printing, every step is taken care of to ensure an unforgettable ordering experience. Strong and damage-resistant folders are delivered at your doorstep in the least possible production time along with free shipping and handling. You can witness your dream sketch take real shape through the free reviews given by our experts. Highly efficient folders are rendered at market competitive rates to make your budgets look even. Our account managers generate the most cost-effective mix for you considering your budget restraints. You can also request a free sample kit to make the final order decision.
Creating a positive brand image might be more important than one thinks. With a strong brand image, you can easily have higher customer retention and attract new customers too. Customers are more likely to be loyal to your brand. Using a consistent composition throughout your promotional efforts will create a stronger brand image over time. Hence, it is worth the effort to create a strong plus positive brand image that customers can promptly identify and relate with. Incorporating personalized folders can give an extra push to your brand recognition and project it as serious and dependable. The presentation of your brand can have a major impact on what customers think about your products and how they interact with your company. So, don't wait any longer and dial us to master your presentations and market segments alike.
Sponsor Ads
Report this Page
Created on Dec 3rd 2020 04:34. Viewed 316 times.
Comments
No comment, be the first to comment.