Why You Should Spend this Summer in the Beautiful City of Orlando
by Theresa Hus
Content Writer for RealEstateAgent.com
Unless you've been living under a rock your entire life, there's a pretty good chance you've heard of Orlando. Come on, you know it; that huge, sprawling metropolis in central Florida with the theme parks, big banks and worldwide fame. Whether you know it as the home of Disney World or some other landmark attraction or enterprise, you have heard of it.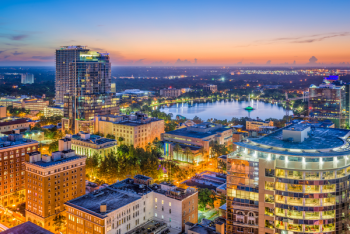 Most people, in fact, have either visited or planned to visit one Orlando attraction or another at some point in their lives. Most people visit Disneyworld and its assorted resorts, theme parks and hotels; others opt to see Sea World, Ripley's Believe it or Not, Universal Studios Orlando or any one of the dozens of attractions that call Orlando home.
Of course, being the immensely popular destination that it is, Orlando has also generated quite a few naysayers. Sure, the city has its flaws; what city doesn't have them, after all? Are you really going to let a few blemishes ruin an otherwise awesome experience? Seriously, whether you've been to Orlando before or not, there are a number of compelling reasons why you should consider spending some time there this summer. Here are a few of those reasons!
Reasons to make Orlando your summer getaway
Still skeptical? That's ok! In the following sections, we'll be providing you with what we believe to be excellent reasons to make the city of Orlando your summer vacation destination, and possibly even your permanent home. If these reasons are as convincing as we think they are, you'll be buying plane tickets before you finish reading this article!
It's remarkably affordable
First and foremost among these reasons is without a doubt the affordability that Orlando offers. Unlike many other cities of similar size, visiting the city of Orlando won't cost you a particularly large sum of money. If you're anything like us, the thought of spending less on your vacation might be enough to win you over!
So why and how is Orlando so cheap, you ask? Well, there are a number of things that make this an inexpensive city to visit. First off is the cost of accommodation; with literally hundreds upon hundreds of hotels, resorts, rentals and other lodging options, you can usually find a place to stay that costs far less than you'd expect to pay anywhere else.
Another factor that contributes to this city's affordability is the number of free attractions that can be visited at no cost to you. From the vast grounds of the Disney Resort Complex to the many parks, squares and other open areas, there's no shortage of free or heavily discounted attractions in the city of Orlando FL.
The weather is almost always pleasant
If you've ever spent a summer in the Pacific Northwest or anywhere else that isn't really known for having amazing weather, you're likely aware how important weather is when choosing a vacation destination. Luckily, the city of Orlando has some of the most pleasant weather of any city in the state!
While cities further south such as Miami and Key West are unbearably hot during the summer, Orlando is far more bearable in terms of both temperature and humidity during the summer and winter. No matter when you're planning to visit the city, you can rest assured that you'll be greeted by sunshine and a refreshing breeze!
Rainfall is also not a particularly pressing issue when it comes to the city of Orlando. While the city sees a reasonable amount of rainfall during spring and fall, the weather here is generally clear during the summer months. You might occasionally have to plan around a summer shower or two, but for the most part you'll have an abundance of sunny weather to highlight your vacation time!
Lodging is easy to find
As we mentioned before, lodging in Orlando FL is quite inexpensive. To add to that, you should know that it's also quite easy to find! With hundreds upon hundreds of various lodging options, it's safe to say that you'll not go homeless while you're here. But what kind of lodging options can you find here, you ask? Allow us to tell you!
First up, you've got your conventional mainstays. Hotels are the most common and popular choices here, with plenty of options for motels, resorts, short-term rental homes and other such conventional lodging options. As we mentioned before, these are substantially cheaper than you might expect them to be, beating out many other cities with smaller populations.
Then there are the less conventional options, of which there are also plenty. AirBnB has really taken off in recent years, with a truly incredible number of rental rooms and homes on offer that are often far more affordable than conventional options. If you're particularly easygoing, you could also try a service like Couchsurfing for a completely free stay!
Once-in-a-lifetime experiences abound
While there are plenty of critiques to be made pertinent to the nature of capitalism and hyperconsumerism, sometimes you just need to sit back and enjoy the ride. In Orlando, this is easier than almost anywhere else! With dozens of completely unique experiences to be had, it would be a tragic thing indeed if you died without ever having visited this city.
For starters, there's Disney World. There are other Disney theme parks in various places around the globe, but this is the Disney attraction to visit. With four parks, twenty five resorts and a plethora of restaurants, shops and assorted attractions, a visit to Disneyworld is guaranteed to put a smile on your face. The best part? You can experience a lot of it without paying a dime!
There are plenty of incredible experiences to be had outside of Disney World too, make no mistake. If you don't feel like dealing with the ubiquitous gaze of Mickey Mouse, you'll be thrilled to learn about attractions such as Ripley's Believe-it-or-Not, Gatorland, Universal Studios Orlando and other similar experiences. This really is a phenomenally varied city!
The real estate market is thriving
Considering purchasing a home? Good! What's that? The thought didn't really enter your head? That's ok! Whether or not you've ever considered making the beautiful city of Orlando your home, you might start thinking about it after reading the next few paragraphs. The thing is, Orlando is home to one of the most vibrant real estate markets in the country, and there's no better time to buy than right now.
Exhibit A is the phenomenally affordable median home price of $338,000. While it is a bit higher than the $290,000 national median home price, the median home price in the city of Orlando FL is still substantially lower than the median home price you'll find in many cities of similar size across the country.
Exhibit B is the exceptional home value appreciation rates that the city is home to. At 24% annually, homes in Orlando FL are selling like hotcakes and gaining value at a preposterous rate. If you're interested in getting on this bandwagon, you'll want to get in touch with one of the excellent real estate agents in Orlando FL. With their help, you'll be moved into your new home in no time flat!
Conclusion
Well, that about wraps it up. We do hope that we've provided you with plenty of reasons to make Orlando FL your summer vacation destination. There's so much to see, so much to do, and so many reasons to visit; it's simply too much to resist! We wish you the best of luck, and a good trip if you decide to visit!
Sponsor Ads
Report this Page
Created on Apr 11th 2022 11:32. Viewed 119 times.
Comments
No comment, be the first to comment.