Ten things to do in Clermont Florida
by Theresa Hus
Content Writer for RealEstateAgent.com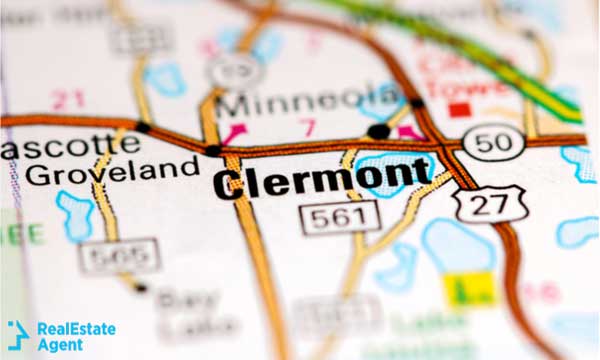 Clermont is a city located in Lake County, Florida with a population of 30,000 residents. It is strategically placed west of Orlando and north of Disney World and it is also the largest city of Lake county. Surrounded by lakes with beautiful sights and sounds, this city offers it's residents and tourists an area that is worth visiting.
Clermont is home to a variety of cultural, natural and historical attractions and the park system in the area is one of the most extensive there is. Clermont has a lot of amenities and assets that make it a perfect place for families, starting a new business, educational purposes or health and fitness opportunities. Health, wellness and fitness are all part of Clermont's culture which makes it ideal for growing families.
With the variety of shopping and dining options that Clermont has to offer as well as good quality of life, this city is a prime destination for people that want to settle. Clermont has plenty of housing choices, from large estates and gated communities to small single-family units, you can find a property for every budget. Just make sure you reach out to local real estate agents in Clermont FL in order to get the best deals.
Maybe you are excited to start a new business, and Clermont has a lot of potential. Maybe you want to have the time of your life and you are planning your next trip here. Or you might want what's best for you and your family and relocating here is offering just that. Whatever your future plans are, here are ten things to do in Clermont Florida.
Florida Citrus Tower
The Citrus tower in Clermont was built as a monument to Florida's citrus industry, which always played an important role for the state's economy. This tower is standing at a height of 226-foot, and is one of the most famous sights on the continent because it offers a breathtaking 360-degree view of the surrounding areas. Also this tower has an important historical significance in regard to the development of the area and what it means for the state's.
Showcase of Citrus
As we mentioned about the Citrus tower, it was built to highlight the citrus industry in the area which is of high importance for the city of Clermont and it's locals. The Citrus showcase is part of the city's attractions and if you happen to come to Florida make sure you attend this tour, which by the way, is free. Hop up in a 4x4 monster truck and enjoy the ride and the views through the massive farming property. You will also be able to pick some of their fresh produce on your way out.
Championship Splash Park
One of the perfect ways to relax in Clermont is at the Championship Splash Park. This park is filled with all sorts of activities and amenities that you would expect from a splash park and it's suited for all ages. From pools for the young ones and specially arranged places in the shade, where parents can sit comfortably and relax while keeping a close eye on the young ones.
Lake Louisa State Park
A main attraction amongst nature lovers as well as sportsmen, this park is located south of Clermont, northeast from the Great Swamp. This massive park is the main attraction amongst people who love wildlife and outdoor activities such as hiking, fishing, boating, and camping. This park is filled with protected wildlife and species of trees like bald cypress, live oak and many more, which make it a natural haven.
Sky Zone Trampoline Park
This park is well suited for any adrenaline lover who would like to experience the literal uplifting joy of jumping on a trampoline. Because the park is equipped with some of the best trampolines this makes it a thrilling experience not only for children but for adults as well. The park also features activities such as dodgeball and freestyle bouncing. Here you can sign up for fitness programs and seminars that would allow you to use the trampolines as exercise as well as excitement.
Legends Golf and Country Club
The state of Florida unlike other states it's well known for its golf courses and if you find yourself in Clermont with a set of clubs attending The Legends Golf and Country Club could be another way to spend your time here in Clermont. With an 18-hole GOLF course at about 7,000 yards, this golf course is both scenic and challenging but it accommodates players of all ages and skill levels.
Presidents Hall of Fame
This museum depicts the most important moments and events in United States history and it was dedicated to the presidents. This museum is trying to accurately depict life as it was during each president's mandate. Here you can also find a miniature replica of the White House which is a local staple for any visitor to the area.
The Crooked Spoon Gastropub
Clermont has something special to offer for food lovers and The Crooked Spoon Gastropub is the place to go. This restaurant brings the culinary experience to a whole new level by offering a memorable dining experience at inexpensive prices. Prices for appetizers start at $10, prices for burgers are at $13 and entree prices start at $15. The menu features traditional classics, as well as contemporary dishes and it is the perfect place to have lunch or dinner with friends and family, or if you just want to enjoy a drink.
Orlando Cat Cafe
A unique coffeehouse with baked goods this Cafe stands out through it's cat-themed environment. Enjoy the baked goods and the great coffee that this place has to offer in an inviting ambiance. Another side of the cafe holds a play/adoption area, where visitors can adopt or play with the cats. The cats are friendly and lovable and it is a delight to spend your time around them.
Adopting a cat is a great way to bring some joy and warmth in your home and your kids will love their new family member. Once you have adopted your new family member make sure to check out our blog regarding ways you can pamper your pet at home.
Waterfront Park
The natural sights offered by Waterfront Park are outstanding and it is a delight for the eye. Situated at the waterfront the park has access to a public fishing pier and it is a family-friendly place. A natural playground and a recreational haven. This park is perfect for a day out in nature to relax and enjoy the good weather and beautiful landscapes.
The city of Clermont has so much to offer for anyone who is interested to travel or live here. A place fit for the adventurous type of people who enjoy all the outdoor activities that this place has to offer. But also a place for laid-back people who are enjoying all the nature sights and beauties that this city has to offer. If your traveling plans take you through the state of Florida then, these are the ten things you can do in Clermont.
Sponsor Ads
Report this Page
Created on Jan 21st 2020 09:09. Viewed 1,203 times.
Comments
No comment, be the first to comment.