Understanding RPA
by Pixel Values Technolabs
Top mobile app development company In India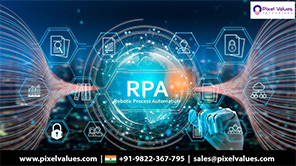 Robotic Process Automation technology is software that helps in reducing human intervention by the way of automating business operations.
Hence, in simple words, it is the process of automating the high volume, repetitive tasks that are currently performed by humans. Some people have a misconception that using RPA, humans are replaced by actual robots, instead, RPA is software which you can configure to automate the business processes/operations.
How is RPA different from Automation?
In Automation a very wide variety of technologies is included. These technologies could range from Continuous Integration and Continuous Delivery tools to Hybrid Cloud Management tools. Also, for Automation, software coding skills are needed to develop a set of actions that automates the task. However, in RPA, the software is configured to minimize human intervention in performing a specific business task. For this, no software coding knowledge is needed.
Based on the type of automated deployment it offers, RPA is differentiated as assisted or attended automation and unassisted or unattended automation. Hybrid RPA combines the two models. Each of these deployment model has benefits and limitations, depending upon the companies' requirement, they should select which model meets their requirement best.
·
Assisted (aka attended) automation:
In this type of automation, an application running on the user's desktop is automated by RPA to help the user complete an involved process in less time. This results in cost savings and helps in delivering a better user and customer experience.
·
Unassisted (aka unattended) automation:
No human agent is needed in unassisted automation. The RPA software itself performs the automation tasks and notifies the user when something goes wrong. This kind of automation works 24/7, which is "an ideal scenario for optimizing a process".
·
Hybrid RPA:
Hybrid RPA is a combination of attended and unattended automation where the user and software work as a team, passing tasks back and forth. In Hybrid RPA, for optimal efficiency, user and the RPA software can work on different tasks simultaneously.
What are the benefits of RPA?
The companies which have deployed RPA have listed the below benefits:
·
Accuracy
: Consistency in performing the tasks without getting fatigued thus, reducing error rates.
·
Compliance
: Reduction in human interaction, thus reducing the potential of fraud of the sensitive data. RPA software performance is tracked and stored for auditing compliance with regulatory and governance requirements.
·
Cost savings
: As the software can operate for 24x7 with the same accuracy and without any downtime, RPA has allowed companies to handle peak times with far fewer seasonal hires.
·
Employee productivity and morale
: Automation of repetitive tasks allow employees to focus more on higher-value tasks and be more effective.
·
Digital transformation
: RPA even helps in automating parts of processes without even making a change to legacy systems. Thus, it refrains from investment in expensive back-end integration with existing systems, and allows them to move forward on digital transformation.
Applications of RPA
Many multinational companies are already using the Robotic Process Automation in their day to day tasks. Some of the benefits these companies get by using RPA are accurate, reliable, and consistent outputs with high productivity rates. Here are the top
Mobile Application Development
of RPA to help you know the various sectors in which RPA can be used.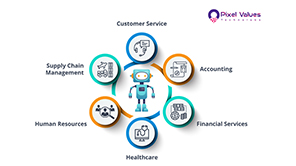 There are many RPA tools/vendors available in the market which helps you in software configuration and task automation, however, among them there are only three market leaders, in the order of ranking they are UiPath, Blue Prism, and Automation Anywhere.
Pixel Values Technolabs is a leading global technology company providing custom software application development, distributed professional teams, software product quality assessment, and "all-things-digital" solutions built with SMAC, RPA, AI/ML, IoT, Blockchain Development, and GIS/UAV/LBS technologies.
Sponsor Ads
Report this Page
Created on Feb 12th 2020 07:47. Viewed 894 times.
Comments
No comment, be the first to comment.