Now GPS Technology with Voice Integration Feature
by Letstrack LTD
Letstrack GPS Tracking Device
We are living in the modern era of the Internet and Technology where we are highly dependent on technology. Google is a Giant search engine that holds 70% of the online market. As we know, efforts reduce and effects improve as we moving from text to audio; audio to video. Keeping this in mind, to improve the user experience Google has implemented voice search in its algorithm. You can check it your own you just need Internet and a device that can take voice as input.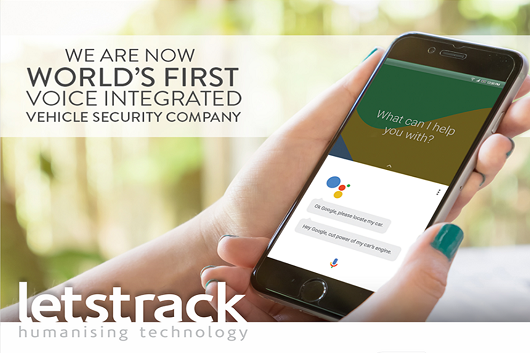 Google Assistant is artificial intelligence (AI) or virtual assistant developed by Google that is mainly available on the smartphone and smart home devices. Unlike the organization's previous virtual assistant, Google Now, Google Assistant can engage in two-way interaction. Users mainly interact with Google Assistant through natural voice but keyboard input is also supported. It is able to search the Internet, schedule events and alarms, adjust hardware settings on the user's device, and display information from the user's Google account. Google has also announced that the Assistant will be able to detect objects and collect visual information through the device's camera, and support purchasing products & sending money, and identifying songs.
Google assistant can be used for locating vehicles and placements. For example, if you are eager to know the real-time location of your vehicle you can easily do it with GPS AI tracking system and know about the exact location of your vehicle & about your loved ones.
Google Assistant is available on devices that are able to take voice as input such as Android or iOS mobile, smart watches, Android smart TVs/displays, Pixel book laptops, and Android auto-enabled cars.
Similarly, Voice integrated GPS tracking device works and offers you all the features of GPS tracking with voice interaction in a real-time fashion. You can use them for personal tracking- to track kids, pets, parents, valuables and so forth. Just speak and get the answer to your question.
GPS trackers with voice interaction feature are boon for commercial purpose. You can improve things and eventually the revenue of the organization. These devices are helpful for managers/owner of the fleet of vehicles in a number of ways. You can improve the safety, security, and growth of the business. Real-time vehicle tracking, drivers tracking, speed limit, AC status, engine status, can control the ignition system, etc. can be tracked with speaking to tracking software application. This means time lagging in notification and efforts in writing text as reduced that lead to saving in time. This is what made easy for you to actually sit back and relax and let tracker take the responsibility and do the best of their work.
Route analysis and optimal route selection are one of the major things due to a lot of factors. You can take help of voice integrated GPS device to do this work. It will do analysis on the basis of various factors such as distance, red lights, slopes, accidents and many more than tell you the best route for a given destination.

Sponsor Ads
Report this Page
Created on Jul 3rd 2019 04:27. Viewed 392 times.
Comments
No comment, be the first to comment.