How Mobile Apps help boost productivity for the AEC industry?
by Olivia Watson
Printing manager
AEC industry is evolving in terms of the way they work with the help of advanced technologies like robotics, drones, 3D printing, and
construction project management software
. With new equipment, materials and technology being used more frequently, improved communication, now more than ever
, is
critical for faster project delivery
.
As per the statistics by Go Canvas, at least 36% construction firms have started using mobile business applications to complete their projects. In fact, the survey also shows, moving to mobile applications have been quite cost-effective for many as 81% commented they saved between $1000 - $25,000, while 17% stated they saved between $25,000 - $100,000 in the annual balance sheet. With the adoption of mobile applications, the productivity level of the industry can improve. Mobile tools offer benefits for construction businesses by enhancing project communication and collaboration. Right from the project management tasks to working real-time with the team on the job site, complex workflows can now be done remotely through various mobile tools. Some essential reasons for using mobile applications for construction management is to boost the efficiency and productivity of the AEC industry so that a project gets completed within the stipulated budget and time. Reworks are still needed in 90 % of construction projects; however, the efficiency mobile apps provide can go a long way to cut short project delays avoid rework.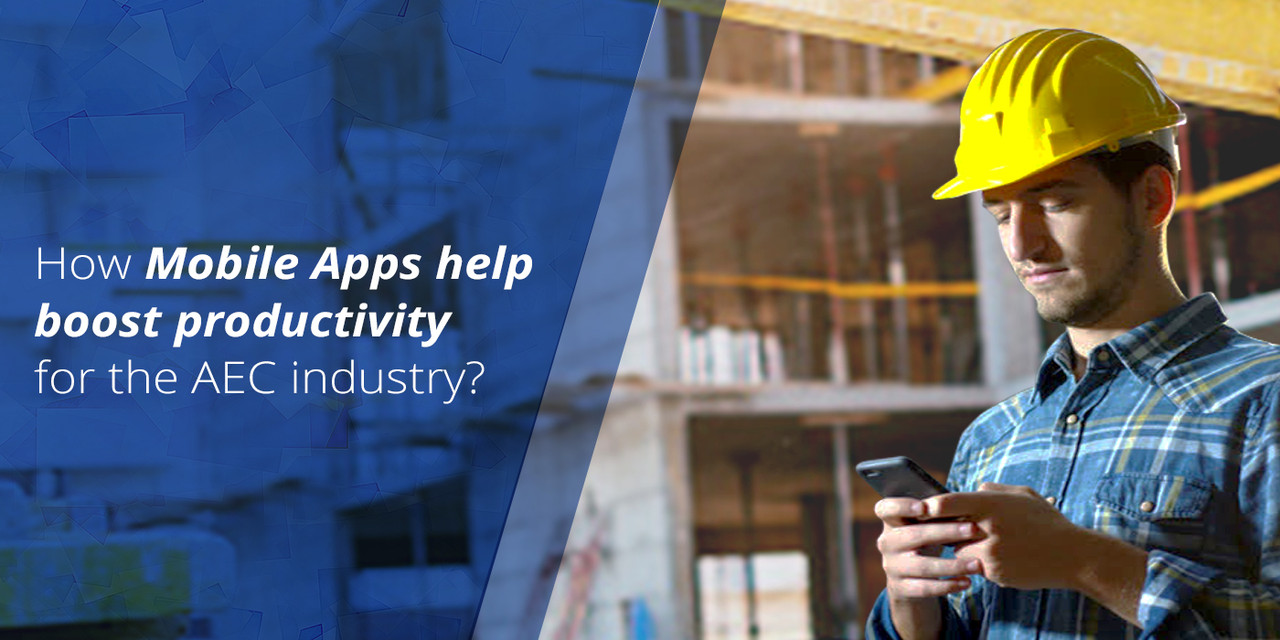 Proficiency in Supervision
Being a construction project manager is not easy. You have to manage multiple tasks single-handedly. There are various construction management apps that can help you work better at the job site and even in the office., These apps help to improve efficiency and accuracy of site inspections and simplify reporting systems. You can monitor and instantly generate reports of the work done by the team on your phone. Working in real-time boosts efficiency and helps take decisions faster, which would have otherwise taken long hours to be done.
Time-Saving
The Go Canvas report indicates that out of the total number of construction projects around the World, 77% of mega projects are lagging more than 40% behind their deadlines. This equates to an 80%increase in project costs. This is where mobile-based construction management comes in. With mobile construction apps, there can be greater visibility of the workforce productivity and ease of performance monitoring which will lead to adherence to project deadline.
Cost Saving
Cost is the instrumental factor in any business and construction business is no different. Monitoring the cost parameters at various levels and project phases can be achieved through mobile-based document management applications. Using advanced mobile tools will make it easier for companies to maintain a competitive edge in the AEC sector. Data reveal that the usages of smartphone applications are increasing rapidly and most importantly, all the major document responsibilities can be taken care of on phone.
Swift Compliance with Real-Time Updates
The use of cloud-based applications can greatly reduce liability and risks through accurate and prompt compliance reporting. Speed up closeouts for projects, with punch list apps that allow you to report issues instantly that can they be fixed without any delays. Some software like
SKYSITE
even has options the allow you to attach a voice note or a photo for better visualization. On the other hand, more accurate reports can be generated real time, which will boost the efficiency of the project team.
Information at your fingertips
Searching for information from paper copies is a tedious task. But with a construction management app installed on your mobile, you can get necessary documents on the go, right at your fingertips.
With more AEC professionals, switching to mobile apps, companies can maintain all construction projects on schedule and under budget. There will be reduced bottlenecks and definite improvement in productivity with a systematic document management system.
Sponsor Ads
Report this Page
Created on May 8th 2018 01:09. Viewed 596 times.
Comments
No comment, be the first to comment.