What is Bulimia Nervosa? Treatment and Preventions
by Turning Tides
Turning Tides utilizes evidence-based practices to
Bulimia Nervosa is an eating disorder characterized by eating a large amount of food in a very short span of time, with a feeling that there is no control of this behavior.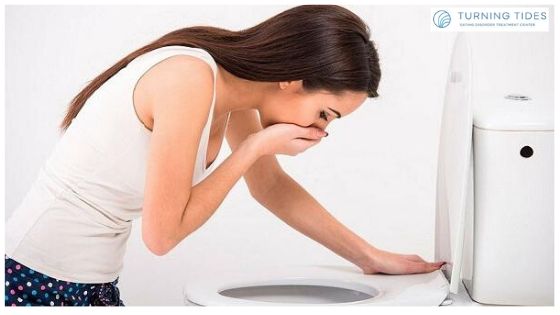 Too much eating in Bulimia nervosa is an irresistible compulsion. Following binges, there is the impulse to compensate for the behavior by purging – and this might include vomiting, induced by one's finger or taking some medication such as Ipecac, laxatives or diuretics, or going on a long run.
Bulimia is like an addiction. It feels like something the person does not have control of, and eventually it results in the person's low self-esteem, poor self-image, and it is definitely not a pleasant experience. It feels "disgusting" and "out of control." – bulimia is a living torture. The intense shame often obstructs seeking help.
Treatment
Treatment for bulimia nervosa can be highly effective.
Bulimia treatment generally involves a team effort, including a primary care physician, nutritionist, and mental health clinicians.
The most important Bulimia treatments include monitoring of medical and nutritional status, including possible medical complications and psychiatric care.
From the mental health standpoint, effective treatments include psychotherapy, most importantly, cognitive behavior therapy. Additional psychotherapy methods for many patients include mindful meditation, techniques to regulate emotions, and family therapy.
Medications, and in particular the antidepressant medications are extremely valuable in bulimia treatment. Medication also treats associated depression, anxiety and obsessive compulsive disorders if present, and diminishes impulsivity. The selective serotonin reuptake inhibitors (SSRIs) are among the most effective antidepressants for bulimia nervosa.
Prevention
Some of the preventions of Bulimia eating disorder among the most important preventative measures are: increasing knowledge of the illness, and using techniques to reduce the importance of body image and thinness for our kids – starting this as early as possible, both at home and in school. Studies have also found that programs that can diminish the need for dieting and increase the emphasis on good nutrition and healthy eating patterns, without need for dieting, and improving emotional regulation all help.
Sponsor Ads
Report this Page
Created on May 18th 2020 08:49. Viewed 197 times.
Comments
No comment, be the first to comment.