Type K Thermocouples – Applications and Attributes in Brief
by Martina Bonn
Technology
Shanghai, China: Feilong Meters and Electronics Co. Ltd. is known in the industry for delivery excellent flawless customer service across the globe. Backed by years of relevant experience in the domain, it has witnessed its share of ups and down to reach a position that is enviable. Adhering to every relevant industrial standards and norms, the firm is ideally a top-notch company manufacturing quality thermocouple that can be used under varied applications including industrial and household use. The most prominent one in much use today includes Type K Thermocouple that comes with various attributes and features to enhance its performance and utility. It has a wide temperature range and owing to its relative radiation constraints, it has been extensively used in several nuclear applications. Being economical and in comparison to others in the category, much less expensive, this type of thermocouple is accurate and reliable as well.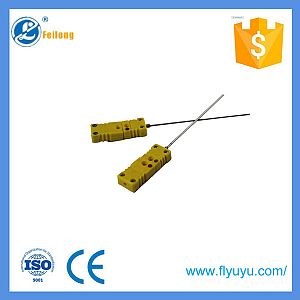 The official website of Feilong has listings of available products in the category that includes the likes of digital cooking thermometer, soft thermocouple, digital thermometer, Sheathed RTD, bimetal thermometer, temperature controller, pressure transmitter, kitchen scale and many others. All these are tested in house for its performance and durability so that clients are delivered no less than flawless end product. The manpower engaged in the firm is highly competent and ensures high quality of the product. This improves credibility of the company as well as client retention rate at the same time. Having lots of applications, type K thermocouple needs to be highly efficient and effective. This type of device usually has a nickel base and hence offers high corrosion resistance. Therefore type K thermocouple possesses capabilities to be used in almost every other application.
For any kind of assistance in the domain, Feilong is a one stop undisputed destination that offers professional help in the least time possible. The service process initializes with the requirement from the client side. Based on the set of requirements, the team proceeds towards manufacturing prototypes or samples. Once the client approves of the sample, the final production begins. The best part about the work culture is that at every point of production, client feedback is taken into account so as to ensure that end product is free from any sort of errors or faults. Quality above quantity is the working principle and the team is all ears for the varied kinds of requirement from the client side.
1. The firm is ISO certified for developing temperature sensors and control instruments including thermocouple
2. Expert manpower and technical team enhances customer service and company credibility
3. Designs and installation process are flexible to meet the guidelines and requirements of one and all
4. Cost effective and timely solutions to wide range of applications
Feilong officially came into existence in the year 2000 and is located in the heart of the city of Shanghai that makes it easily accessible. Temperature sensors and related equipments are manufactured here as per the need; hence one can rely on the service as well as on the capabilities of the team here.
Sponsor Ads
Report this Page
Created on Mar 20th 2018 00:03. Viewed 832 times.
Comments
No comment, be the first to comment.