Top 3 Adventure Sports of Rajasthan
by Indiacar Tours
India Tour Package- Affordable Jaipur Day Tour Pac
Rich with its historical and cultural attractions, the state of Rajasthan is also known worldwide for another major kind of tourism; adventure. Blessed with mountains of Aravalli, deserts of Thar, and forts built on top of hills, the state makes up for a perfect adventure tourism spot. It receives a heavy tourist surplus wishing to take on adventure sports like ATV, rock climbing, trekking, and paragliding every year, that's willing to experience the state's beauty from a whole different perspective.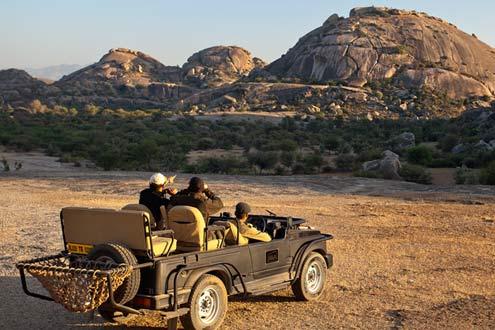 So if you are planning to book a
Rajasthan tour package
for yourself this season, then let us have a look at top 3 adventure sports that you should include within it to give yourself the thrill of a lifetime.
Zip Line
You might have done it a lot in your covert missions to that Eurasian country, when playing your favorite FPS video game, but experiencing it in real life gives you fun like nothing else. Thanks to the mountain-located forts of Jaipur and Jhodpur, Zip lines are becoming a must for any adventure lover. Other than too rainy or windy days, Zipline is an all-season sports activity, where your adrenaline levels would surely shoot up the roof. Not only limited for locations having forts, the sport is also made possible by tying the two ends of the ropes on towers located far enough from each other, with great deserts or big lakes serving as the middle grounds.
Trekking

Thanks to the world's oldest mountain Range, the Aravallis, trekking, much like the zip line, is also an all-season activity. Cities like Jaipur, Kumbhalgarh, Ajmer, and Sariska-Alwar belt are some of the many locations that you could choose for their green and yellow forests, rich with their dense and diverse flora and fauna. Out of all, the treks of Pushkar, a suburb town on the outskirts of Ajmer and located in the laps of Aravalli range, is the most favored one. A trek in the hills of Pushkar is not only long and content, but also helps one to get in touch with greener and serene side of the state. Those Interested in trekking should book a
Jaipur tour package
, a city from where every other city in the state is within reach.
Jeep Safari

Thanks to the Thar, cities like Bikaner, Jaisalmer, and Jhodpur are the hub for this adventure in the state. No Rajasthan tour package is ever complete without making some space for Jeep Safari. Sitting in a vehicle that zaps its way through desert's sand gives you a hell of a thrill, if your normal days are mostly spent sitting in a city cabin. But experiencing your Jeep bounce up and down is no the only way this safari goes. Many tourist groups also ask for exploring the dense forests of Kumbhalgarh, Sariska, and Ranthambore. When on a JUngle-Jeep Safari, animals like Tigers, Cheetah, Panther, and Leopard can be easily sighted.


Sponsor Ads
Report this Page
Created on Apr 16th 2019 05:14. Viewed 222 times.
Comments
No comment, be the first to comment.