To Do or Not To Do: 3 Designing Tips to Keep In Mind for Professional Business Cards
by Shawn Nag
Printing Service Provider
There is no grey area in the effectiveness of business cards. Either they work or they do not. And the catch lies in the fact that you have only one chance to create a favorable impression upon your potential clients and customers. Thus it is imperative for you to know exactly what are the things that you should do, and what are the things that you should not do while designing your business cards.
Business card printing provides you the opportunity of making a strong primary impact on your clients so that it is your brand that comes to their minds when they are looking for the services or products that you have to offer.
For your consideration, here are 3 things you need to keep in mind while designing your business cards:
1. Personal and brand Info-
Do: Mention your name, the name of your company and your job title. And if the job title is not understandable outside your industry, use a more common ones that are close enough to the job title you have like "Web developer" to denote "PHP Developer" etc.
Do Not: Do not mention info of your specific products or services as it will make your business card appear cluttered. Moreover, there might be chances that the particular product or service is no longer available or is retired.
Many online business cards printing services provide thick luxury business cards that are 3 times thicker than your regular business cards. Such luxury business cards will further add to your professionalism and as well as the value of your brand.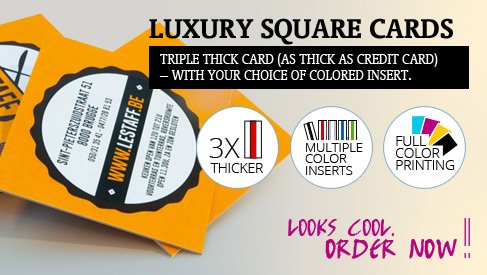 2. The other side:
Do: While you have mentioned your personal and brand info on one side, use the other side to show your company logo. You can even mention your official social media handles. This will help your clients know more about you.
Do Not: Do not go for headshots. Your work is not reflected by your face. Neither should you go for a gloss finish. It is not as effective as matte finish which provides a more elegant feel. Matte also provides for a writeable surface that can be sued by your clients to take notes if need be.
Various online printing services provide both gloss and matte finishes along with UV coatings. You can even go for uncoated finishes. For example, if you think a gloss finish will work better for the nature of your brand, then you can use it.
3. Colors and Images-
Do: While designing your business cards, choose the colors that represent your company. This adds professionalism and builds character and recognition for your brand.
Do Not: Do not use images and pictures from the internet that appealed to you. No matter how well they appear, they ruin the professionalism of your brand. Instead of them, go for an original image if you must use image.
Providers of online printing services California provide high-quality full-color business cards that come with 100% customer satisfaction.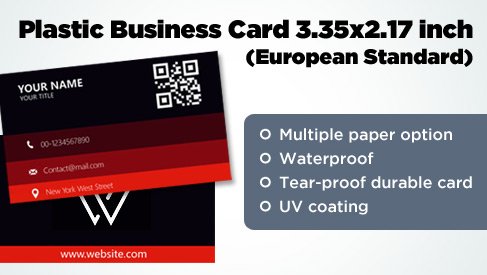 Additional: Business cards are also available in different shapes and sizes e.g. round business cards, oval business cards, pearl business cards, heart shaped business cards, and many more that range from Standard (3.5x2 inch) [most popular] to Slick (3.5x1.5) to Tiny (3.5x1 inch) or even European Sized business cards.
Keeping these 3 points in mind will help you design effective business cards. The perfect business cards always make way into the pockets of your clients thus making sure that your name comes up first when in need.
Sponsor Ads
Report this Page
Created on Dec 23rd 2019 06:40. Viewed 193 times.
Comments
No comment, be the first to comment.