Smart Visual Surveillance Systems for Overall Safety & Security of Your Premises
by Peter Lorenz
IntellQ Visual Intelligence Solutions
The article informs about a company that is engaged in developing and marketing innovative security solutions for the voice and data capture and analytics market.
Security is now-a-days very important factor for home as well as office premises as there are number of risk and threat when your valuables are being accessed by unauthorized people. With the growing technology the many security systems are being developed to monitor and control the unwanted access.
Intelligent surveillance systems are being popular as there is need of safety and security in every field. These surveillance systems analyze image, audio, video or any other kind of data automatically and it is basically done without human involvement or with their limited involvement.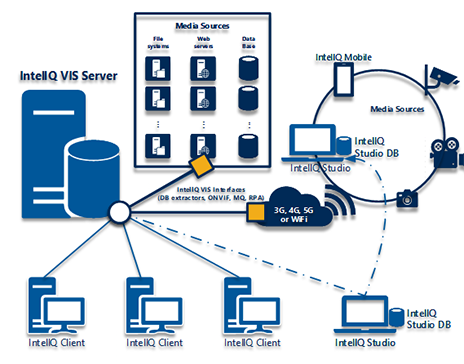 Intelligent Visual Surveillance Systems installed at a particular place allows the installer to view any action at that place at a given time from any location. They are beneficial because of reason that:
It enhances the security system of your office as well as home place

It helps in monitoring and controlling from ant place

It gives a peace of mind to office people and home owners assuring about the happening inside the place while they are busy with their work

There can immediate response of any unexpected happening as it gives a quick alert
Apart from this Facial Expression Recognition Software has also been a revolutionary innovation in the surveillance systems. It working is based on extracting the facial expression of an identity. Through this software the emotion or expression of people can be detected who pass by the cameras. Theses software is very difficult to make as it includes a high level of perfection and advance techniques. But most of the experts are working in this field and they work on developing such intelligent and security system solutions based on the competitive needs of the clients.
They also prepare and develop Facial Recognition for Government Agencies based on their customized needs. Facial recognition software and systems are very important in government agencies, airports, financial institutions and other commercial places. Security and law enforcement organizations also include this system in their security system to monitor and control the authorized and suspicious person to enter into the place. The process in any government agencies involves identification of a person, scanning the facial features and then matching with the database. If the same is matched, the permission to enter into the premises is allowed.
Due to number of benefits and increasing applications of these intelligent and security systems, they are becoming popular. It overall enhances the security, functionality and efficiency in every sector they are being installed.
Sponsor Ads
Report this Page
Created on Jun 8th 2020 05:43. Viewed 356 times.
Comments
No comment, be the first to comment.