Rare Earth Element: Yttrium
by Julissa G.
Content generator
SAM®Yttrium is the first rare earth metal element that has been discovered. It is a gray-black metal that is malleable. It reacts with hot water, and is easily soluble in dilute acid. Yttrium can be used to make special glass and alloys.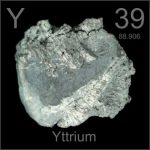 Rare earth elements refer to all lanthanides elements plus scandium and cerium. They are called rare earth elements because 1) they are scarce in the earth's crust and 2) their oxides are similar with earth elements such as calcium oxide. Since rare earth elements are dispersed and distributed, and their properties are very similar to each other, it is difficult to find, separate and analyzes them.
Yttrium is one of the most abundant elements of rare earth elements in the earth's crust. It mainly exists in the silicon germanium ore, black rare earth ore and xenotime, and has also been seen in monazite and fluorocarbon waste ore.
Yttrium and another rare earth element SAM®cerium are the two elements of the rare earth element which are relatively abundant in the earth's crust, and thus they are first discovered in rare earth elements (cerium after yttrium). Norway and Sweden on Scandinavia in northern Europe are rich in rare earth minerals, so these two elements were first discovered in this region.
The purity of yttrium produced in the industry is generally not less than 93.4%, and its main impurities are other rare earth elements (content: 3.8%, calcium 1.6%; iron 0.05%; copper 0.1%; bismuth or tungsten 1%). It is also possible to produce yttrium having a purity of not less than 99.8% or more. The main impurity in high purity yttrium is still other rare earth elements.
Specification
| | |
| --- | --- |
| Symbol: | Y |
| Atomic Number: | 39 |
| Atomic Weight: | 88.90585 |
| Element Category: | transition metal |
| Group, Period, Block: | 3, 5, d |
| Color: | silvery white |
| Other Names: | Ittrio, Itrio |
For more information, please visit Stanford Advanced Materials, a global sputtering targets manufacturers.
Related Article: http://www.apsense.com/article/effect-of-adding-rare-earth-on-cast-magnesium-alloy.html
Sponsor Ads
Report this Page
Created on Dec 10th 2018 20:10. Viewed 568 times.
Comments
No comment, be the first to comment.