PSI15KD off grid solar 240 volt split phase 15000 watt inverter 48v
by Orson Z.
Overseas Trade Manager
PSI15KD off grid solar 240 volt split phase 15000 watt inverter 48v is the alternating current (AC) equivalent of the original Edison Machine Works three-wire direct-current system.
Split phase system is defined as having 2 x 120V hot wires (normally denoted as L1 and L2 and each hot wire is 120V in relation to the neutral wire), 1 neutral wire, and a ground wire. By using the two opposite phase hot wires together 240V is created between L1 and L2.
Two 120 V AC lines are supplied to the premises which are out of phase by 180 degrees with each other (when both measured with respect to the neutral), along with a common neutral. The neutral conductor is connected to ground at the transformer center tap.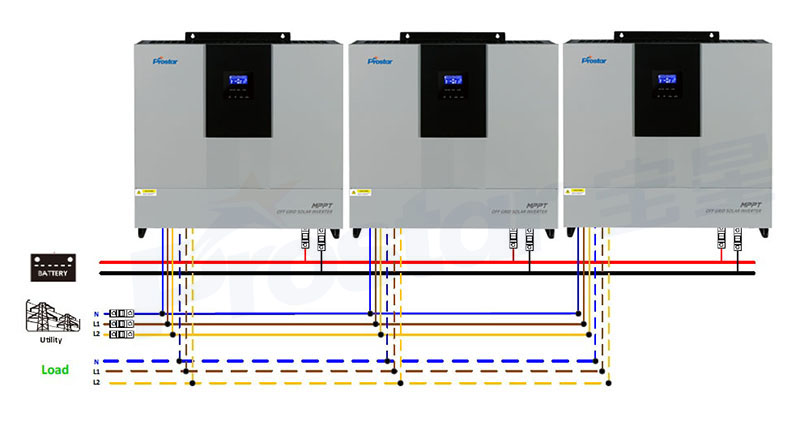 240 volt split phase 15000 watt inverter 48v is stackable by two units 5000 watt inverter, it can simultaneously manage inputs from both solar panels and a battery bank, charging batteries with either solar panels or the electricity grid.
When the inverter is used in parallel for single phase application, it need to select "2A0" in program 28. L1 to L2 output voltage is 0V and L to N output voltage is 120Vac. Support L1 - L2 phase output on split phase application with L1 to L2 output voltage in 240V.
More PSI15KD off grid solar 240 volt split phase 15000 watt inverter 48v >>
Split Phase 15000 Watt Inverter Features
Split Phase output (120V/240V), suitable for Mexico, Costa Rica, Ecuador, Panama, and Venezuela markets
Pure sine wave OUTPUT
Built-in 2 strings of MPPT solar charge controller
Configurable AC / Solar input priority via LCD setting
50Hz & 60Hz support
Programmable parameters
Max up to 60A utility charging
Adjustable bulk & float charging voltage
Support either grid or generator input
Genset starter dry contact
Auto restart while AC is recovering
Ideal for Off-Grid or Grid-backup application
Overload and short circuit protection
LCD Display + LED indicators
Cold start function
RS232/USB communication interface
Stackable — parallel up to 3 units for single phase, split phase and three phase applications
Split Phase Inverter Solar System
The following illustration shows basic application of this split phase inverter. It also includes the following devices to complete the whole running system:
Generator or Utility Power
Solar Module
This inverter can power all kinds of applications at home or in the office, including motor-type applications such as tube light, fan, refrigerator, washing machine and air conditioner.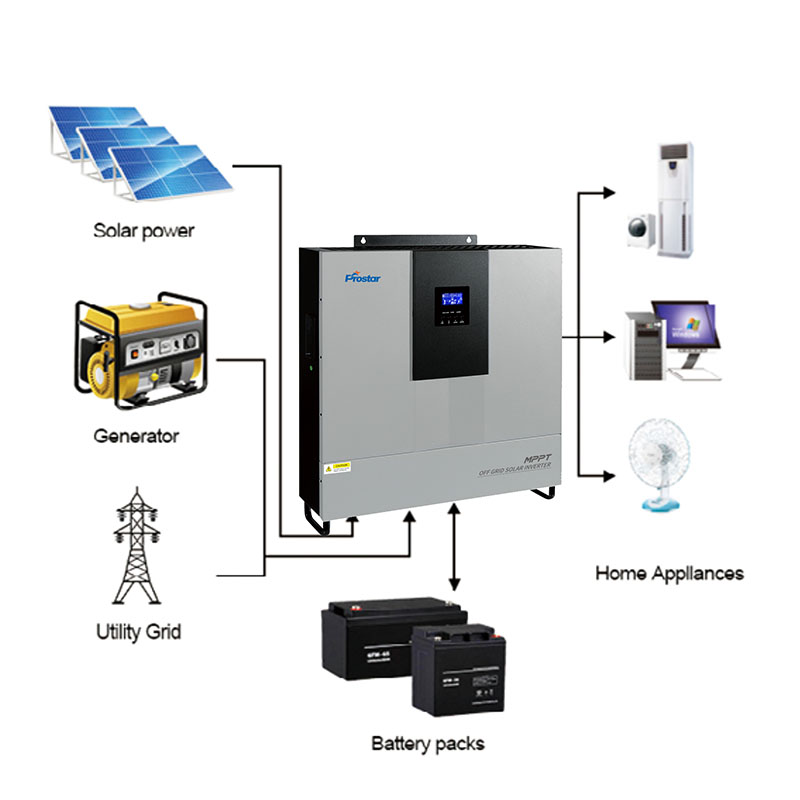 Inverter Overview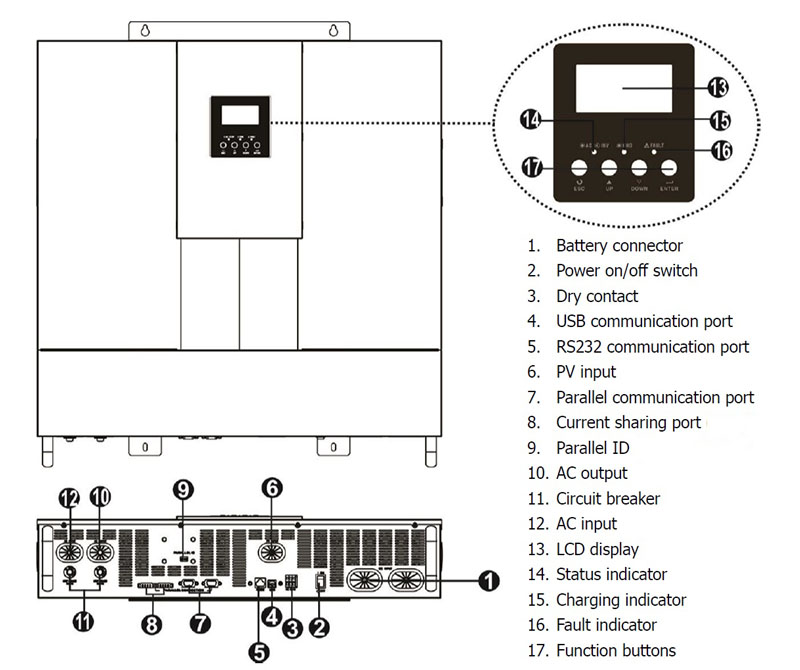 AC INPUT/OUTPUT Connection
When the phase angle between L1 and L2 is 0°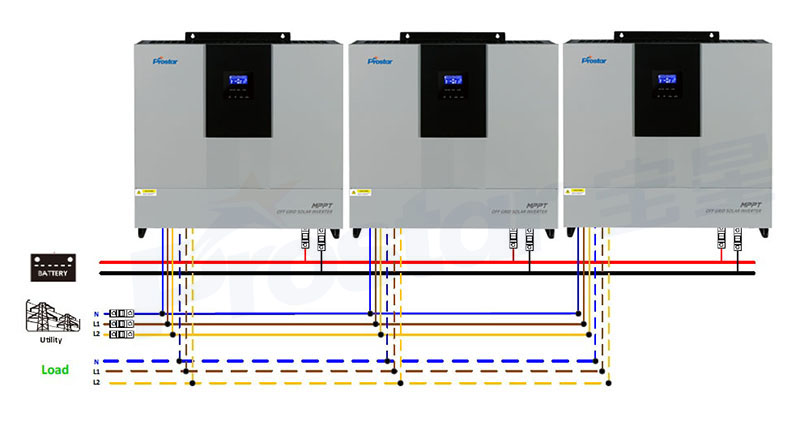 In this case a single leg of the split-phase AC source is used (neutral and 120 Vac live wires). The inverter is fed with this AC source and supplies 120 Vac loads.

When the phase angle between L1 and L2 is 120°

When the phase angle between L1 and L2 is 180°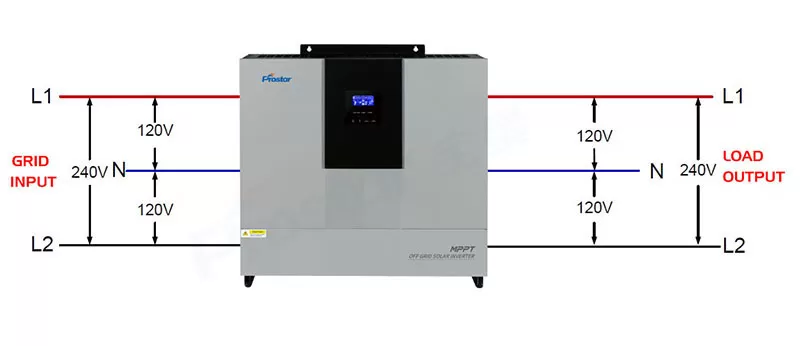 Inverter Display Panel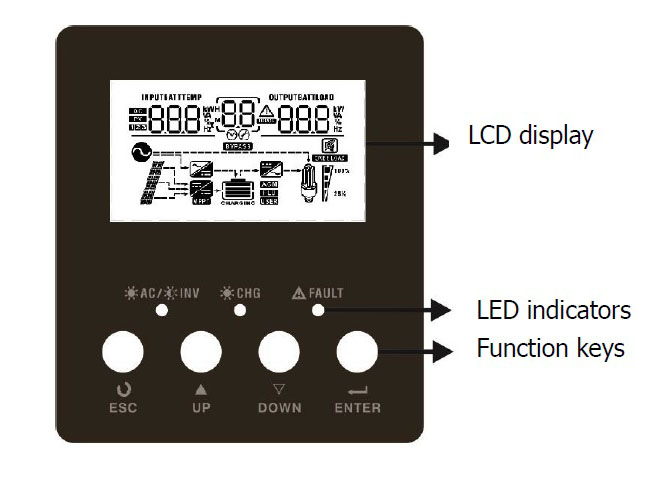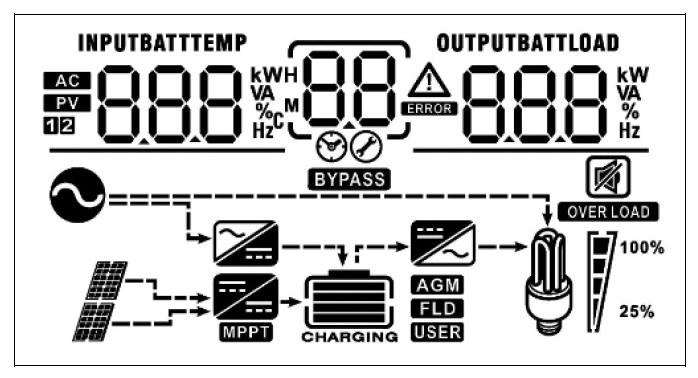 Split Phase Inverter Packing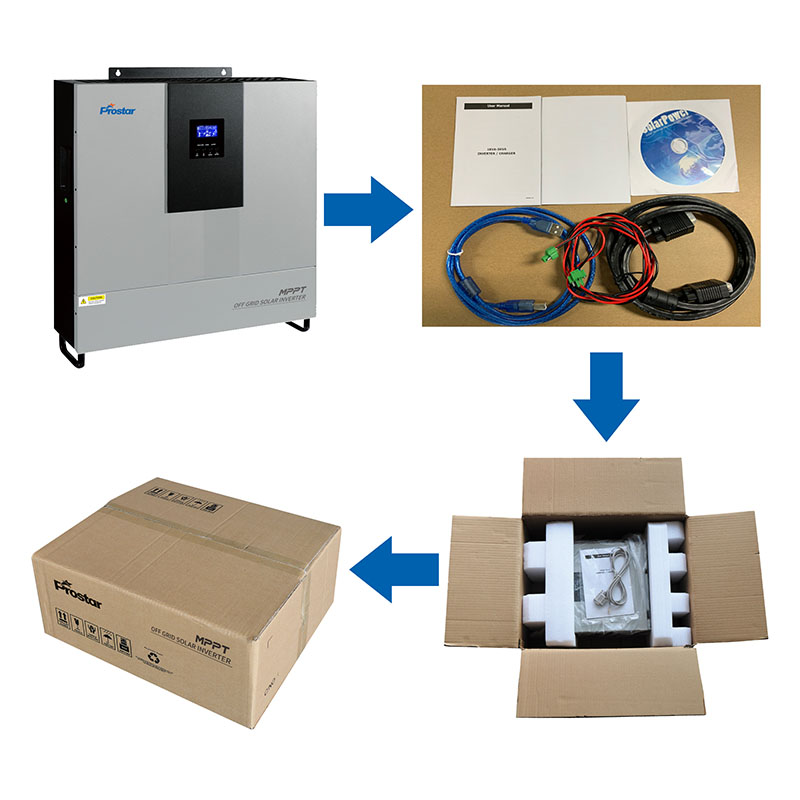 Split phase inverter 15000 watt Specification
Model
PSI-15KD LV
RATED POWER
15000VA / 15000W
Dimension DxWxH (mm)
130x623x610
Net Weight (kgs)
30*3

INPUT

Rated INPUT Voltage
240VAC (L1-N-L2)
Selectable Voltage Range
95VAC – 140VAC (For Personal Computers)
65VAC – 140VAC (For Home Appliances)
Frequency Range
50 Hz/60 Hz (Auto sensing)

OUTPUT

AC Voltage Regulation
(Batt. Mode)
240VAC (L1-N-L2)
Efficiency (Peak)
90% – 93%
Transfer Time
10 ms (For Personal Computers); 20 ms (For Home Appliances)
Waveform
Pure sine wave

BATTERY

Battery Voltage
48 VDC
Floating Charge Voltage
54 VDC
Overcharge Protection
64 VDC

SOLAR CHARGER & AC CHARGER

Maximum PV Array Power
8000W * 3
MPPT Range @ Operating Voltage
60VDC ~ 110VDC
Maximum PV Array Open Circuit Voltage
145VDC
Maximum Solar Charge Current
160A * 3
Maximum AC Charge Current
60A* 3
Maximum Charge Current
220A* 3
MPPT Maximum Efficiency
98%

OPERATING ENVIRONMENT

Communication Interface
USB/RS232/Dry Contact
Humidity
5% to 95% Relative Humidity(Non-condensing)
Operating Temperature
-10°C to 50°C
Storage Temperature
-15°C to 60°C
Product specifications are subject to change without further notice.
The Articles You may Like
Sponsor Ads
Report this Page
Created on Jul 9th 2021 22:27. Viewed 115 times.
Comments
No comment, be the first to comment.