Prepping Your Home for Exterior Painting
by Rob J.
Quality Links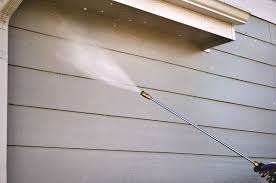 Few things can improve the appearance and curb appeal of your home more than a fresh coat of paint on its exterior. Exterior paint on your home must withstand quite a bit of abuse from the elements, including frequent moisture, UV light exposure, and temperature extremes. Therefore, regular exterior house painting is important for both the appearance of your home and for protecting the structures beneath the paint.
If the time has come for your next exterior paint update, there are few things you need to do to prepare your home for house painting in Canton, GA. By taking these steps before the brushes come out, you can help improve your chances of getting a high quality, long-lasting finish on your home's exterior. Keep reading to learn what steps should be taken to prepare your home for painting, whether you plan to paint for yourself or hire a painter to tackle the job.
Wash It Down
The pressure washer is one of the most invaluable tools for homeowners, as it allows what once represented days of work to be accomplished in mere hours. Pressure washing is a great starting point for painting preparation since it not only removes dirt, dust, and grime that would undermine your fresh coat of paint, but it can also take some of the difficulty out of other prep steps by removing loose, flaking paint chips. Give your house a good once over with a pressure washer and you'll expedite the prep process greatly.
Scrape Away
Even a good pressure washer won't remove all old paint that needs to be removed prior to painting. Therefore, you may need to scrape away all loose paint with a scraper to create a smooth surface to which the new paint can better adhere. The key is to allow your house to dry for at least 24 hours after washing it. That will prevent additional flaking during the scraping process.
Caulk It Up
The caulk that seals your home from the elements, like the paint, takes a lot of abuse and must be replaced periodically. There's no better time to tackle that task than when prepping your home for painting. Remove old, weathered caulk and refill any seams, cracks, holes, and voids with fresh caulk.
Make Any Needed Repairs
Also, before the painting begins, it's a good idea to survey your home for any damage that needs to be repaired. For example, a rotten soffit will need attention eventually, and it makes little sense to wait until after the painting to undertake that project. Perform any needed repair tasks before the brushes come out, and you'll save yourself a future project or two.
Use these steps to prepare your home properly prior to house painting in Canton GA. By undertaking these few simple tasks, you'll expedite the painting process and get a better final result.
Sponsor Ads
Report this Page
Created on Feb 14th 2020 11:57. Viewed 258 times.
Comments
No comment, be the first to comment.