Huifeng Umbrella Announces Ability to Print Premium Quality Digital Photo Umbrella
by Umbrella Manufacturer
Manager
With over three decades of exporting umbrellas, Huifeng has proven themselves masters in the field. Now the company is happy to offer quality Digital Printed designs.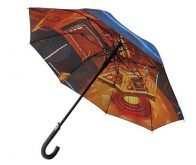 September 12, 2018
A flashy printed umbrella can certainly be an attractive eye-catcher. The key to the company who would like to sell them is finding a manufacturer who can consistently deliver a quality product at a price point that makes good sense. Answering the call is China's deeply experienced Huifeng Umbrella who have over 30 years in the business exceeding customer expectations. In exciting news, new technology, combined with old tech, is allowing Huifeng to produce incredible looking Digital Photo, Custom Printed Umbrellas that are long-lasting standing the test of time. With no limits to the number of colors available, colors that won't fade like those of many competing brands.
"We have devoted ourselves to quality which is why we have been a success," commented a spokesperson from Huifeng Umbrella. "We didn't just quickly introduce this new technology but we deeply researched, developed, and tested to make sure it would more-than-satisfy our customers and make sure we were proud of every Digital Photo Custom Printed Umbrella we ship across the globe."
To make it easy for entrepreneurs to enter into offering umbrellas the minimum order for custom Digital Photo printed choices is just 50, giving them a good opportunity to check interest in their market. Going directly to Huifeng Umbrella generally saves clients between 30% to 50% of the cost they would have paid otherwise.
The door to door service is offered with most of the company's clients being in places like the UK, USA, Canada, Australia Korea, Japan, and Europe.
Custom printed umbrellas are available in both full canopy and sand anchor beach options.
In addition to the technology producing a much superior product, it also allows the custom umbrellas to be printed in record time. The company uses sublimated heat technology, which makes sure the color penetrates the item, going deep into the texture of the item and not just on the surface where it could be easily scratched.
Huifeng Umbrella is also proud to have a full selection of other top-quality umbrella options open to customers, with something likely to meet any umbrella need, large or small.
The company is more than happy to discuss any possible projects and give their expert advice.
Early feedback for the new product offer has been remarkably positive across the board.
Jennifer S., from Boston, recently said in a five-star review, "We are very happy about the quality, price and quick delivery of our custom printed umbrellas from Huifeng Umbrella. We are completely impressed and will continue to use them. Fully recommended to anyone who cares about having a superior product manufactured. We dealt with other companies before but none match what Huifeng Umbrella bring to the table."
Contact info
China Professional Umbrella Manufacturer Website: www.hfumbrella.com E-mail: info@hfumbrella.com
Sponsor Ads
Report this Page
Created on Sep 27th 2018 05:24. Viewed 297 times.
Comments
No comment, be the first to comment.