How To Choose A Branch While Getting Admission In Polytechnic College?
by BITT Polytechnic
Digital Marketing Manager
India is a country of young demographics and there are umpteen students looking to pursue a career in diploma engineering delivering livelihood chances. However, due to the information gap there is a lot of uncertainty and dilemma over which branch to select.
We here are breaking down all the myths and be a guiding light in the easy selection of branches in your pursuit to diploma engineering in BITT.
For a Career after 10th and 12th Polytechnic or Diploma Engineering is a blessing for students who are looking for professional and employable skills especially for a student from an impoverished background and for others it gives an opportunity to learn a lifelong skill furthermore pursue an engineering degree with parallel entry after diploma. So it is necessary that students choose their discipline with utmost relevance and in their field of interest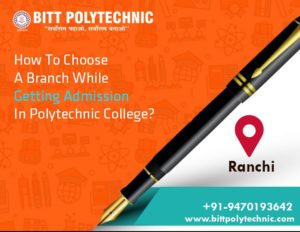 BITT Polytechnic offers purposeful and strategic courses approved as per AICTE and Ministry of HRD recognized by SBTE & DST Jharkhand with a well-defined system for 3 yrs Diploma and for Lateral Entry into 3rd Semester for students after 10th and 12th respectively.

Students who are looking to pursue Mechanical Engineering and Civil Engineering should have interest in construction management stuff, on-sites visits and most importantly should have a vocational or job-related knowledge in mathematics, physics, electricity and robotics.
But these branches help in creating diploma engineers who are multi-talented and of market's interest for swift recruitment. Electronics and Communication Engineering is a large employment inclined branch requiring expertise and a whole lot of practical skills in physics, mathematics, etc.
BITT the Best Polytechnic College in Ranchi offers Mechanical, Civil & Electronics all of these are courses of core competency and consist of the essence of employable skills.
Computer Science and Engineering Branch help you to gain skills in software and hardware domain providing you employment in IT-oriented sector.
Courses offered in BITT-
Electronics & Communication engineering
Computer Science & Engineering
Electrical Engineering
Mechanical Engineering
Civil Engineering
BITT adopts the best state of the art facility with best possible infrastructure right from complete digital network and database and ERP solution to well-upgraded computer labs, electrical laboratory, providing on-site industry experiences that's why it is rated as best polytechnic colleges in Jharkhand and perfect for diploma career after 10th and 12th.
All branches of engineering have the inherent possibility to provide bright chances to the student. Above the selection of the institute, it is the choice of the perfect branch which is indispensable. Before deciding on any institute a student should importantly be with the institution's accreditation status. Understand & observe your aptitude, interest & skills and apply these details to select the right branch for diploma engineering. You can take support or consult from our team set up just for guidance to the selection of branches.
Sponsor Ads
Report this Page
Created on Jan 8th 2020 03:20. Viewed 475 times.
Comments
No comment, be the first to comment.