Have a Joyful Experience in Learning English with Oxford Discover Futures | VISANG EDUCATION
by Professional Writer
Professional Writer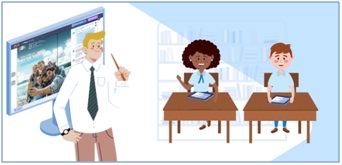 Visang Education providing digital activities is conducted seamlessly between a teacher and students, both in-person or from remote settings. And the activities such as interactive learning and digital educational content can facilitate communication between students and teachers. Real-time interactions are created by sharing results with peers, allowing direct collaboration through digital content. Whether in-person, remote, or by a hybrid of both methods, Visang Education will help you along your journey from the beginning to the end of every course. Evidence indicates that students are more fluent in subjects when they interact through quality videos, 3D animations, animated characters and games. These are all developed by professional designers of Visang Education.
Visang Education's Oxford Discover Futures
The Oxford discover futures is a digital learning program, based on the Oxford discover series published by Oxford University Press. The Oxford discover series empowers students to shape their futures with an inquiry-based approach and a focus on 21st century skills. And it offers high quality audio and video files for the diverse learning experiences. Everything created by students during class is stored in the LMS, so the teachers can access the registered learning results to easily identify students' strengths and weaknesses to communicate with their parents for counseling.
Features of Oxford Discover Futures
In Oxford discover futures, students can zoom in on the text of the book, and its special tools make learning more interactive.
Here the students can take pictures and use chatting, pen, and typing tools for interactive lessons in addition to recording video and audio.
Teachers can lead highly engaging classes by sharing problems with students and revisiting students' results and progress in real-time whenever needed.
A flexible shift in the learning environment is the best way to deal with uncertain environments effectively. On Oxford discover futures educational platform, teachers can run a class in a classroom and even a remote class.
If you are looking to learn English with Oxford discover eBooks, you can find it at Visang Education
Click here to contact Visang Education
View more: Learn English Digitally with Oxford Discover Futures
Sponsor Ads
Report this Page
Created on Aug 30th 2022 01:55. Viewed 69 times.
Comments
No comment, be the first to comment.