Learn English Digitally with Oxford Discover eBooks | VISANG EDUCATION
by Professional Writer
Professional Writer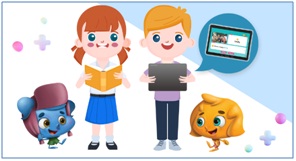 Visang Education provides interactive learning products for the online learners around the globe, and it seamlessly conducts both in-person, remote or by a hybrid of both classes between teachers and students. Its products such as interactive learning and digital educational content can facilitate communication between students and teachers. Its products will help learners along their journey from the beginning to the end of every course.
Visang Education's interactive learning products such as wings, elif, oxford discover and oxford discover futures provides highest level of learning experience with real-time interactions, which allows the direct collaboration through digital content. Evidence indicates that students are more fluent in subjects when they interact through quality videos, 3D animations, animated characters and games. These are all developed by professional designers of Visang Education.
Visang Education's Oxford Discover
The Oxford discover program is designed to learn English interactively with Oxford eBooks, and it is especially for the elementary school students to have a joyful experience in learning English.
Features of Oxford Discover
In Oxford discover, students can comprehend word usage and sentences through live-action videos.
For different exercises, audio or video is provided as a resource, which is useful for repetition exercises.
The high-quality learning is attainable by going back and forth between the student book and the workbook.
The Oxford discover is involved with more activities such as word learning, word quiz, reading practice, reading review, grammar, song, listening practice and speaking practice.
The 6-year Oxford discover course provides the CEFR index, it is an internationally recognized index. The difficulty level can be measured with this, and the students can easily understand their level at a glance.
If you are looking to learn English with Oxford discover eBooks, you can find it at Visang Education
Click here to contact Visang Education
View more:
Learn English Digitally with Oxford Discover
Sponsor Ads
Report this Page
Created on Aug 30th 2022 01:49. Viewed 49 times.
Comments
No comment, be the first to comment.