Global Surgical Robots Market – Fast Growth Industry, Analysis and Forecast To 2024 | Renishaw plc.
by VynZ R.
VynZ Research.Industry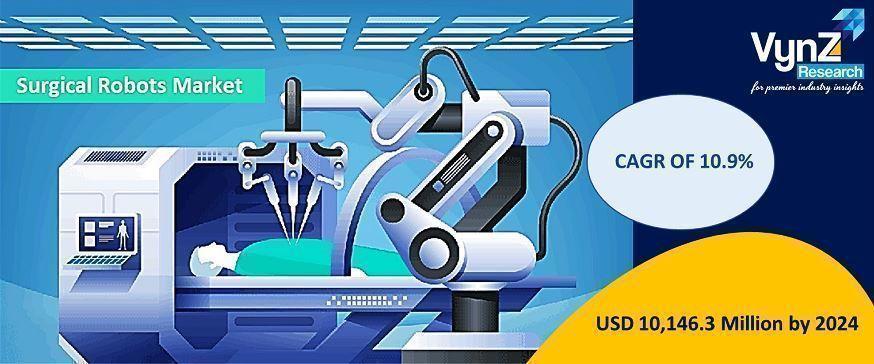 The global surgical robots market is expected to grow at a CAGR of 10.9% during the forecast period with its market size predicted to reach USD 10,146.3 million by 2024. The global surgical robots market is primarily driven by the technological advancements, advantages of surgical robots, increasing investment for the research and development, mounting occurrence of neurological and orthopedic disorders and increasing geriatric population. The Da Vinci Surgical System, Mako Surgical Arm, Mazor X are the key brands mostly adopted globally.
Similarly patients benefit from better clinical outcomes, shorter hospital stays, precision in surgery, lesser pain, early discharge and shorter recovery time. The robotic surgery also causes smaller incision and therefore reduces the risk of getting infection post-surgery. Compared to conventional surgery robotic surgery leaves small incision and allows surgeon to operate in very tight spaces with precision using robotic arms.
Apart from the aforementioned factors the increasing prevalence of neurological disorders and increasing geriatric population is leading to the growth in the surgical robot market across the globe. For instance, according to the World Health Organization (WHO), globally in 2010 approximately 524 million people were aged 65 years and older and is expected to reach 1.5 billion in 2050.
The primary factor hindering the growth of the
surgical robot market
is their high cost. The high cost of these systems makes them unaffordable in smaller hospitals with limited budgets. Moreover, this is the primary reason hindering the market penetration in developing countries as these countries struggle to provide and basic healthcare to all its citizen and hence it is generally not feasible to install surgical robots especially in their public sector hospitals. The Renaissance Surgical System by Mazor Robotics is itself costs around USD 850,000 per unit; thus only the healthcare providers backed by private investors or large public hospitals are able to afford these systems.
Asia-Pacific lags behind North America and Europe in terms of the number of surgical robots installed in the region; however, by the end of the forecast period, the region will account for higher share in the global surgical robots market than Europe. The key factor leading to the significant growth in the Asia-Pacific, are the developing infrastructure, investment in healthcare sector, immergence in large number of private healthcare providers, and penetration by the number of the large global healthcare providers in the region.
Some of the key players operating in the surgical robots industry are Intuitive Surgical Inc., Stryker Corporation, Mazor Robotics Inc., (Acquired by Medtronic plc), Medtech SA (Acquired by Zimmer Biomet), Accuray Incorporated, Smith & Nephew plc, Renishaw plc, Auris Health, Inc. (Acquired by Johnson & Johnson), Medrobotics Corporation, Varian Medical Systems, Stereotaxis, Inc., Titan Medical Inc., Think Surgical Inc., and TransEnterix, Inc.
About VynZ Research
VynZ Research is a global market research firm offering research, analytics, and consulting services on business strategies. We have a recognized trajectory record and our research database is used by many renowned companies and institutions in the world to strategize and revolutionize business opportunities. The company focuses on providing valuable insights on various technology verticals such as Chemicals, Automotive, Transportation, Energy, Consumer Durables, Healthcare, ICT and other emerging technologies.
Contact
Manager: Client Care
Toll-Free: 18882533960
Sponsor Ads
Report this Page
Created on Apr 29th 2020 09:31. Viewed 242 times.
Comments
No comment, be the first to comment.