Asia-Pacific E-cigarette Market – Industry Overview, Analysis and Forecast To 2024 | VAPETASIA, Puff
by VynZ R.
VynZ Research.Industry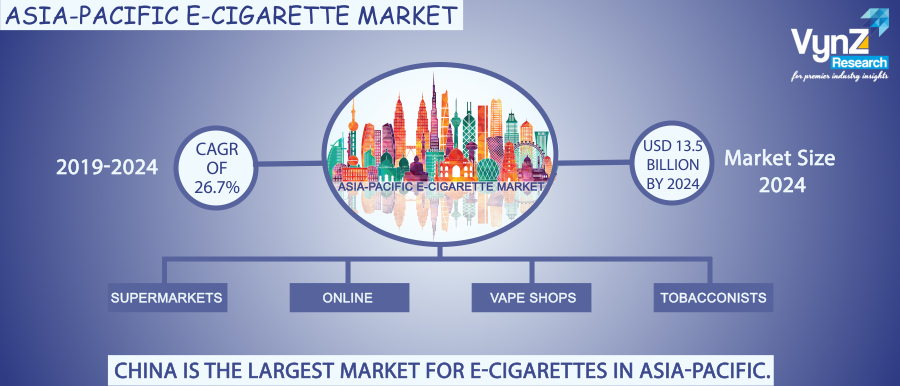 The Asia-Pacific e-cigarette market is expected to grow at a CAGR of 26.7% during the forecast period with its market size predicted to reach USD 13.5 billion by 2024. The Asia-Pacific e-cigarette market is driven by factors such as increasing awareness among consumers, government initiatives to curb tobacco use, increasing tobacco and drug abuse in the region, and upsurge in the e-commerce industry. Disposable cig-a-like, rechargeable cig-a-like, and open tank vaporizer are the major contributor to the Asia-Pacific e-cigarette market size.
As e-cigarette is less harmful than a regular cigarette, it has resulted in the development of alternatives that have helped consumers quit conventional cigarettes. Therefore, Asia-Pacific offers opportunities for e-cigarettes manufacturers to generate revenue and explore their presence in the region.
Although governments in Asian countries are taking initiatives to curb smoking and tobacco use, the implementation of government regulations have been the major challenge. Moreover, the high cost of e-cigarettes is the key factor hindering the growth of the
Asia-Pacific e-cigarette market
.
Among different countries, China is the largest market for e-cigarettes in Asia-Pacific. The primary factors leading to the adoption of e-cigarettes in China are the increasing awareness among the smokers to quit smoking, promotion or marketing of e-cigarettes as an alternative or as smoking cessation by manufacturers, technological advancements, and high prevalence of smoking-related diseases.
According to the WHO, there are 300 million smokers in China, which illustrates that one in every three cigarettes smoked in the World is smoked in China. Moreover, the issue of second-hand smoke or passive smoke is also very critical in the country as it kills approximately 100,000 people every year in China. Similarly, in Japan, Korea and other Asian countries, the prevalence of tobacco use is very high.
The key players operating in the Asia-Pacific e-cigarette market are China National Tobacco Corporation, Turning Point Brands, Inc. (International Vapor Group), British American Tobacco plc, VMR Products LLC, Altria Group Inc., Japan Tobacco Inc., Philip Morris International Inc., Imperial Brands plc, VAPETASIA, Puff E-Cig, ITC Limited, and Boluvaper Technology Co., Ltd.
About VynZ Research
VynZ Research is a global market research firm offering research, analytics, and consulting services on business strategies. We have a recognized trajectory record and our research database is used by many renowned companies and institutions in the world to strategize and revolutionize business opportunities. The company focuses on providing valuable insights on various technology verticals such as Chemicals, Automotive, Transportation, Energy, Consumer Durables, Healthcare, ICT and other emerging technologies.
Contact
Manager: Client Care
Toll-Free: 18882533960
Sponsor Ads
Report this Page
Created on Apr 14th 2020 10:14. Viewed 109 times.
Comments
No comment, be the first to comment.