Don't Dread The Pad Rash Anymore
by Sonam Tripathi
Fashion
It's that time of the month again and you have started to feel a shiver run down not your spine but your thighs. Your
sanitary napkin
stock is already there in your bathroom cabinet and you are well-equipped to handle 'Aunt Flo' but what you are not ready to handle are the painful rashes that tag along with it and stay uninvited till several days after your period ends.
Why me?
Sanitary pads for girls today are designed in a way to minimize this problem but if you have sensitive skin you might face the problem of rashes on your inner thighs and vulva region. The majority of women face this problem all through their menstrual cycle while few face it towards the latter half of their period. The primary reasons why you get rashes are dampness and chafing. Menstrual flow that does not get absorbed into the period pads and sweat around the area causes dampness which leads to itchiness and rashes. Where dampness is one reason the other reason for rashes is chafing of your skin which happens when the skin is too dry. Constant rubbing of the pad against your thighs and vulva causes chafing while you move or walk. These rashes are similar in nature to what babies experience and are called diaper rashes in their case.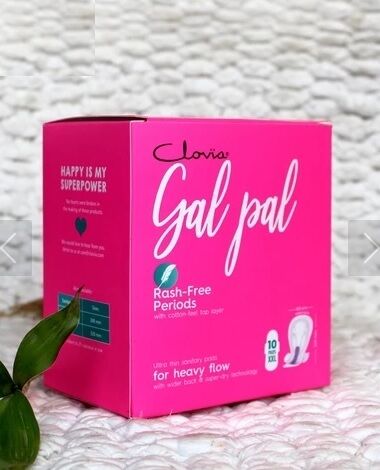 Ok, I was careful but I still got the rash. Now what?
• Washing helps
Wash the area with mildly warm water sans any soap. Women more often than not, get tempted to clean the area with soap thinking that it would alleviate the symptoms but it works in just the opposite way. Using soap will only irritate your skin further and increase inflammation and rashes.
• Wet wipes to the rescue

If you do not have access to water then you can also use some wet wipes to gently pat wipe the vulva region. However, in this case, use alcohol-free wipes or those that are not scented.
• Use the ointment
After washing the area, gently apply an over the counter ointment for vaginal rashes. Leave the area open for a while to let the ointment dry and do its work before wearing the sanitary napkin and panty. If you find that the rashes are being obstinate then we recommend you visit your dermatologist or gynecologist.

• Change your sanitary napkin frequently type or brand
Maybe the brand of the sanitary napkin that you are using needs to be changed or you need to change the kind of pad you are using. Today you cannot just buy sanitary pads online; you can also buy them in several variants. There are those that are for a full night, ones that are very thin, soft but short ones, cotton sanitary napkins; the list is very long. Trial and error is the method for selecting the one that suits you, for every woman has different symptoms and flow during periods. You can also go for tampons if that works for you but a lot of women are not comfortable using tampons and stick to pads.

• Change the sanitary napkin frequently
Call it being lazy, blame it on the winters, or no access to a washroom or a clean washroom for that matter; women delay changing their sanitary napkins for much longer than they should. Not only is it unhygienic but wearing the same pad for long hours also causes rashes. When you change your pad, that is when the skin of and around your vulva gets to breathe.

You can't do away with women periods but what you can do is try these little tips to banish these rashes and have a stress free period.
Popular Post on Sanitary Napkin:
Sponsor Ads
Report this Page
Created on Jan 20th 2020 06:51. Viewed 194 times.
Comments
No comment, be the first to comment.