Comparing Mobile Game Monetization Models: Free vs. Paid
by Anshul Sharma
Top Mobile App Development Company In UK
Game apps take first place in terms of both user retention and revenue generation if we compare apps under various categories on the app stores. Around 90 percent of Google play store's revenue and 75% of app store's revenue came from its gaming apps in 2016-17.
With the inclusion of trending mobile application technologies like AR, VR, Artificial intelligence, gaming has taken a 360 degree-turn and has raised our excitement like never before. This is why there is huge competition among developers to create a game that is not only different but gives them huge earning potentials. This is why you should focus on preparing a mobile game monetization strategy so that your idea can be implemented by the development team to the best extent.
In this article, we will discuss the most popular game monetization models and help you understand how it works.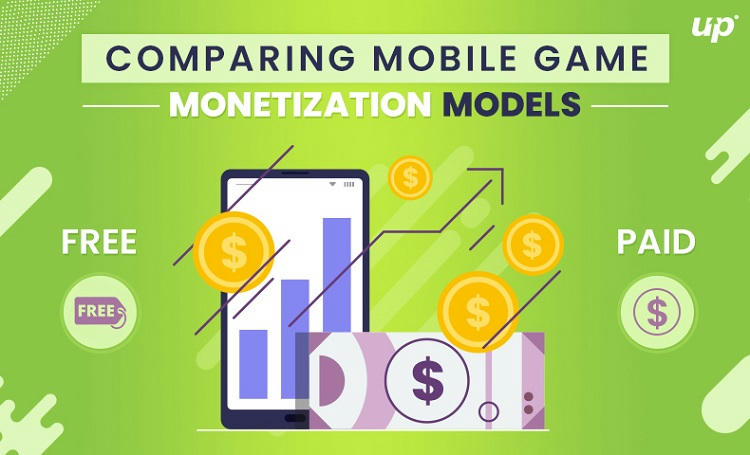 Mobile Game Monetization Models: Free Vs Paid
Many app owners often get confused while choosing a monetization model which can raise maximum revenue from their apps. Paid games, meanwhile can earn a good source of revenue for a short period of time but if there is the hype about the game, then surely it will turn to reap great benefits for app owner for a larger period. But we have seen over the past that free game apps do much better in the long run as users are already aware of its functionalities.
If we go by data, there are only 3 paid games in the top 200 lists on the app store showing why most of the developers consider launching their games for free. But this should not pressure you from putting your game for free.
What are In-App Advertisements?
The free apps earn via advertisements that are displayed on the game or any app in general. Even InMobi, the leading mobile app marketing and advertising provider mention that the rate of ad clicks on an app is more than that on the mobile-based website. This is where apps are a much better source for conversion than mobile websites. In-app ads moreover have an average CTR which is 2.8 times higher compared to the mobile web while the average CPM was 2.5 times higher than mobile web.
Having understood about in-app ads, it is important to look at major ad networks that you can opt for.
What Are Ad Networks And What Is Its Importance?
Ad networks help your game reach a large database of advertisers. It helps advertisers to get to their required target audience. This helps game developers to connect with the ad networks and get good ads that are displayed on it. There are some popular ad networks like, AdMob, Media.net, AirPush, MoPub, which you can take help of.
Freemium Games (In-App Purchases)
Freemium games are the games that are free to download from the app store. This is a popular mobile game monetization model that is used by both Android and iOS developers. Under it, some premium features of the app are made available but require a payment to be done. One can also look for a subscription model that requires payment on a regular basis in terms of weeks, months or year wise payment.
The advantage with in-app purchases is that it can appear in the search results, and can be featured on the today page as well. The revenue generated by in-app purchases accounts for about 70-80 percent of its revenue each year which is why developers prefer to go for in-app purchases on iOS platform.
Which is the Best Model for your App?
Ideally, it is up to you and your mobile app development company to decide what monetization model is more suited as per your app features. The in-app games purchases lead to more revenue generation opportunities. Many app developers initially launch their app for free and as the user base grows up, then they upgrade their app and get set with in-app purchases. Some app users offer in-app rewards in lieu of video ads as well.
Final Thoughts
Mobile game monetization has changed the fortunes of many developers. But before you devise a monetization strategy for your game, it is crucial not to overload the game with too many advertisements as it can turn off your users and force them to abandon your game and look for some alternatives.
A perfect mix of strategies can help you get great results!
In case you need any help for building the next best game app, feel free to reach out to Fluper, a leading mobile app development company in UK.
Sponsor Ads
Report this Page
Created on Aug 8th 2019 07:42. Viewed 285 times.
Comments
No comment, be the first to comment.