Comparing Business Phone Systems & Picking The Right One
by Braden Martin
Blue Fox Group
If you're thinking your mobile phone can cope up with your business needs, you need to think again.
A small business requires business phones not just for answering calls but also for teleconferencing, call recording, video recording, customer service, and to facilitate mobile workers. Even though mobile devices are an essential part of implementing an effective business phone system, they can't serve you on their own.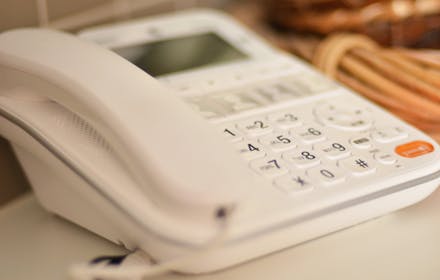 Enter business phone systems.
What are those? What are the options available? How can you choose? And most importantly, how do you decide which business phone services providers are best for you?
Asking The Right Questions
First, you need to decide what business phone system you want. Because only then can you look for business phone services that specialize in the system you need.
Do you already have a system installed, that you need to upgrade?

If yes, what features do you want to add?

Also, do you want new features to be added to an existing setup or can you opt for an entirely new setup?

What's your current call volume? What would it be in the near future?

Do you have a fast & reliable internet connection?

Do you have multiple offices?

Do your employees work remotely?

What's your budget?

In the trade-off of cost vs features, which side are you on?
These are some general questions that will help you choose.
Types of Business Phone Systems
Landline:
The old solution, it involves extensive hardware setup. It's getting outdated as lesser people are opting for them.
It's also expensive to run & maintain. Moreover, it doesn't provide the flexibility of remote working or using mobile devices. However, the landline in a hybrid with VoIP is a good solution.
VoIP:
Such phone systems offer you the best features of a phone system at a lesser price. They're cheap, easy to setup & configure but are totally reliant on the internet. So, if the internet has issues, the phone system will suffer too.
You can opt for either on-premise (Self-hosted) or cloud-based VoIP. On-premise involves higher cost but gives you better control & flexibility whereas cloud-based offers cheaper solutions with a promise of great support.
Virtual phone Systems:
If a lot of your employees work remotely, it's a good option where the call from the customer comes on your business phone & is then forwarded to the employee's phone/mobile.
Your staff can always put up the professional front but the drawback is that in addition to paying the cost for the virtual system, your employees will also end up using up minutes on their phones.
It's good for small businesses which either have very few employees working remotely or for businesses with many remotely working employees.
How to Choose Business Phone Services That Will Offer You Best Solutions?
First, decide which type of business phone system you want. Set a budget. Now, you obviously want a service provider that offers the features you want. Let's say you have shortlisted ten best of them. How do you pick now?
Level of Support: Analyze the technical expertise various business phone services are offering. What are the resources they're offering for support? What happens when you run into some trouble? How is each of them willing to help? From the initial setup to the regular operations, the company that has the potential to be the best support partner is the one you want to pick.

Geographical Location of the Provider: Prefer the provider that's situated nearest to you. If you have multiple office locations, pick the one nearest to your head office.

Do they offer assessment? - Many business phone services providers would first want to assess the needs of your business. It's crucial as often, they're able to suggest you a more economical and robust solution. Each company has unique needs & your service provider must acknowledge that.

Can they understand your needs? - You need a partner who can understand what exactly you require. Without this basic understanding of your business, a service provider won't be able to deliver best results.

Value Added Services - Do they have an ecosystem where they can offer you additional services if required by you in future?
At BlueFox, we put in a great deal of effort just to give you business-specific solutions, understanding your unique business operations and challenges and provide you best support. To know more about our business phone services, visit our website Blue Fox Group.
Sponsor Ads
Report this Page
Created on Jun 12th 2018 04:40. Viewed 512 times.
Comments
No comment, be the first to comment.