Buckthorn Bark Benefits, Side Effects and Dosage
by James Denlinger
Digital Marketing Strategist
What is Buckthorn Bark?
Doctors and other healers have been using buckthorn bark for centuries to ease all sorts of digestive complaints, but it's especially useful to those with constipation. The bark must be dried for at least one year before use, as fresh buckthorn bark can induce vomiting. The bark is harvested from branches and trunks, aged, dehydrated and then prepared into a fine powder.
In the wild, buckthorn attracts brimstone butterflies and feeds bees. It needs a lot of light to grow, so it's rarely found in thick forests, but you can find it flourishing along forest edges and in open fields.
Benefits of Buckthorn Bark
Relieves Constipation
Constipation causes pain, cramping, bloating, appetite loss, and even vomiting. There are many causes of constipation.
Chronic constipation is not only painful but also damaging to the bowels. It impairs digestion and causes waste material to be reabsorbed, making you feel lethargic, run-down and generally under the weather. Addressing this common problem can help you feel better within days.
Regardless of its cause, if you want fast, smooth and painless relief, buckthorn may be the solution you need. One of its medicinal compounds is anthraquinone, which gently stimulates the bowel muscles to push waste out of the body.
If you're using buckthorn as a laxative, make sure not to exceed the recommended dosage–a little goes a long way, and too much buckthorn could cause diarrhea.
Heals Hemorrhoids
Hemorrhoids are an uncomfortable side effect of frequent constipation. Stools that are hard to pass can cause swollen, painful veins around the lowest part of your rectum. Worse yet, repeated strain can cause them to burst, in some cases causing infections.
Because buckthorn bark can help you pass stools, you'll strain less in the bathroom, allowing the thin tissues surrounding the rectum to remain relaxed and intact, and putting less pressure on veins prone to rupture.
If you already have hemorrhoids, small doses of buckthorn bark can help you smoothly pass stools while they heal. Keeping the area clean without scrubbing will help them heal faster, as will applying topical creams with witch hazel to affected areas.
Promotes Healthy Digestion
Because buckthorn bark helps intestinal muscles move food through the body, it can help those with slower digestion feel less bloated and retain less waste in the colon.
For healthy digestion to work, intestinal muscles must move smoothly. But many people have intestinal muscles that don't move as well as they should, making them feel full often, and sometimes causing pain during and after meals. Buckthorn bark stimulates these muscles for improved digestion.
Buckthorn may also act as a probiotic, increasing the number of healthy bacteria in your gut that help you absorb vital nutrients.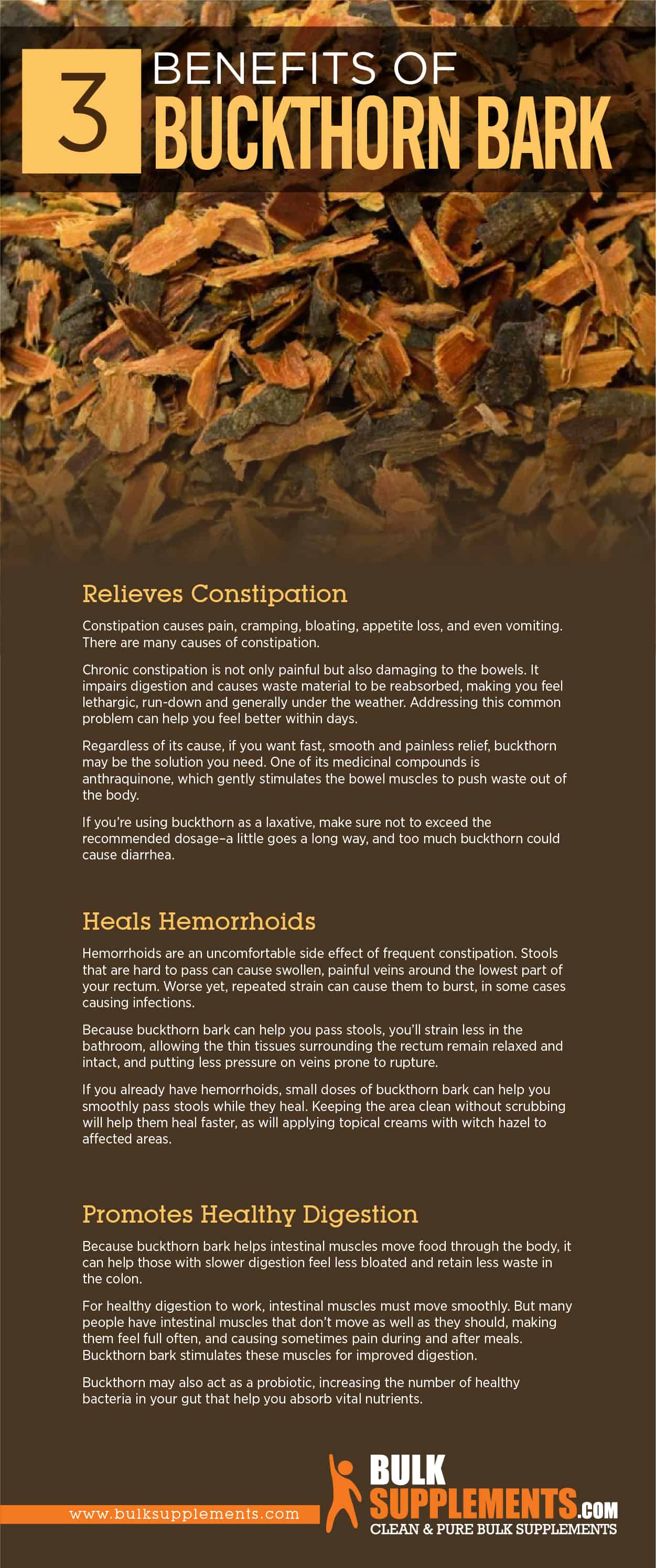 Side Effects of Buckthorn Bark
As long as you adhere to the recommended dosage, buckthorn bark supplements are safe to take for healthy adults. Mild side effects include stomach discomfort, cramps or diarrhea. Excessive use, even of the aged herb, can cause vomiting, so don't exceed recommended dosages. If you experience any of these side effects, stop taking buckthorn bark; your symptoms should disappear quickly. Side effects are dose-dependent, which means that consuming smaller amounts is less likely to cause them.
Don't consume buckthorn bark if you already have cramps, diarrhea or abdominal pain, or if you have pre-existing digestive conditions. Buckthorn bark should be used only for the occasional discomfort and for no more than 10 days. Talk to your doctor if you're currently using digoxin, coumadin or diuretics, as buckthorn bark may interact with these medications.
Buckthorn Bark Dosage
You can find buckthorn bark available in several different supplement forms, including capsules, powders, pills and tinctures.
You can also take buckthorn bark extract powder, which contains a high concentration of beneficial compounds. As a dietary supplement, take 1,800 mg one to three times daily, or as directed by your physician.
Buckthorn bark has a strong earthy flavor, which many consider bitter. Those who enjoy strongly flavored drinks can make buckthorn bark into tea, though the powder is often used to fill capsules.
You can also mix the powder into smoothies, juices and other foods, but be aware that the flavor of your meal or drink will change, so try a small amount first.
The Bottom Line
Buckthorn bark is an herb that has been safely used for centuries to treat digestive upsets, especially constipation. When taking buckthorn bark, be mindful about how much you use; small doses are plenty. Too much can lead to an unpleasant experience. Overall, buckthorn bark is a valuable herb to use occasionally as a digestive aid.
Sponsor Ads
Report this Page
Created on Apr 4th 2020 20:01. Viewed 187 times.
Comments
No comment, be the first to comment.