CLA: Benefits, Side Effects & Dosage
by James Denlinger
Digital Marketing Strategist
What is CLA?
To make a long story short, CLA is an excellent excuse to eat butter! As long as it's grass-fed butter, that is. CLA stands for conjugated linoleic acids. It is not just one compound, but a group of related omega-6 polyunsaturated fatty acids that are naturally found in the milk and meat of grass-fed ruminant animals (cows, sheep, goats, etc.).
These fats have become popular thanks to their purported fat-burning qualities. CLA is found in food and is also available in powdered or encapsulated supplements. The CLAs found in supplements are derived from vegetable oils high in linoleic acid like safflower, corn, soy and sunflower.
CLA Benefits
CLA comes in many chemical forms, also known as "isomers". This means the chemical structure of each is slightly different. The types found in grass-fed animals are different than the types found in supplements. What's more, the ratio of various CLAs can vary between animals as well as between supplements. Most supplements, however, contain a 50/50 ratio of the 9,11 isomer and 10,12 isomer.
Burn Fat & Increase Muscle Mass
There's been quite a bit of research focusing on CLA's effects on body composition in humans. On one hand, its overall effects are sometimes reported as "modest". On the other hand, more recent analyses of studies conclude that it can in fact promote fat loss in some people to a degree significant enough to justify supplementation.
Why the discrepancy? For one thing, different forms and dosages of CLA are used in these trials. Subjects' ages, gender, activity level, body composition and health statuses also differed in the studies, resulting in different outcomes.
Among the trials that produced promising results, CLA supplement dosages ranged from 3-8 g/day (most between 3-4 g) and the durations of the studies were typically in the range of 4 to 16 weeks though some went as long as two years.
In addition to reducing body fat, it can also help increase muscle mass. For example, a study involving 48 obese men and women taking 6.2 g/day of CLA for 12 weeks resulted in an average of 0.64 kg increase in lean body mass. Another small study examined its effect on resistance training. In this case, supplementing with 5 g of CLA per day for seven weeks lead to a slight improvement in performance and small changes in body composition.
But here's the catch. The effects of CLA supplements are not dramatic. In studies, it's helped people lose a few pounds or prevent weight gain during the holidays, for example. For some, that's a good enough reason to take these supplements. For others, it may not be worth it since unwanted side effects can occur with CLA supplementation.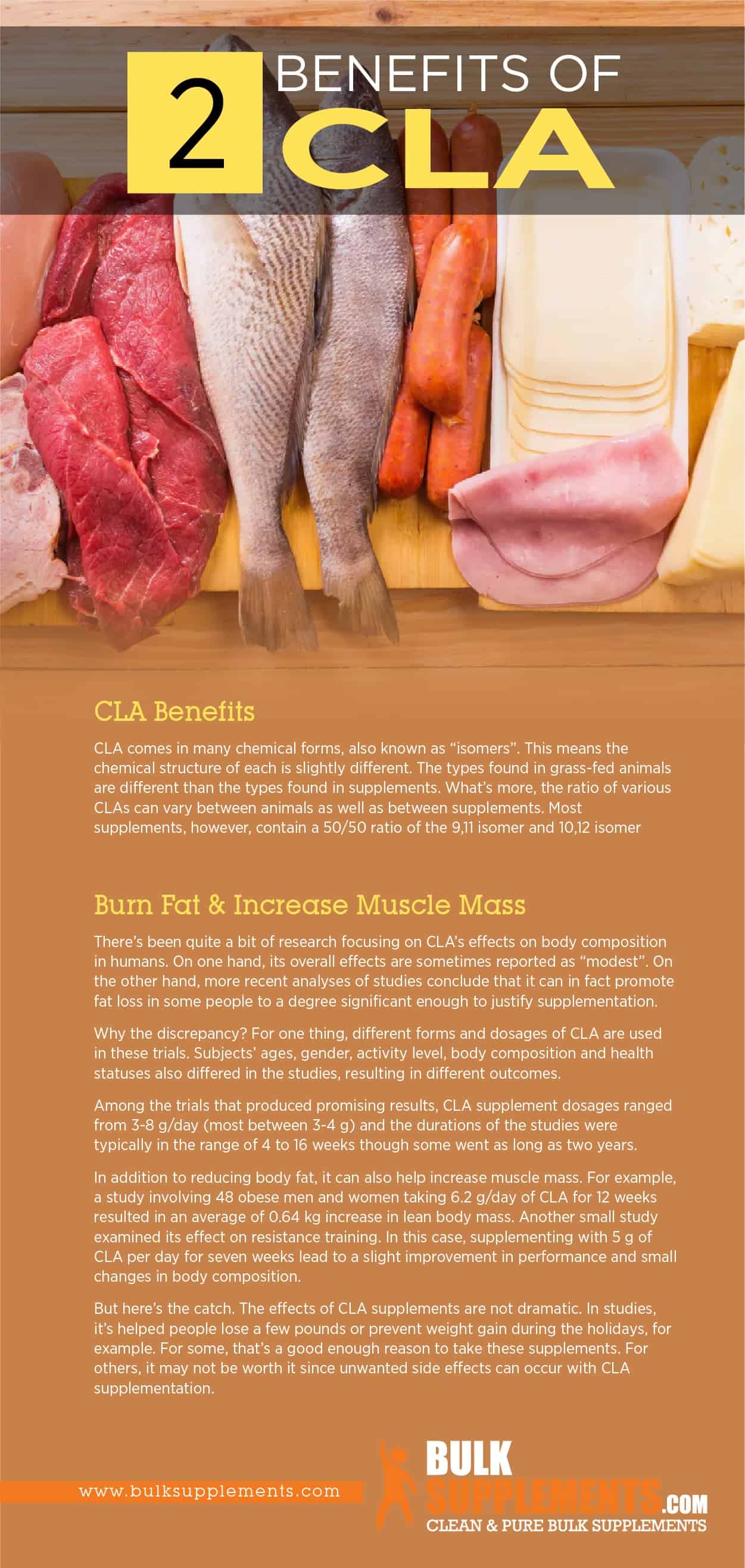 Food Sources
The best food sources of CLA include:
Grass-fed beef, lamb, goat and deer
Full-fat milk and yogurt from grass-fed animals
Full-fat cheese from grass-fed animals, especially those aged less than 10 months
Butter from grass-fed animals
Turkey
CLA Side Effects
CLA is sometimes added to foods and the FDA has designated it "GRAS" (generally regarded as safe).
There have been some unwanted side effects observed in relation to CLA supplementation. Who experiences these side effects and to what degree depends on a lot of factors including the dosage, duration and a person's general health.
Side effects seen in human studies include an increase in oxidative stress and insulin resistance which can increase risk for conditions such as cardiovascular disease and type 2 diabetes. While these side effects are generally seen with higher doses, they've also been observed with levels that are considered safe. Digestive upset may also occur. In some animal studies, CLA supplementation was found to promote an accumulation of fat in the liver.
CLA Supplement
Studies conducted on the effects of CLA incorporated dosages as low as 3.2 grams per day and as high as 6.4 grams. Research has shown that 3 grams per day may be the necessary minimum dose for fat loss. 6 grams of CLA per day is considered safe to consume as there have been no serious side effects reported at this amount.
CLA powder should be taken in 2000 mg increments up to 3 times a day, or as advised by a physician. The powder can be encapsulated or taken with plenty of water.
If powder is not your thing, there are also CLA softgels. 1-2 softgels can be taken two to three times daily with a meal. As always, you should consult your doctor before adding any new supplements to your health routine.
Supplement vs. Food Sources of CLA
The amount of CLA found in supplements is higher than what most people consume through a typical diet. Additionally, the types in food sources occur in different ratios than in supplements. This is important because the naturally occurring CLA in food isn't yet associated with the side effects of the CLA from supplements.
The Bottom Line
Swapping out your usual dairy products for 100% grass-fed versions and choosing grass-fed meats when possible is an excellent way to safely consume CLA. In supplement form, it has been shown to help people reduce body fat and increase muscle. Reasonable doses may be the key to success here for reaping the benefits while avoiding the side effects.
Sponsor Ads
Report this Page
Created on Mar 26th 2020 16:01. Viewed 673 times.
Comments
No comment, be the first to comment.