A Face- off between Gaming and Normal Laptops
by Linda L.
Marketing Executive
Nowadays, laptops are loaded with a variety of features to make the working easier. It performs various functions and gaming is one of them. The game geeks have taken their game enthusiasm to the next level with the help of laptops. Now, they are not restricted to the desktop computers; with the help of a laptop, they can take their whole game kit anywhere they want. As the enthusiasm for virtual laptop games is increasing, so is the demand for gaming laptops. The large tech giants are manufacturing a variety of gaming laptops as well as notebooks to fulfill the passion of the game world geeks. But, does a normal laptop isn't good enough to play games? What makes Gaming laptop different from the normal one? The answer to these questions is what we are going to discuss here.
Gaming laptops V/S Normal Laptops
If you have a love for games then the game experience is what matters to you the most. A gaming laptop is loaded with some extra features and hardware which enhances the whole performance and experience of a game. Here are some points which will make you understand these extra features:
Dedicated Graphic Cards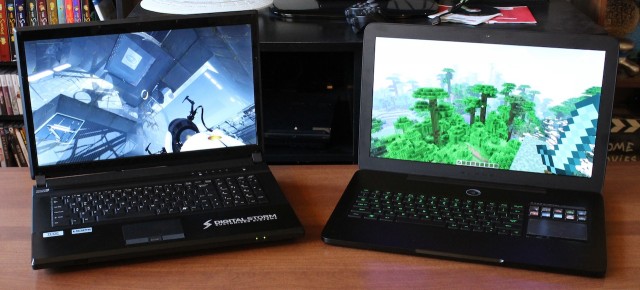 The normal laptops come equipped with a lot of features including the graphics card. But the onboard graphics card in these laptops has a limited graphics efficiency which cannot compete with the specially designed graphics cards. This is where you can see the difference; gaming laptops come with dedicated graphics cards, normally manufactured by NVIDIA, AMD (ATI), or Intel, which delivers a high-quality game experience. The video memory of gaming laptops also plays a vital role to enhance the overall gameplay.
3- Dimensional Effect
With time, the gaming industry is also developing at a high pace. One of the latest developments in this industry is the 3D technology. To support the 3D games, gaming laptops are armed with 3D feature too or graphics cards which support 3D technology. Such features are not present in normal laptops.
Processing Power and Capacity of Hard Drive
Games put a lot of load on the CPU and processing that much load is not possible for a normal laptop. The load results in a sudden freeze of games while playing which ruins the enjoyment. Here, the role of gaming laptops comes in. These laptops flaunt high-end processors (not below the GHz range) which run the games smoothly and hassle-free.
The hard drive performance also plays an essential role. The hard drives which have a nice clock speed and consume less power are always incorporated in a gaming laptop. For this, SATA hard drives are considered one of the best.
Specialised RAM
The capacity of RAM is what decides that how many programs can run at a time on a laptop. A normal laptop comes with limited RAM and games consume high RAM space which results in hassle while playing the game on a normal laptop. The gaming laptops come with high GBs of RAM which helps in easy computing of games. Also, there is VRAM (Video Random Access Memory) installed on these laptops which are devoted towards providing better graphics and videos.
Screen Resolution and Size
With the introduction of 3D as well as HD technologies, the screen resolution matters a lot. In normal laptops, the screen size and resolution don't carry much importance. But in case of gaming laptops, the 3D and HD technology along with aspect ratio, display lag, and viewing angle together renders an excellence in the virtual gameplay.
Overall, there are some significant aspects which make a gaming laptop differ from the normal laptops. It is your needs which affect your choice of a laptop. For daily computing, normal laptops are good. But for high-quality gaming, nothing can compete with gaming- laptops.
Sponsor Ads
Report this Page
Created on Apr 10th 2018 13:51. Viewed 400 times.
Comments
No comment, be the first to comment.