7 Best Resorts Near Delhi NCR For A Quick Weekend Bliss
by Pravin Dwivedi
Digital Marketing Expert
Don't have time for a long vacation? Don't be concerned! We've compiled a list of the best resorts near Delhi NCR for a fun and quick weekend break with your family.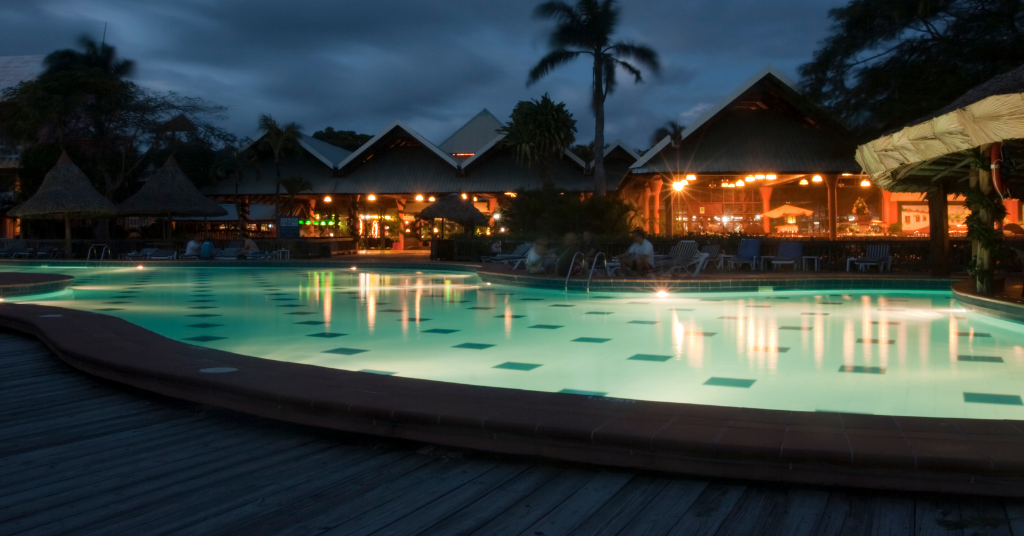 We understand that work pressures and challenging schedules make it hard for you to take time out for great vacation days, but how about spending weekends at family-friendly resorts in Delhi NCR? We get; that you need some downtime but can't afford to take a week off, so putting it off seems like a better option. Thus, we have curated a list of resorts near Delhi NCR for weekend revival.
Breaks are much needed for your weary brains and monotonous days to experience therapeutic relief. The everyday hustle and bustle of Delhi make every Delhiite consider leaving the city or visiting the mountains for a while once a month. Isn't this relatable? But that's not possible. But it's 100% possible and feasible to take a short weekend break and visit the kid-friendly resorts near Delhi NCR.
7 Best Resorts Near Delhi For A Quick Weekend Bliss With Kids
1. ITC Grand Bharat Resort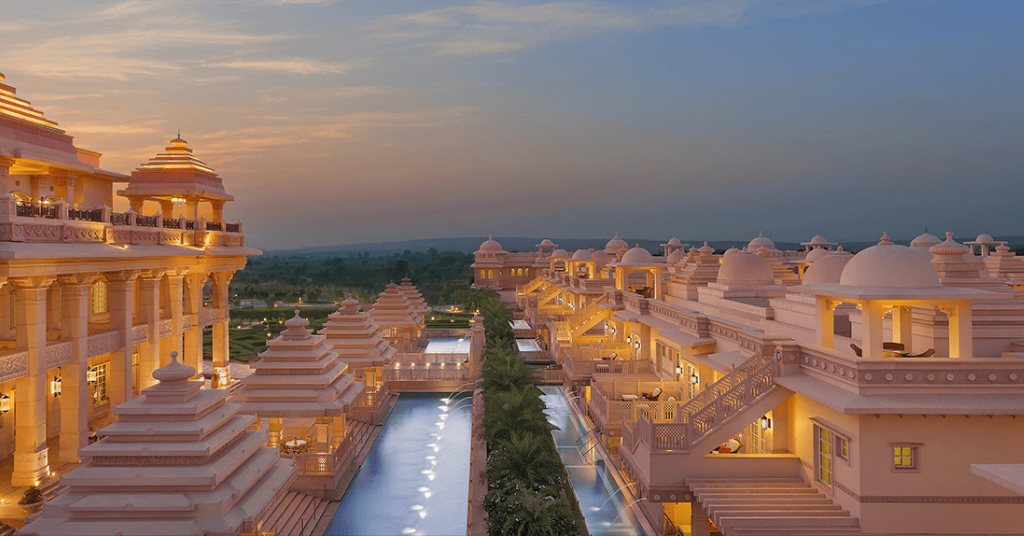 The ITC Grand Bharat Resort is situated in the foothills of the Aravallis. If you want to visit one of the great magnificent masterpieces, this is your go-to-go resort for the weekend. This is one of the grand resorts in Delhi NCR that will appeal to your entire family because it is an exquisite all-suite getaway with 103 luxurious Villas & Suites. In these elegant resorts with eye-catching amenities, you can unwind and revitalize. The world-class accommodations of this resort are well-known. You'll also have access to a 27-hole Jack Nicklaus Signature golf course and a Royal spa for holistic wellness. It is one of the best resorts near Delhi NCR with a private pool where your children can relax, have fun, and recharge. Lastly, this place also includes a kids' play area that adds a feather to the hat. It's one of the most heart-warming and best resorts near Delhi.
Location: P.O. Hasanpur Tauru, Gurugram, Haryana 122105.
2. The Westin Sohna Resort & Spa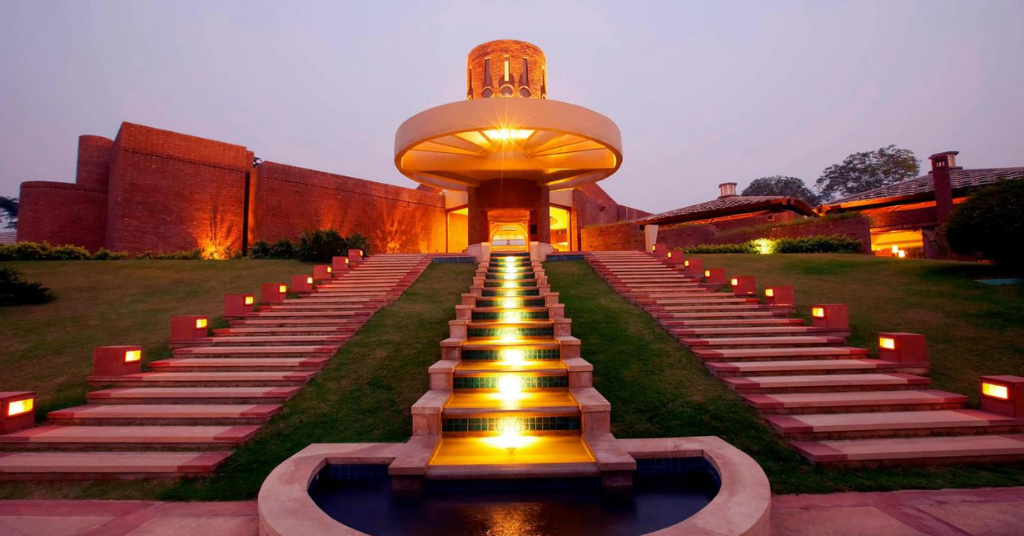 The Westin Sohna Resorts & Spa in Delhi is a premium resort that will steal your heart. It is set on 37 acres of beautifully landscaped gardens. Vatika Complex is a 15-minute drive from this 5-star resort. For photographers, the Westin Sohna is one of the most renowned resorts in Delhi NCR. It has world-class features for visitors, such as an outdoor pool, an indoor refreshing spa, a natural landscape, magnificent villas, a children's tennis court, a fitness center, and so on. This resort is a one-stop destination for de-stressing with revitalizing fruit juices and poolside amusement. It's a terrific destination for both kids and adults because it offers yoga classes and a children's play area to keep them entertained. You will also get access to water sports, horse riding, cycling, a game ground, and a kids club. You can call it one of the most photogenic, classic, and best resorts near Delhi NCR.
Location: Vatika Com, Sohna, Haryana 122103
3. Vivanta Taj Surajkund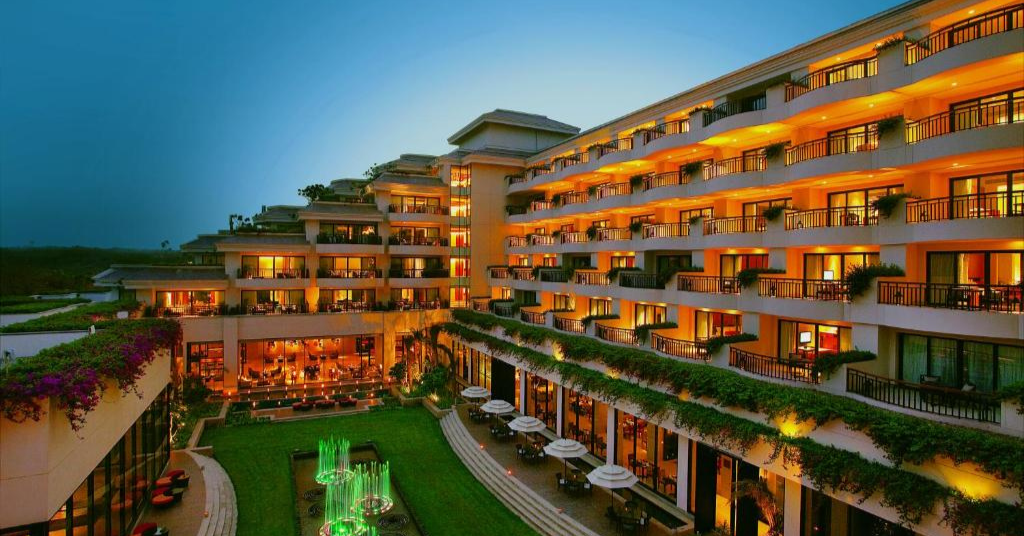 Want to spend time in one of the most opulent and exclusive resorts in Delhi NCR? The Vivanta by Taj Surajkund in the National Capital Region is an eco-friendly resort with lush greenery. It's a wonderful spot to chill amid nature while yet enjoying exquisite amenities. It is based on the concept of a stepwell and provides a relaxing urban escape. The huge spa, pool, fitness center, balcony accommodations with exceptional views, and aesthetically furnished rooms will take your breath away. Experience the dual facilities of Vivanta by Taj Surajkund, where you may immerse your spirits in nature while also enjoying the aesthetic and luxury splendors. Soak yourself amidst the grandeur and spend time with your family in one of the best resorts near Delhi.
Location: Shooting Range Road NCR, Surajkund, Delhi, Haryana 121009
4. Surjivan Resort, Gurgaon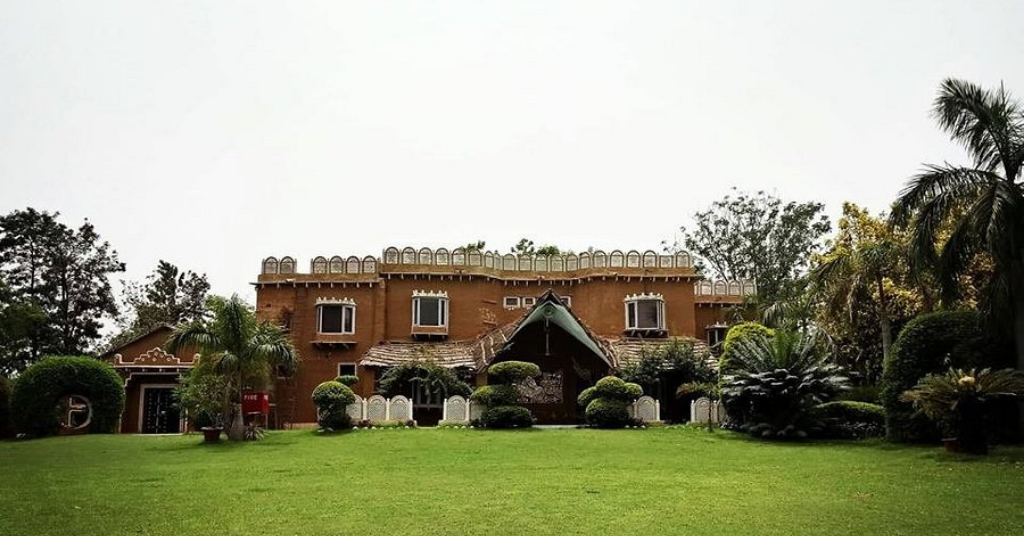 The Surjivan Resort, Gurgaon can offer a variety of activities for guests to keep them busy and sorted. Thus, Surjivan Resort, Gurgaon is your one-stop solution for your weekdays' office stress. It's one of the best resorts near Delhi. The aesthetic property will offer you a wide range of exciting activities for kids such as rappelling, zorbing, wall climbing, flying fox, rock climbing, and rifle shooting along with hues of rural life that you're going to adore. You will also experience village safari, pottery art, and much more. Surjivan Resort, Gurgaon is a place of complete bliss and thrill. Reconnect with your children and yourself by returning to the traditional touch of thatch cottages within 50 acres of verdant greenery. If you're an old soul that enjoys a traditional touch and being near to nature, Surjivan Resort, Gurgaon is for you. So, if nature, greens, trees, breeze, and open areas excites your soul, this is one of the best resorts in Delhi NCR.
Location: Naurangpur Tauru Road, Opposite ITC Grand Bharat Hotel, Gurugram – 22105
5. Karma Chalets, Sector 80 Gurugram
Karma Chalets, Sector 80 Gurugram is a luxurious gem evolved within 300 acres of Karma Lakelands. There are luxury villas, duplexes, and flats available for travellers. If you enjoy luxurious settings, this Gurugram location is for you. The travellers' preference award for 2022 has been given to Karma Chalets in Gurugram. You can relax in a hammock and read a book while surrounded by serene pools, beautiful lawns, and meadows. This is one of the best resorts near Delhi NCR that is located away from the crowds and has a strict no-horn policy. You will also taste an experience of a blissful nature trail and cycle. Moreover, you will also sense the fresh breeze brushing your face, antelopes passing by, and birds talking as you walk around the forested resort. Not to miss, Karma Chalets, Gurugram has 2 Lakh trees and plants. If you love aesthetics and luxury, this is one of the best resorts in Delhi NCR.
Location: NH-8, Sector 80, Gurugram, Haryana 122051, India
6. Jaypee Greens Golf and Spa Resort, Noida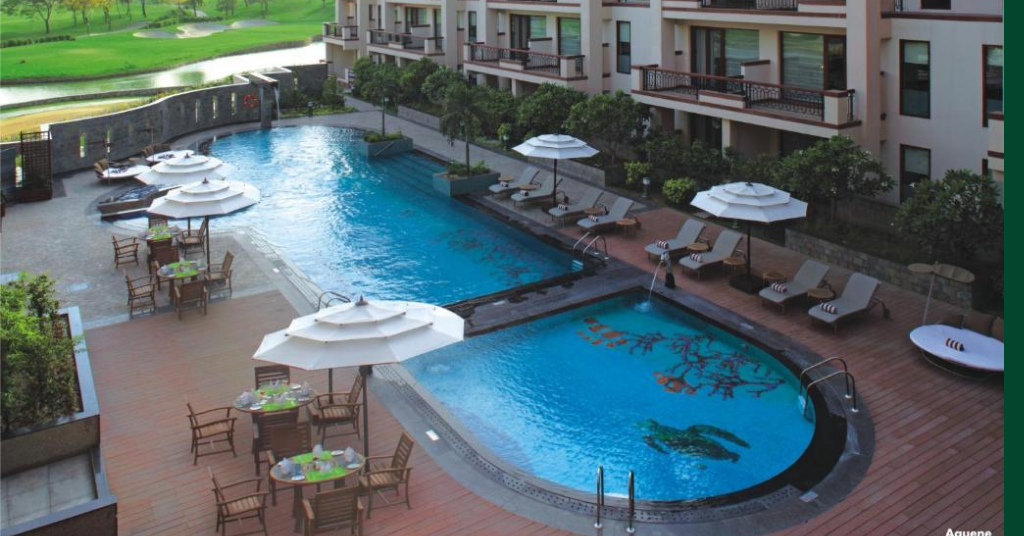 One of the best resorts near Delhi NCR is Jaypee Greens Golf and Spa Resorts. There are a variety of stress-free activities available, including golf, squash, tennis facilities, and a gym. Soak up all your stress in the outdoor pools, which are modern and well-equipped. It's the ideal weekend staycation near Delhi for you to unwind. In addition, Jaypee Greens, Greater Noida provides 170 warmly designed accommodations, including 152 deluxe rooms and 18 suites, as well as a super-fun kids zone and a sumptuous fine-dining delight. A beautiful lunch dinner with a lakeside view and a live pianist is also available. So, if you want to chill and want to spend some great time with your family, this is one of the amazing resorts in Delhi NCR.
Location: Old Kasna, Road, Surajpur, Greater Noida, Uttar Pradesh 201306
7. Heritage Village Resort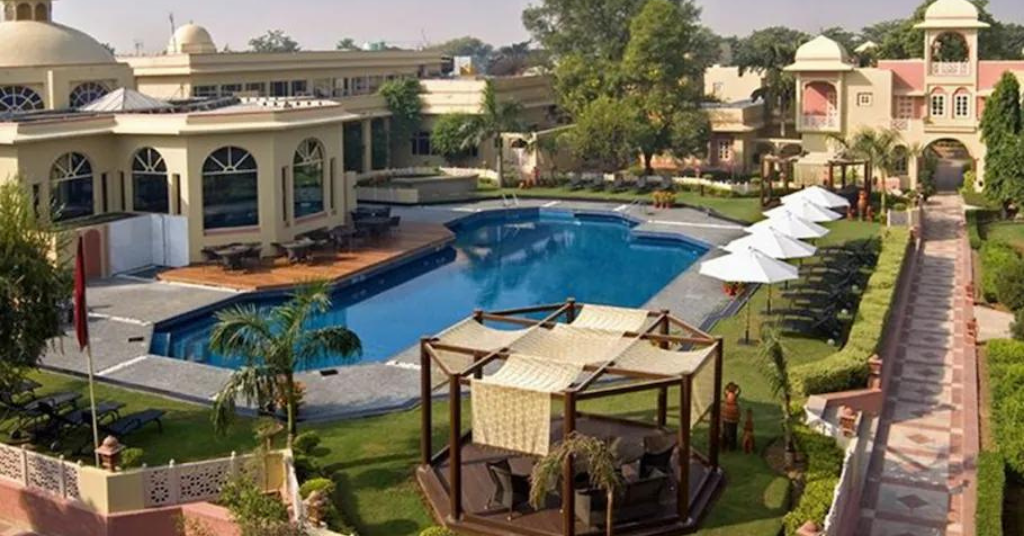 Did you know Heritage Village Resort is one of the best pet-friendly resorts near Delhi NCR? Isn't it great to spend a great weekend with your pets? If you're craving a Rajasthani vibe staycation near Delhi where you can also bring your dogs around, then this is one of the great go-to-go resorts in Delhi NCR. Green landscapes, tranquil pools, a variety of dining options, a wellness retreat, and a kids' club await you. You can eat your cuisine while enjoying the fresh air and the pool. Furthermore, if you enjoy tea, this place has a tea hut where you can receive a selection of teas and snacks of your choice. Lastly, there will be a variety of recreational activities, including fun games at the Cheer Fit Zone, a premium play area for kids, and a variety of games and sports. If you want a Rajasthani culture around you, this is one of the best resorts in Delhi NCR.
Conclusion
There are many resorts for kids that offer fun activities and attractions. These resorts can provide a great place for kids to rejuvenate and you can enjoy a great family staycation near Delhi. So, if you want to spend some good time with your family and kids, do check out these best resorts in Delhi NCR.
So, if you're looking for a perfect weekend escape amidst the combination of nature, luxury, and fun activities, then check out these 7 best resorts near Delhi. You're going to fall in love with these places. So, if you can't plan a trip, your visit these resorts in Delhi NCR for sure. Do let us know your experience in the comments if you've visited any of these resorts before or planning to visit.
Apart from this, PiggyRide is a leading platform that provides a wide range of online kids classes such as online singing classes, online language classes, online dance classes, online chess classes, and a lot more. We also provide free weekend workshops for kids. You can join our classes and free workshops from anywhere and provide your child with the best learning experiences beyond textbooks.
original source :- https://www.piggyride.com/blog/7-best-resorts-near-delhi-ncr-for-a-quick-weekend-bliss-with-kids/
Sponsor Ads
Report this Page
Created on Jun 4th 2022 06:26. Viewed 61 times.
Comments
No comment, be the first to comment.