5 Reasons Why You Should Advertise On Facebook Today
by India Internets
Website design and development company in Noida
There is no denying that Facebook still continues to rule the social media space with 2.5 billion monthly active users. It is one of the largest and most popular social networking platforms today. However, there are still many businesses that do not consider Facebook as a potential channel for marketing their products and services. Well, if you really know your way around Facebook Advertising, it is one of the best platforms for online marketing.

With a vast audience, every industry can leverage Facebook to reach out to their target audience.

With the uncertainties and market situations that the year 2020 has brought along with it, Facebook Advertising is more important than ever!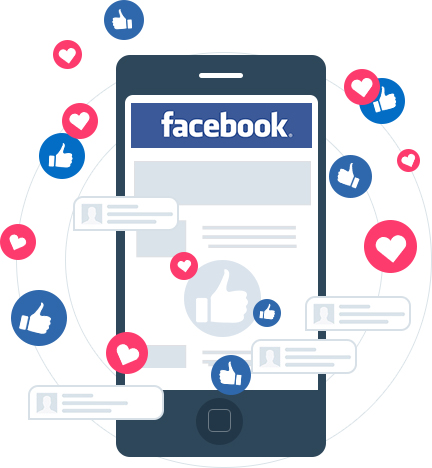 5 Advantages Of Facebook Advertising
In this article, we will look at the top five ways in which Facebook proves to be an essential element for every business' online marketing and branding strategy.
Facebook's Targeting Tools
Facebook's Remarketing Tools
Facebook's Efficient Pricing Model
Facebook's Free Analytics
Facebook's Custom Calls To Action
Let's begin!
1. Facebook Targeting Tools
Among all the online advertising models present today, Facebook comes packed with the maximum number of detailed targeting tools for you to filter out the right audience for your business. With Facebook, you can advertise to an audience based on their locations, age, interests and behaviours. This way, you can ensure that your ads are shown to the exact audience that is willing to buy from you.
With Facebook, the remote control is in your hands. It gives you the liberty to customize your advertisements that are in the best interest of your audience. On Facebook Ad Manager, you can begin from selecting your objective, and accordingly choose the type of ad, audience, and daily-monthly budgets. You can also advertise based on whether you want more likes on your Facebook page, more website clicks, or have to increase post engagements.
2. Facebook's Remarketing Tools
Not just a social media platform where users socialize and share content, Facebook has become an agile marketing machine! Apart from the initial marketing, Facebook allows you to remarket your products and services to visitors who have, in some way, engaged with your brand in the past.
Let's say a person saw your service on your website or Facebook. She sees your services and reaches the endpoint of making a purchase. However, at that moment, she abandons the cart.
How would you make sure that this potential lead converts into a paying customer? Maybe if you showed her the services again at an exciting offer or discount this time, it might encourage her to convert.
This is where Facebook remarketing comes in!
Because Facebook is dominantly a social media platform, people love to scroll down their feeds in their free time. This is the right time to remarket your services to them because they are entirely available.
You can add the Facebook Pixel code on your website to help you track and remarket your offerings to this specific audience. This way, you can show your ads to those people who visited your site but abandoned the cart.
Facebook ensures higher conversion rates because the platform exposes your brand to a wide audience, making it more recognizable and trustworthy.
3. Facebook's Efficient Pricing Model
When I say that traditional marketing is way too expensive for small businesses to adapt to it, many of you will agree!
So how to market your offerings without having to bear the pangs of spending a lot of money? Facebook Advertising is the key!
You can go on to advertise your products to 1,000 people for as less as ₹5 to ₹ 8 if all other filters are in place. Whereas, if you took a more traditional route, the cost might run into thousands or even lacs!
4. Facebook's Free Analytics
Unlike traditional advertising that lacks efficient tools for analyzing the campaigns, Facebook comes packed with free analytics tools that you can use to make sure if your ad campaigns are hitting the right chords or not.
These reports data is updated in real-time so you can anytime see how your campaigns are running.
With the help of Facebook Ads Manager, you can view your conversion rates and social metric statuses. It will show you real-time data including post engagements, weekly and monthly reach, page likes, performance, and more. Once you analyze this data, you can then customize your data there and then.
Because you can track even the slightest details, you are in a better position to plan strategies.

5. Facebook's Custom Calls-To-Action
This is one of the best reasons why you should not wait any longer to advertise on Facebook. It comes with custom CTAs that you can leverage to increase your conversion rates. A CTA enables your potential customers to take the next step based on precisely what you want them to do. It can be either signing up for subscriptions, app installs, downloading e-books, or watching videos and more.
CTAs make a real difference in how people perceive your brand and how your ads perform on the platform.
According to a study, adding relevant CTAs to your Facebook page and ads can improve your CTR rates by up to 200%!
Currently, Facebook has to offer the following CTAs -
Contact Us
Sign Up
Book Now
Download
Use App
Watch Video
Learn More

TO WRAP UP!
Facebook Marketing Services India
can give your small business a platform where you can enhance your brand and generate more leads. The list of reasons why you must invest in Facebook Ads is never-ending!
The only catch is to be clear about your marketing goals and objectives. However, if you're a beginner, the plethora of features that the platforms bring with it can be a little overwhelming for you. This is why we recommend you to hire a professional
Facebook Marketing Company in Delhi
India that can guide you in running the right campaigns for your business growth and ensuring that tight budget controls are followed!
Sponsor Ads
Report this Page
Created on Jul 21st 2020 08:22. Viewed 367 times.
Comments
No comment, be the first to comment.